We don't care how great the stretch of seafront: if it's cold, lined with trashy arcades, or made of pebbles, it's not in here.
This list consists of our top five hot and sandy swathes for a family summer getaway… and yes, that usually means heading south – sorry.
Camber Sands, East Sussex
That's right, 'sands' in Sussex! Despite being close to this travel editor's heart, Brighton doesn't make this list due to its pebble beach, and neither do any of its shingle-and-stone-fronted neighbours.
But Camber doesn't just deliver with those titular sands, it positively engulfs you with its huge trademark dunes that make it one of the most popular beaches on the south coast, not least because it's within two hours of London, making it a great getaway from the city heat.
It's also mentioned with surprising frequency in rock songs by artists from Suede to The Fall, and is the unusual location of the predominantly avante-garde and post-rock music festival All Tomorrow's Parties. Oh, that reminds me, it's also got a Pontins.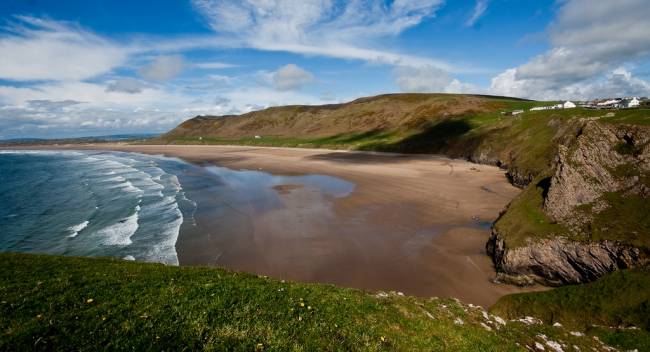 Rhossili Bay, Gower Peninsula
This three-mile beach – backed by sand dunes and rolling, grassy downs – lies within the Gower Peninsula of Wales, which was the first place in the UK to be designated an Area of Outstanding Natural Beauty. It's also twice been voted the UK's best beach, as well as the third-best in Europe, and ninth worldwide, beating competition from Australia, Bermuda and Brazil.
From this soft, sandy bay you can, at low tide, get out to Worm's Head, a tidal promontory that is one of Gower's most famous landmarks, with its natural rock bridge, known as Devil's Bridge. At low tide you can also spot a number of shipwreck remains and, when walking one of the hiking trails, you might even see some basking seals or dolphins playing in the surf.
The beach is popular with surfers and watersports enthusiasts, while sand-castle builders benefit from the fine, golden sand.
Access is via a steep path, which can be difficult to negotiate with a child's buggy, so this might be one for slightly older kids.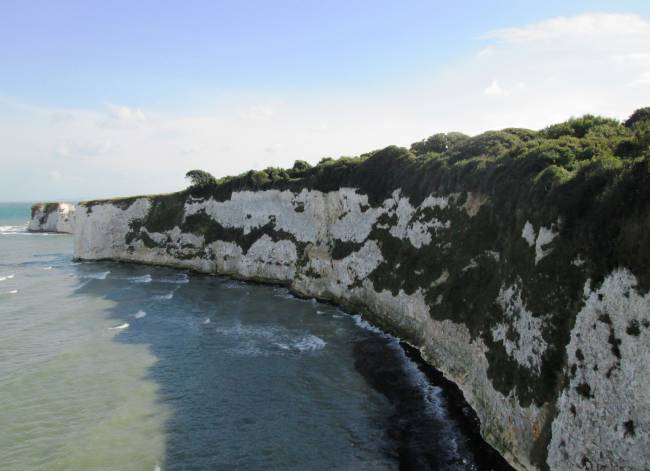 Studland Bay, Dorset
Forming part of the idyllic Studland National Nature Reserve, Studland Bay boasts four miles of white sand which fringes powder-blue seas and is backed by postcard dunes and castaway heathlands.
Accessible either by the chain ferry across Poole Harbour from Sandbanks or by road from Swanage, Studland, on the Isle of Purbeck, represents one of the most glorious sunshine spots in Britain.
At the northern end of the bay is a naturist beach, so you will probably want to stick around the more family-oriented Knoll Beach area if you have the kids with you.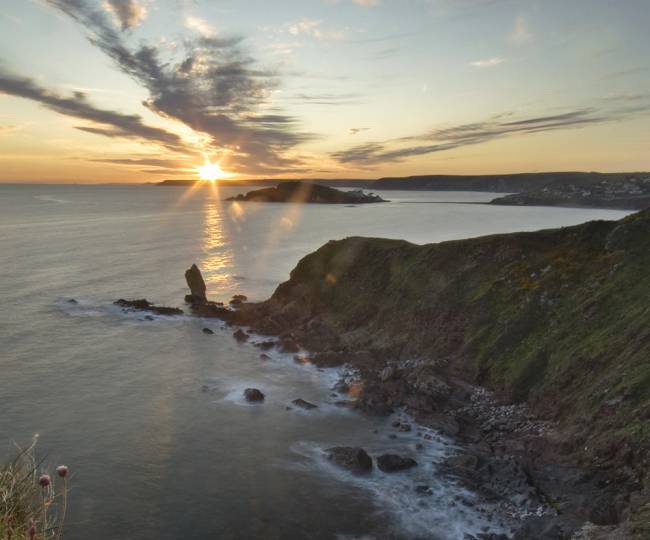 Bantham, Devon
Nestled deep in the South Hams at the mouth of the river Avon, Bantham beach is one of the most picturesque beaches in Devon.
Offering panoramic views over Bigbury Bay and Burgh Island – which inspired the setting to Agatha Christie's most famous novel, And Then There Were None – Bantham is an ideal swimming and paddling spot for the whole family.
At low tide the beach opens up to reveal acres of shallow sandy pools, warming up quickly in the sun to create ideal play areas for toddlers. Head down to the south end of the beach and the low tide will expose a fantastic array of rock pools below the headland, ideal for crabbing.
A great game for grown-ups involves floating downstream on the Avon as the river meets the sea – just jump out in the shallows and make sure you don't get swept out too far if you're messing about on the river, chaps.