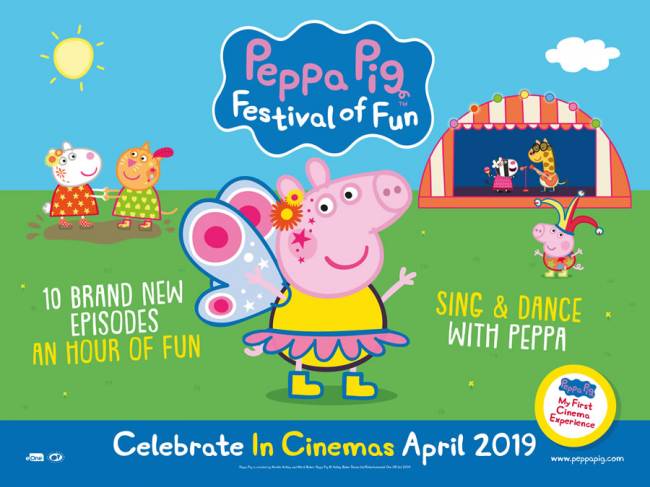 Yes, Peppa Pig is back elebrating 15 Years of Muddy Puddles with a new cinema release – Peppa Pig: Festival of Fun.
Join the party in spring 2019 when Entertainment One's (eOne) beloved preschool series Peppa Pig will be heading back into cinemas nationwide for an all-new big screen adventure to mark the 15 year anniversary of the nation's favourite little piggy. Set for release from April 2019, Peppa Pig: Festival of Fun is perfectly timed to entertain little ones ahead of the Easter holidays.
The hour-long theatrical release gives preschool audiences 10 brand new and never-before-broadcast episodes featuring a 2-part festival special, complete with new characters and locations. Little piggies can look forward to a whole hour of snorts and giggles with songs to sing along to and dances and movements to join in with; making it the prefect cinema outing for pre-schoolers and all the family to enjoy. Each of the ten brand-new episodes will be connected with never-before-seen interactive entertainment featuring little ones singing and playing along with their favourite onscreen characters.
The new release is part of eOne's successful My First Cinema Experience format which offers young children a gentle introduction to the cinema for little ones and features the familiar voice talents of Harley Bird (Peppa), Morwenna Banks (Mummy Pig), Richard Ridings (Daddy Pig), Sarah Ann Kennedy (Miss Rabbit) and John Sparkes (narrator).
Get excited for the upcoming festival season with the release of Peppa Pig: Festival of Fun and join Peppa and George in their brand new 'oink-tastic' adventures as they dance in the mud at a children's festival, celebrate Grandpa Pig's birthday at a restaurant for the first time, and take a trip to the cinema to see Super Potato's big movie feature.
Peppa Pig: Festival of Fun:
Will be released in cinemas nationwide from April 2019
For a sneak preview check out the trailer below: