My 13-year-old jumped at the chance of being behind the wheel of a real car…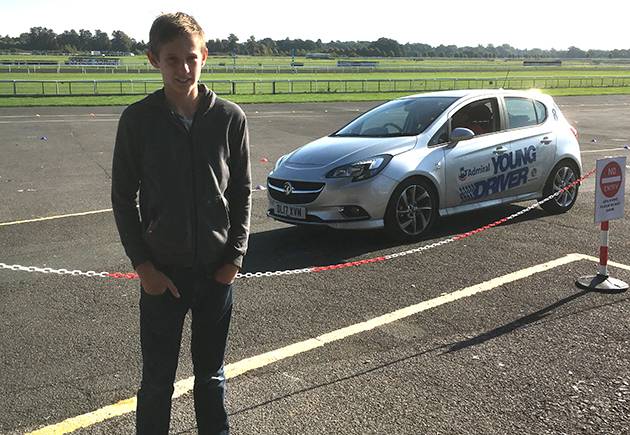 Getting a driving licence may be a few years off for my 13-year-old son but it's certainly something he is looking forward to. However, the onset of driving can be a worrying time for parents.
After all, nearly 12% of all serious and fatal car crashes involve a 17-19 year old driver even though they make up just 1.5 % of licence holders.
In other words, young drivers are much more likely to crash. According to the RAC Foundation, one in five newly qualified drivers will crash within six months of passing their test.
Here's some good news though – research shows that when drivers take lessons at a younger age, their crash statistics a few years later reduce by 40%.
So as an investment in the future, both The Boy and I were delighted when he took an Admiral Young Driver lesson. They are aimed at 10-17 year olds and he was given it through BuyAGift.com – where you can purchase all kinds of "experience" presents for everyone, not just 13-year-olds.
Obviously, as he is under 17, The Boy couldn't go out on the road, so his lesson took place at the enclosed venue of Kempton Park racecourse. It was kitted out with cones, roundabouts, and junctions to replicate actual road systems. There are more than 60 similar sites dotted around the UK.
The vehicles are all gear-shift Vauxhall Corsas (1.4SRi), though it is possible to book a luxury Bentley Arnage for really special occasions! And if you are thinking of someone who is 5 to 10 years old, there is an alternative of driving a two-seater electric car.
The lesson started off with… Actually, let's hear it from The Boy himself.
"First of all, I got in the car (of course) and the instructor showed me how to perform safety checks (adjust the rearview mirror, check the amount of fuel, and so on).
"He then showed me how to start the engine and begin driving. We eased into the driving part of the lesson by going around the course slowly in first gear and taking some small corners (using the indicator, of course).
"After about seven minutes of going very slowly, the instructor told me to go faster and to start changing gears. I didn't need to be told twice!
"We then moved onto hill starts which I didn't find too tricky. After that, we went off the main track and he told me to park between some cones. We then went around the track a few more times, before finishing by reversing into a parking space.
"It was a really fun half an hour (apart from the bit where he told me off for revving the engine too much) and I learned a lot. The instructor was really friendly and supportive, even when I was constantly stalling the car at the beginning."
The Boy had a great time and it was a joy to see his grinning face as he shot past me in the waiting area. The half-hour lesson seemed to go in a flash, though there are one-hour options, too.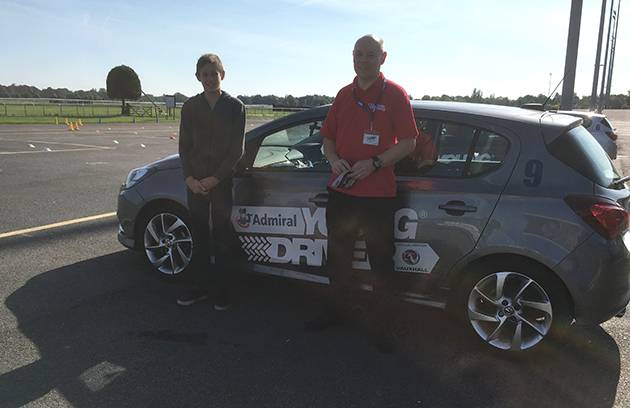 One slight disappointment was the in-car video (a split screen of the driver and what they can see) failed to work. But I was assured this was unusual.
The Boy was given a log book which will be filled out with what's he's accomplished in each additional lesson. And as a show of faith in the effectiveness of the scheme, Admiral Insurance will even offer a discount on The Boy's insurance when he starts driving on the roads at 17.
So what was The Boy's final verdict?
"The best bits were going around the course, performing turns and changing gear. I would definitely recommend it to any young person who would like to learn to drive but, at the same time, not crash their mum or dad's car."
So, I think he is saying he's not going to crash our car when he is learning to drive. Can I hold him to that?…
How to book
Book direct through Admiral Young Driver youngdriver.eu
30-minute lesson £25; 60-minute lesson £64.95
Or book through buyagift.co.uk and save £10 on a 30-minute lesson