Fancy heading up to London for a show over the holidays? DAD.info sent father of two, Raj Randhawa, along to check out the Ongals: Babbling Comedy show at the Soho Theatre…
It's almost impossible to categorise the Ongals: Babbling Comedy show. However, there are many words I could use to describe it – childish, skillful, bizarre, joyous, funny, accomplished, celebratory, hilarious and utterly unique. I have never seen – nor am I likely to see – anything quite like Ongals again.
At the start of the show, the stage is bare except for a large 'Toy Box'. The three Ongals splash on to the stage – three grown men who hail from Korea, wearing baby onesies, bibs and with fake snot painted on to their upper lips. They act like babies throughout the entire performance, gaggling and babbling with a childish abandon. Watching grown men act like babies initially felt somewhat discombobulating, but their joie de vivre, commitment and the sheer energy and effort they put in to the performance, soon wins you over.
Each baby has a distinct personality, which shines through when they start picking out items from the toy box – which they handle with surprise and curiosity. They put an air pump up to each other's butts, pretending the air blows up the long balloons they hold in their mouths. Juvenile? Yes. Hilarious? Most definitely. A metre-long balloon gets eaten whole by an Ongal, after which he immediately pulls a never-ending string from his mouth.
Juggling pins and balls are taken out of the box and the troupe's circus skills are given an incredible workout, while one Ongal accompanies their efforts with hilarious sound effects on a mic. The comic timing is spot-on and they never miss a chance to raise a laugh.
At one point the Ongals ask for a volunteer from the crowd and when a brave young boy shoots up his hand, he's given a rousing round of applause, walked to the front of the stage and then briskly walked around the seats and back into his row for a final round of applause – it was an hilarious moment, but the Ongals needed an adult.
When they got their man, they expertly made him feel welcome, comfortable, helped him through whatever they needed him to do and were gracious and thankful for his help. Later in the routine, he was brought up again, this time for some hair-raising antics involving a leather whip…
The 'babies' pull out bells from the toy box, discover what they're for and end up playing some beautifully harmonious tunes. Around two-thirds of the way through the performance, a fourth Ongal emerges on stage and I felt a little sorry for him. By this stage the other Ongals had charmingly cultivated a connection with the audience, and the new addition at first appeared superfluous. But, he ended up being an awesome addition to the entertainment, turning out to be an incredible beat-boxer that elevated the performance to another level. The multi-layered sounds that came from his microphone were unbelievable.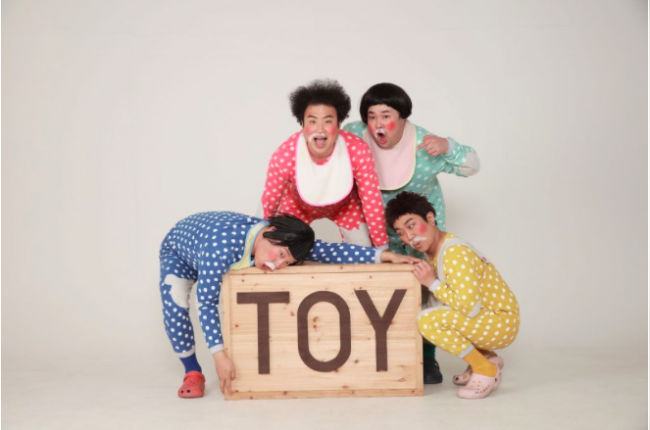 One of my favourite bits from the performance was when they pulled out a can of Coke, sharing it between three of them and leaving one saddened Ongal out. Visibly upset, he takes the empty, crushed can in his hand, moving it slowly from left to right and back again, while repetitively whispering 'time machine, time machine', until the shape of the can is restored and… I won't give it away, but what happens next is one of the finest illusions I've ever seen live, anywhere.
The clever juxtaposition of their baby characters, set against their brilliant performance skills, is what makes the Ongals a truly surprising and delightful show, that's perfect for absolutely everyone – toddlers to octogenarians.
The entire performance from start to finish was an absolute joy and I dare the most hard-nosed critic not to be won over by the Ongals. Their work ethic along with their undeniable skill, good humour and sense of fun, makes for a truly entertaining and unforgettable experience. It's no surprise the troupe scooped the Asian Arts Award for Best Comedy at they year's Edinburgh Fringe Festival and had sold-out runs in both Sydney and Melbourne.
And to top it all off, as they came back on stage to take a bow, they got down on all fours and with the greatest humility, bowed down to the audience touching their heads to the floor, which after such a fun and joyous performance, ends on a beautifully poignant note. Ongals rock. I'm going back to see them again, this time with my kids.
Ongals Babbling Comedy show is at the Soho Theatre in London until 6th January 2018. Book tickets at sohotheatre.com