It's nice to treat the kids to a day out that's going to be as exciting for you as for them. Raj Randhawa finds the very thing: a behind-the-scenes tour of the iconic Wembley Stadium…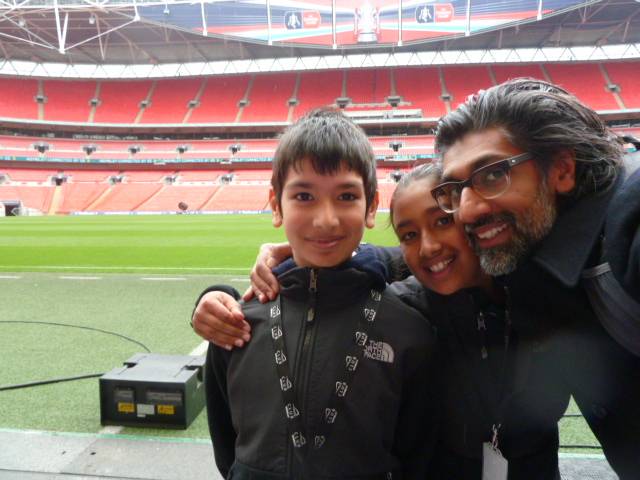 Last week I took my two children along to a tour of Wembley Stadium. When we got there we met our lovely tour guide who kept us engaged and made an effort to get all of us involved. We started our tour near the infamous crossbar from the 1966 England Germany final, which now sits near the main entrance.
As a working stadium, Wembley plays host to all kinds of events and fixtures. As we were led into the empty stadium, preparations were afoot for the Joshua vs. Klitschko world title boxing fight, which would host 90,000 fans.
We sat down in the red seats while our guide told us a number of interesting facts about Wembley – that George Michael was the first performer to stage a concert at the new stadium 10 years ago, and that this summer, Adele will be playing four nights on the trot – that's almost 400,000-seated fans over four days.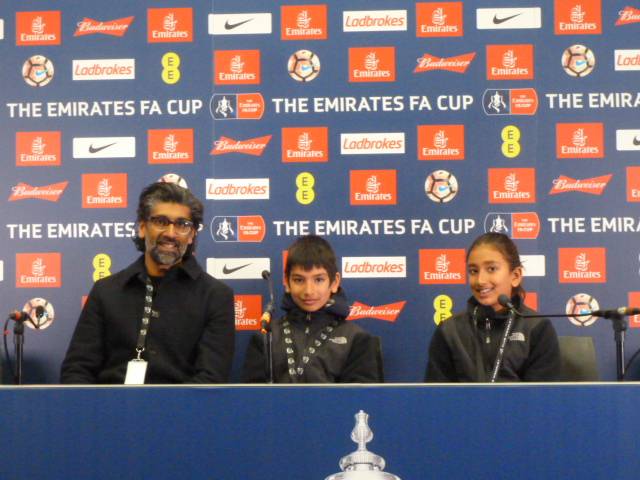 Mmm, what else was there? Well, the ground is 97% real grass and 3% fibre – a Dutch design innovation known as 'desso' that helps strengthen the grass. A corporate box will set you back a cool £350,000 a year, giving you access to every single match, performance and event.
Wembley also currently holds three world records.
Firstly it has the largest single-span arch in the world (315m long), which supports the whole of the north stand and 60% of the south stand, through high-tension wires.
It has more toilets (2,618!), than any other venue in the world. (I had to explain to my children that this wasn't just one big giant WC but that they're spread around the whole stadium).
And finally, numbering 90,000, Wembley also holds the highest number of roof-covered seats of any stadium.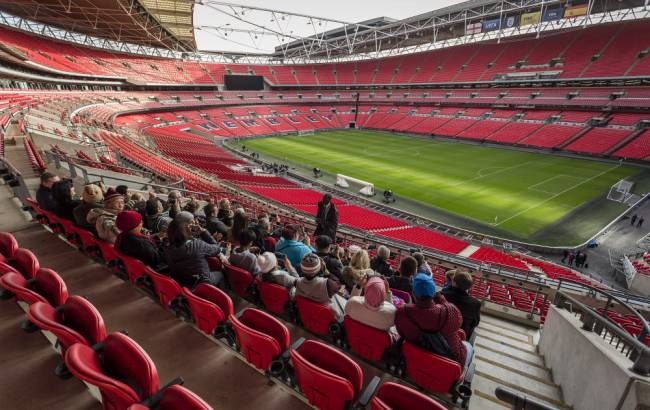 As we looked around at the hundreds of rows of empty seats and the lush green of the pitch, our guide got us all to shout in unison at the top of our lungs so we could hear the echo and acoustics around the stadium. Impressive.
We then descended the Royal staircase to the edge of the pitch to take some more photos. One of our group stepped on to the pitch area and was quickly but politely reprimanded and told that anyone who steps on to the pitch uninvited automatically gets a lifetime ban from the stadium! (I'll have to reconsider my Wembley streaking ambitions).
We walked up the 107 steps to the Royal Box where each of us got to hold a replica of the FA Cup. The tour continued on to the Home and Away changing rooms where we took photos standing next to legendary footballers' team shirts. My kids made a beeline for Ronaldo, Messi and Rooney. Poor Beckham didn't get a look in.
Next, we went and sat inside an impressive press conference room, yet another photo opportunity – this time in the very seats the great and the good of top-flight football sit and answer journalists' questions.
Our final stop was the tunnel where we got to queue up as two teams and run out on to the pitch, to a pre-recorded soundtrack of Wembley's screaming fans. That was a great way to end the tour. My children were buzzing.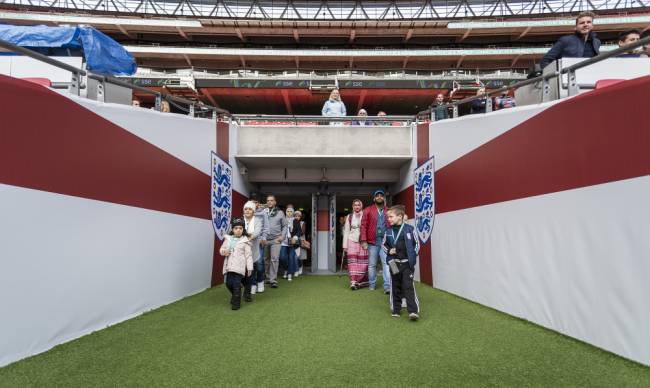 Whether you're into football or not, (by the way, we're not really a footballing family), it's still a brilliant way to spend a few hours together. The tour took around 1.5 hours and my both myself and the kids thoroughly enjoyed it. They had lots of questions and it was just really exciting for them to be inside such a huge stadium with all-areas access. Highly recommended.
Wembley Stadium Tours cost £20 per adult and £12 per child (under the age of 16), with family tickets £50. Book in advance online for discounts.
Raj Randhawa is a father of two and founder of WordUp Communications, a content marketing and copywriting agency.