We send one of our community of dads to check out the Secret Cinema event all geeks are talking about this summer…
Did our dad think it was a stellar night out with the kids, or would he have rather spent the evening playing Scrabble with Jar Jar Binks? Read on, the saga continues below, narrated by James Marsh…
"The first thing to make clear about Secret Cinema: the Empire Strikes Back is that this is much more than a film screening taking place on an industrial estate in London. But then at £75 for an adult and £50 for a child (plus booking fee), so it should be.
This is an "immersive" experience – you enter the world of Star Wars and come face-to-face with Stormtroopers, rebels, Jedi knights and a host of characters from the films. You'll step inside recreated alien worlds (mostly from Star Wars: A New Hope rather than The Empire Strikes Back) and watch as famous scenes are played out in front of you.
When you book your ticket, you are assigned a new identity and encouraged to come dressed for the part. Some of the audience really go for it – so much so, they could get a role at George Lucas's next casting – and this "fancy dress" element is probably key to having a great time.
The sets and actors do draw you in – there's a particularly impressive reconstruction of Tatooine. And don't be surprised to find yourself chatting to some of your favourite characters from the movies, scheming for a way to outfox the Stormtroopers. My son and I were busted out of jail by Han Solo and Chewbacca – and others I spoke to had equally bizarre experiences.
So, if you love Star Wars, you will have a great time. But, as a show to take your children to, it's tricky… Here's why.
The show starts at 5.30pm, so you face the difficult choice of what time do you feed your little ones? We gave my 11 year old a really early supper and took lots of snacks he liked to keep him going.
It was frustrating, then, to be told we couldn't take any of that food in and had to dump everything in a bin. Yes, there are food stalls inside but they are pricey (and don't take cash), adding to an already expensive outing.
And children can be picky when it comes to food, especially when the choice there is geared towards an adult palate. All I could get my little chum to eat was a bag of chips – at which point I really cursed having to abandon all the healthy fruit, snacks and water at the entrance.
Oh and don't think you'll take a picture of the two of you hanging with some aliens. Phones are sealed in silver bags at the start of the night and you aren't allowed to take them out – though I did speak to a mother secretly texting her babysitter to check her teething child was OK.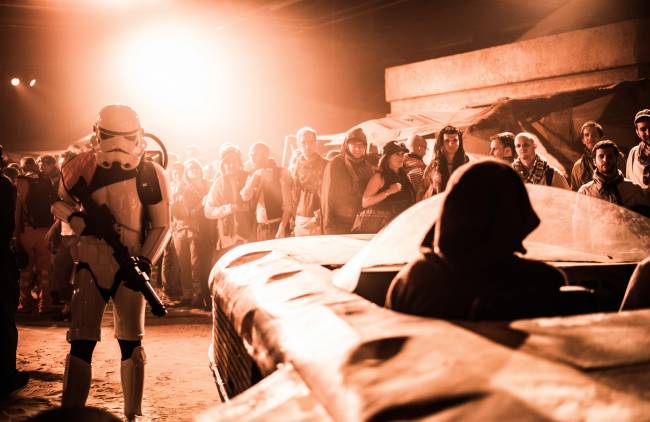 Then there's the film itself. It starts about 8.40pm and finishes around 11pm. Yes, there are some fun bits as actors reconstruct a scene in front of you at the same time as it's being shown on screen but… but… but…
It's just way too late.
If we stayed to the get the full experience, we wouldn't have made it home before midnight. So, instead, we watched 20 mins of the film and left.
Later, as I tucked him up in his bed back at home (an hour-and-a-half after his normal bedtime), my boy pointed out that the film hadn't even finished. And that he was so glad he was in bed.
Secret Cinema could do a great show for dads and their children to go to but, for me, this isn't it. There are just too many things that aren't child friendly. Having said that, a friend of a friend told me he and his sons had a fantastic time, and it was one of their best bonding experiences ever. But they are major Star Wars fans.
Ultimately, for me this show is one for dads and mates on a night out, or dads and children who share a love of Star Wars. If you're going one of those reasons, then the Force will be with you."
Secret Cinema will be showing Star Wars: The Empire Strikes Back (that's best best of the Jedi flicks, by the way) from now until 27th September 2015. For more information, visit: www.secretcinema.org
James Marsh is managing director of specialist children's communication agency B3 Creative