If you go down to the woods today, you're sure of… a riotous time with the kids! That's because autumn's here, so there's no better time to kick up some leaves, collect those conkers, and a whole lot more…
If you've ever been asked: "Do carrots grow on trees, Dad?", you're not alone. According to a recent survey*, the nation's children are becoming an 'indoor generation', with a quarter of primary-school-aged children spending less than six hours a week playing outside, while a quarter had never planted a flower, a fifth had never made a mud pie and a third thought carrots grew on trees. So redress the balance and turn your kids on to the great British outdoors with our round up of the wildest woods and fun-packed forests up and down the land…
Cannock Forest, Staffordshire
Cannock Chase may be the smallest area of outstanding natural beauty on mainland Britain, but it's also home to The Tree Top Go Ape Adventure, which your little monkeys – and you – are sure to get a kick out of. Fly down zip slides and leap off jungle swings whilst taking in views of the beautiful woodlands. For those who don't feel like unleashing their inner Tarzan, there's also an adventure play area with climbing frames, scramble nets, swings and slides, while older kids (10+) can try out the Ultimate Forest Segway, which lasts an hour and comes with a reassuring bit of instruction before you head out. If your brood loves a bike ride, there are leisure trails that wind through the forest, a choice between two cross-country mountain bike trails and two downhill trails, while The Birches Valley trail is ideal for children still learning to get a handle on their wheels.
Tree Top Go Ape Adventure: Gorillas (18+): £30-£32. Baboons (10-17): £24. Tree Top Junior (4–10; must be at least one-metre / 3.3ft tall): £15. goape.co.uk/treetopadventure
Go Ape Segway (10+): £35. goape.co.uk/forest-segway
visitcannockchase.co.uk/Do.htm
Rutland Water Nature Reserve, Oakam, Rutland

Set in over 3,000 acres of countryside, Rutland Water is one of the largest manmade lakes in Europe and a great place to take the kids cycling or for a good ol' walk around the reservoir on 40km of track, which hugs the waterline and weaves in and out of woodlands. Can't be bothered tying the bikes to your car roof? No problem – Rutland Cycling has bikes for hire. Or forget the wheels and take to the walls – the main site at Whitwell has a 10.6-metre climbing wall and a high-ropes treetop assault course. Quite fancy for a nature reserve, Rutland Water also has a museum, an arboretum, a garden designed by the late gardener and broadcaster Geoff Hamilton, children's play areas and several tasty-looking picnic spots. There's also a few pay-for activities, such as fishing, boat cruises and water sports, but with all the free stuff on offer, you could get away with just splashing out on some hot chocolate at the end of the day.
All-day hybrid bike hire: £15.99. rutlandwater.org.uk/visitor-info
Clumber Park, Nottinghamshire
Want your kids to finally realise what a 'fungi' you are? Then take them along to Fungi Fortnight at Clumber Park this October and check out its 700 mushrooms species. But if your children aren't blown away by all things mycological, the park has lots of other things on offer, including over 30km of cycle routes. You can bring your own bike or hire one, or even a tandem – there are also child seats, trailers and electric bikes for tired little (or old) legs. And for something a little more educational, Clumber Park has a Discovery Centre with hands-on activities, talks and walks. You can also get up close to some of its more reclusive residents – from water beetles to stick insects. But if creepy-crawlies don't grab you, there's a Museum of Gardening Tools and a Walled Kitchen Garden, where you can check out such medieval-sounding curiosities as cucumber straighteners and horses slippers. Or just go wild on the rope nets at the play park, followed by a well-earned rest at the cosy café.
Fungi Fortnight events are free but book tickets to avoid disappointment. Cycle hire starts at £7.80 for two hours. nationaltrust.org.uk/clumber-park
Whinlatter Forest, Keswick
Whinlatter is England's only true Mountain Forest at over 300 metres above sea level, and as such is home to stunning views, fantastic walks, exhilarating mountain biking, rare wildlife and loads of adventure play. The forest offers a range of opportunities for self-led visits, including WildPlay, which has nine different play zones to explore through the trees, while the Orienteering & Children's trails show wannabe trekkers how to draw water from the stream with an Archimedes screw or use the gravel mover to shift gravel around the pit. For kids needing to let off pent-up energy, let them loose on the climbing wall and giant timber-climbing frame, or fly through the air on the log swing. For younger children, visit the Fairy Kingdom with its secret path and hidden carvings. Trail riders can hire a cycle and 'head camera' from the shop and video their experience – brilliant! After all that activity your nippers might be a little peckish. Siskins Cafe provides home-cooked food, including the adventurous sounding Parsnip & Lemon cake. Want some down time? Tell your kids to walk very quietly and they may spot one of our native red squirrels – Whinlatter is a Red Squirrel reserve where the little critters are being protected.
Cyclewise standard bike-hire for three hours: £18 a day or all day for £25. cyclewise.co.uk
Whinlatter Forest keswick.org/what-to-do/attractions/whinlatter-forest/
Moores Valley Country Park, Ringwood, Dorset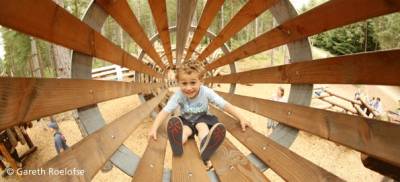 Moores Valley is offering children aged eight and up the chance to try the thrill of off-road cycling at night – using high-powered lights and all under the watchful eye of qualified instructors. These events are perfect for novice night cyclists, but be sure to wear a brain bucket (helmet). For the younger ones, they can get all Fat Controller, courtesy of the steam train at the Moors Valley Railway, which incorporates three tunnels, tight curves, inclines and a bridge. But oh no, what's that?! From a giant ant's nest and the snake pit to an enormous spider's web, the play trail, with its fun wooden play structures scattered along a trail through the forest, is a must. Half way along the Play Trail, fearless kids can try out the Tree Top Trail. This five-metre-high and 200-metre-long wooden walk way takes your little monkeys up among the trees, giving them a real bird's-eye view of the forest. There are also two fun-packed play areas close to the Visitor Centre. The Adventure Play Area is for older children, as it includes a zip slide, huge space net, climbing boulder and a fortress of towers and crossings with a long tube slide. Younger adventurers can play in the Castle and Sandworks area, with its gentle slides and swings, all set inside a safe sand area, so don't forget to bring buckets and spades. After all that activity Seasons Restaurant serves up cooked breakfasts, light lunches, homemade cakes and strong coffee. You'll need it!
Moors Valley Night Ride (6pm –7.30pm): £4.50; Bike hire £2.50 or bring your own. moors-valley.co.uk/event/family-night-riding
Moors Valley Railway (open at weekends and during Dorset school holidays): Children (2–15 years): £1.50– £2.35 for a return; Adults £2–£3.55 respectively. moorsvalleyrailway.co.ukMoores Valley Park & Forest moors-valley.co.uk
Hamsterley Forest, County Durham
Hamsterley Forest Drive is a spectacular route that winds its way up Bedburn Valley following the streams that tumble off the North Pennines. There are plenty of opportunities to stop along the way to explore the forest and there's a cool play park, too. But the real highlight of Hamsterley Forest is its Camp Out events. You and your wannabe Bear Grylls will build shelters, light fires (not a match in sight), and cook a meal, topped off with campfire popcorn. Sitting round the fire with full tums, you'll learn the fine art of making an elder-wood peashooter or a string bracelet from nettles. Just grab a guitar and you're all set for camping like a cowboy. It's not a sleepover event, so you'll be able to head home after to your mossie-free beds.
Hamsterley Camp Out (Sunday 26th October, 12.30pm–5.30pm): Children (8+) £10; £30 for a family of four (max two children per adult). forestry.gov.uk/hamsterleyforest
Trentham Monkey Forest, Trentham, Staffordshire
Here's the chance for your kids to unleash their funky gibbon at Trentham Monkey Forest where they can walk among 140 Barbary macaques living in 60 acres of forest. Following the woodland trail allows you to walk amongst the monkeys and immerse yourself in their everyday antics of swinging from the trees and lounging on the grass, as well as picking up some intriguing grooming habits. Situated on the 750-acre Trentham Estate, you'll also discover an Italian Garden, a fairy trail, treetop adventures at Aerial Extreme and a lake. Trentham's Woodland Walks and Shopping Village are free to enter, but you'll have to pay to get into the Trentham Gardens, Trentham Monkey Forest and Aerial Extreme.
Trentham Monkey Forest: Children: £5.50 (under-3s go free); Adults £7.50. trentham.co.uk/monkey-forest Aerial Extreme: Children £21; Adults £26. aerialextreme.co.ukTrentham Estate trentham.co.uk
* Survey carried out by UK-based garden furniture etailer Alfresia.
Rainy day? Head to one of the UK's best museums.