Take the kids on the piste this weekend (no passports required)…
Who needs the Alps when there's a whole lot of winter fun to be had right here in good ol' Blighty? From dry slopes to indoor centres packed to the rafters with real snow, you can take the kids skiing, snowboarding, sledging and even tobogganing, but without the hassle or dosh you'd need to take them to an alpine resort abroad…
The Snow Centre, Hemel Hempstead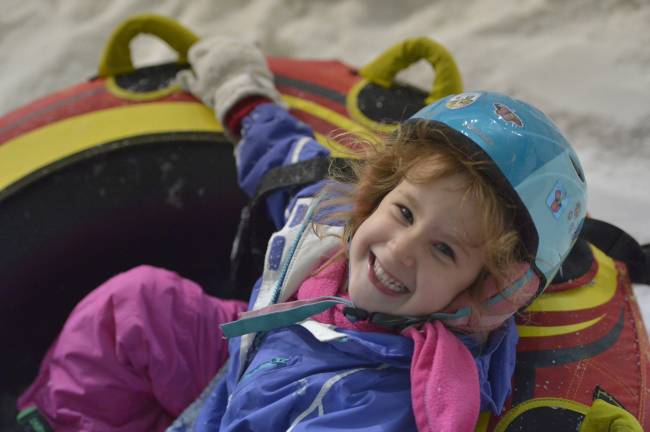 Poor Londoners haven't had so much as a sniff of snow this winter, but not too worry, as the Snow Centre in neighbouring Hemel Hempstead is full of the white stuff. It's also the proud owner of the largest indoor lesson slope in the UK, as well as a 160m main slope, perfect for polishing up your edges and 'hotdogs'. But if your kids are new to snowy sports (or you're a bit rusty from lack of practice), there's also a wide range of family lessons and passes to choose from, including whizzing down the slopes on a rubber ring or sledge. And for those too-cool-for-nursery-slopes teens, there are some fantastic park layouts for freestyle riders of all abilities. Kickin', dude (do make sure you say that if you want to really make your your kids cringe).
To find out more, check out The Snow Centre
WIN! The nice people at the Snow Centre are offering a one-hour private lesson for a family of up to four people – great for if you want to hone your 'hotdogs' or just learn how to stop safely! For your chance to win, click here
Snow Factor, Glasgow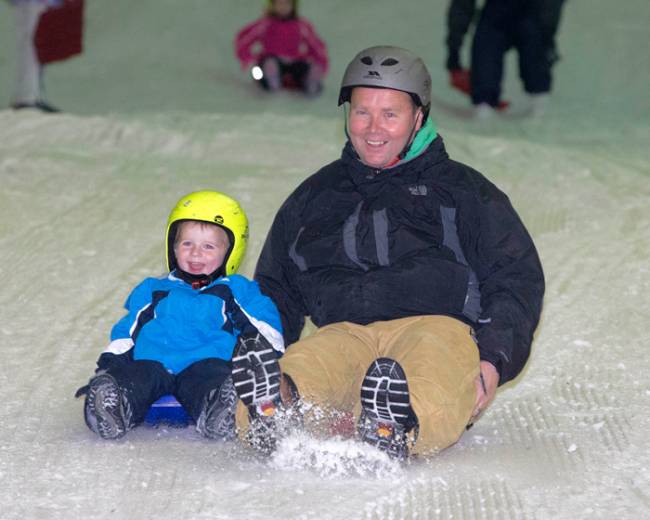 You'd think Scotland would be sick to the hind teeth with snow – but you'd be wrong. Glasgow's Snow Factor is a fave fun day out for the locals, and with good reason. Firstly, it has a 200m-long main slope covered in 1,700 tonnes of fresh snow, a dedicated lesson slope for beginners and varied park layouts for the freestyle fans. Next up is the giant indoor Ice Climbing wall, suitable for both novices and goat-like mountaineers alike. Finally, is the Ice Slide, a 30m water-flume-on-ice, providing all the thrills with no need for skills – just grab a snow tube and away you go (not for the faint-hearted or wimpy dads). Go on a Sunday, and once your brood has worked up an appetite, pop over to Bar Varia Restaurant and Bier Halle to feed them up again – for free!
To find out more, check out The Snow Factor
The SnowDome, Staffordshire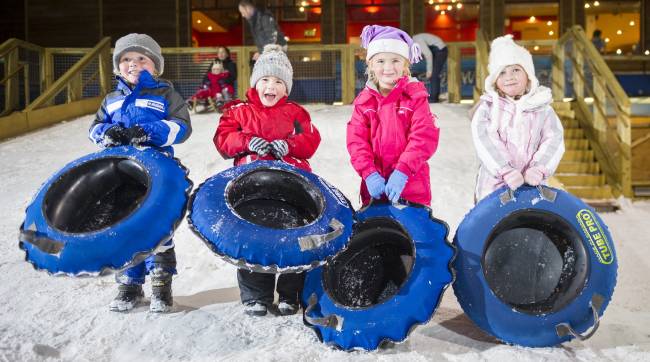 The problem with this real-snow centre is where to start – there really is so much on offer, especially for little 'uns. For the skiers and snowboarders, there's an impressive 170m main slope, plus two Snow Academy areas. But there's also an ice-skating rink, an ice track and even a swimming pool… with a flume. But perhaps the best thing for dads whose joints can only take so much slope pummeling is the children's snow-play area. This is where kids (parents more than welcome, too) can play around in the snow, slip on the slides, clamber up the climbing frame and enjoy a game of snowballs – all while worn-out dads keep an eye on them from the comfort of the snug log cabin veranda with a hot cup of chocolate.
To find out more, check out The SnowDome
Chill Factore, Manchester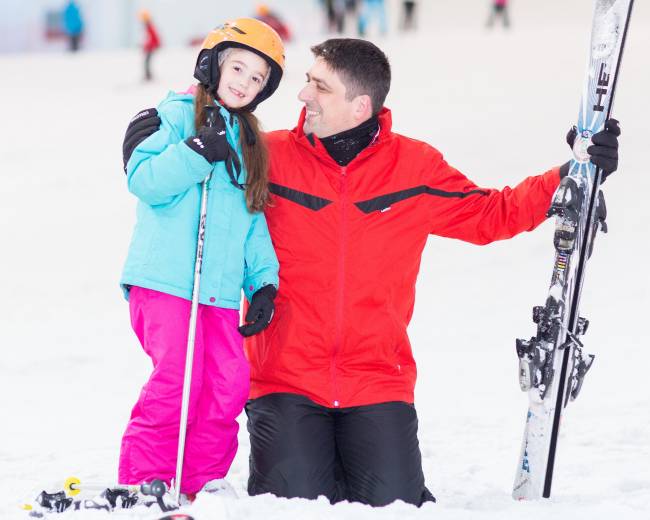 Home to the UK's longest indoor skiing and snowboarding slope, Chill Factore has a load of ace alpine activities under its colossal roof – this centre covers a whopping 250,000sq ft. First up is the 180m-long real-snow slope, perfect for honing your technique, or whizzing down at tummy-turning speeds on a tube. And for no-fear teens, there's Snowscoot – a new craze where you get to mash up BMX biking and snowboarding. For knee-high novices – or if your ski legs are a bit wobbly nowadays – there's also a nursery slope. Besides the slopes, there's also a luge slide, tubing lane, children's Snow Park, and an indoor climbing wall. After all that slipping and sliding, your kids will no doubt be famished, and they'll be spoilt for choice, as there are more eateries here than you can shake a ski at, including Fredereck's ice-cream parlour if your kids just can't get enough of the icy stuff. (There's also a pub if you're in need of a warming dram or two.)
To find out more, check out Chill Factore
WIN! We have a family ticket (for up to four people) to Chill Factore's Snow Park up for grabs! Thrills and spills, slips and slides, the park will see all sizes of family members having some seriously cool fun! For your chance to win, click here
Snozone Milton Keynes and Castleford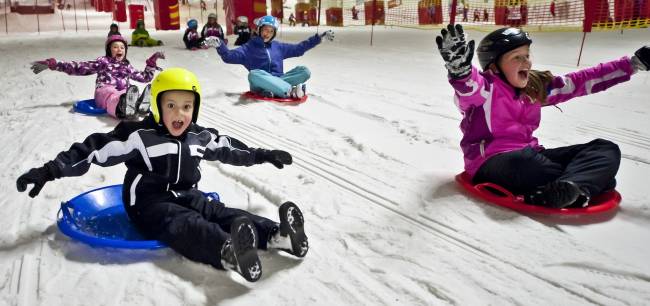 At Snozone, it 'snows' daily to keep the runs fresh with real snow on the 170m-long main slope, which is served by two lifts – you'll be thankful of that after the third trip back up the top. There's also a dedicated lesson slope for beginners to find their snow legs before ski or snowboarding on the main slope. But if you're in need of a breather, children can attend the SnoAcademy, which runs every weekend during term time. Expert (but non-scary) coaches will teach your little ones to ski and snowboard in a safe and friendly environment. All prices include the hire of skis, poles, snowboards, boots and helmets. Keep an eye out for special events, as the Snozones host some cool tournaments, from British Championships to freestyle jams.
To find out more, check out Snozone
Ski Rossendale, Lancashire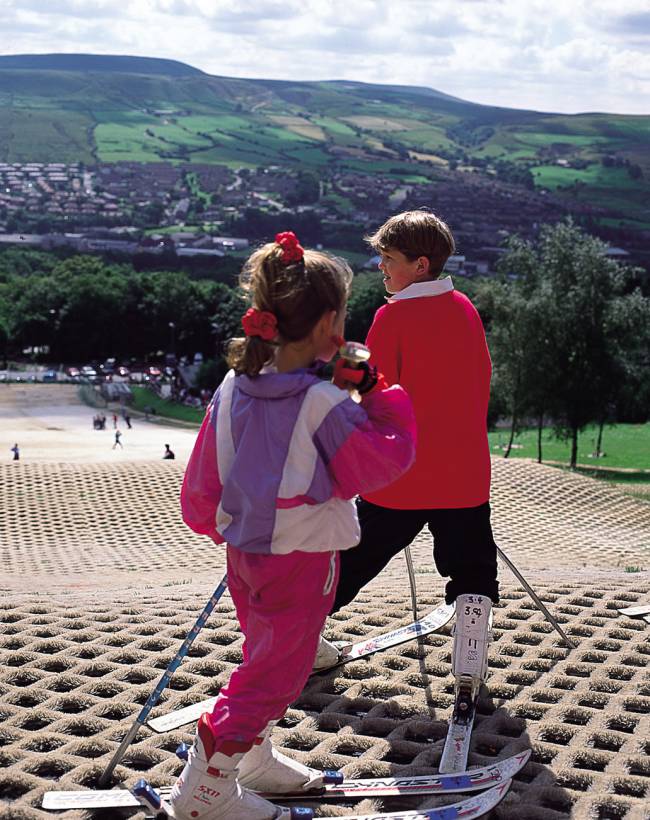 The Northwest's biggest outdoor ski and snowboard centre is perfect for those who prefer their snow fun in the great outdoors. In fact, its picturesque setting in the Roseendale Valley means it's surrounded by hills, providing a real taste of mountain conditions, without the fear of avalanches, of course. This dry slope centre is massive, and includes a 180m main slope, a fun park, and a nursery slope, plus Britain's first Sun Kid Travelator Lift. With tip-top tuition from friendly instructors (Ski Rossendale was set up by four snow sports instructors), a kids club and a log cabin cafe, you'll be bringing home some tired-out but thoroughly happy kids come the end of the day.
To find out more, check out Ski Rossendale