The school holidays are finally here, and from the weather we've had so far, it looks like we're in for some sunny weeks ahead. While the summer is the perfect time to let loose, enjoy being a kid and have plenty of time with the family, it's also important not to let your children's studies go during the break, making returning to school in September a lot more intimidating than it needs to be. Charlotte Gater, Head of Curriculum at Explore Learning, has put together five top tips for parents to help avoid the 'summer slide'…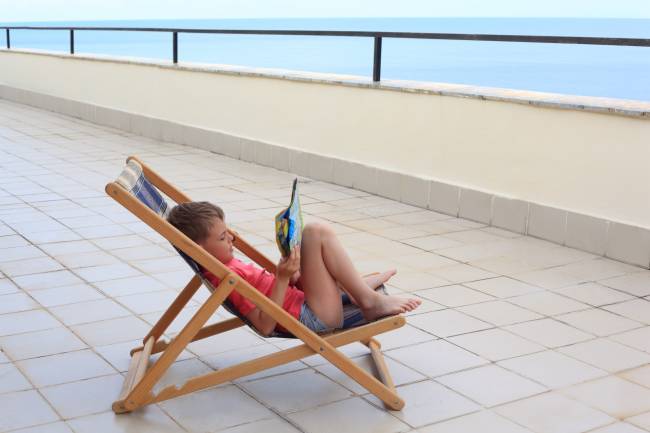 While the school holidays are all about fun and spending quality time as a family, research from tuition provider, Explore Learning, has found that nearly half (47%)* of parents in the UK worry about their children falling behind with so many weeks away from school. So, what can be done to help children keep their literacy and arithmetic up over the summer, while making sure they also get the break they deserve?
Charlotte Gater, Head of Curriculum at Explore Learning has put together five top tips for parents and Explore Learning will be holding a number of specialist courses over the summer break that children can sign up to.
1. Start a diary
Give your child a notebook to jot down ideas when you're out and about. Then ask them to write it up when you're done. Perhaps ask them to embellish the activities you did – including some of the surreal and extraordinary to really get their imaginations going. You can also encourage them to take pictures to accompany the diary that you can upload to the computer that will help with their tech, writing and creativity skills.
2. Send a postcard
Encourage your child to let your friends and family know what you're up to when you're on holiday. Postcards home are a sure-fire way to get your child to write – while strengthening bonds with loved ones who will be grateful for the surprise.
3. Read, read and read some more
Make sure your child isn't always playing on the iPad or watching TV. Having a book to read either at bedtime or on a journey is a fantastic way of expanding their vocabulary and inspiring their imaginations.
4. Tell the time
Does your child constantly ask, 'Are we nearly there yet?', 'When will my cousins be here?', or, 'When are we going to the park?'. It's a great idea for them to wear a watch, then use their love of questioning to get them confident with time. For example, 'Are we nearly there yet?' can be responded with 'we'll be there in half an hour. How many minutes is that? What time will it be then?' etc.
5. Have a picnic
Not only does it encourage children to make the most of the world outside but it's great for socialising – remember socialising with other children is just as important as keeping their learning up over the summer, as kids learn so much from others. You can also sneak some maths and English in to your preparations. Get your child to use times tables and addition when working out how many sandwiches, oranges, drinks etc you'll need to take. They could write a shopping list to work on their spellings then estimate how much they think the food will cost. And when baking, encourage them to do the maths when it comes to working out ingredients.
Thousands of children across the UK attend Explore Learning centres over the summer break to keep their English and maths skills ticking over and Explore Learning will be running a summer promotion where the first 65 members save £50 (from 11th July – 11th August)*.
They will also be running a whole range of specialist courses to support children on their journey throughout primary and secondary school. While they run all year round, they will be holding four specific courses for six weeks over the summer break including:
Creative Writing along the theme of Castaway – explore and discover the skills needed to write a descriptive story (for year 3 and above)
Creative Maths along the theme of The Maths Detective Agency – apply your mathematical knowledge to crack codes, calculate the value of what was stolen and locate the loot! (for year 3 – 6)
Intro to Eleven Plus and Entrance Exams – Find out what the exams involve, exam techniques and develop your vocab, problem solving and reasoning skills (for year 4)
Succeed in Secondary School – Develop skills needed to succeed in secondary school – from creating photo essays to writing speeches! (for year 6 and above)
For more information on Explore Learning visit explorelearning.co.uk