There's still time to hit a theme park before summer ends. Our friends at KidRated – the website where all the reviews are done by kids to help families make more informed choices – give us their top picks…
1. THORPE PARK
With over 25 rides and attractions, Surrey's Thorpe Park has plenty for even the most hardened thrill seekers to enjoy. Take on the 10 loops of Colossus or brave 0 to 80 mph in less than two seconds on Stealth, but brace yourselves – it's Derren Brown's new 13-minute long Ghost Train that will really test your nerves! There are some rides for little ones (or those who'd prefer a more relaxing day!), but Thorpe Park is more suited to older children and teens. A word of warning – there's not much in the way of a healthy meal here, so you may want to bring along your own.
Kids will love: Getting thoroughly soaked on Tidal Wave (take a towel or a change of clothing).
Adults will love: Sitting on a bench with a good book while the kids run around and do their thing!
Check out the KidRated Thorpe Park review.
2. ALTON TOWERS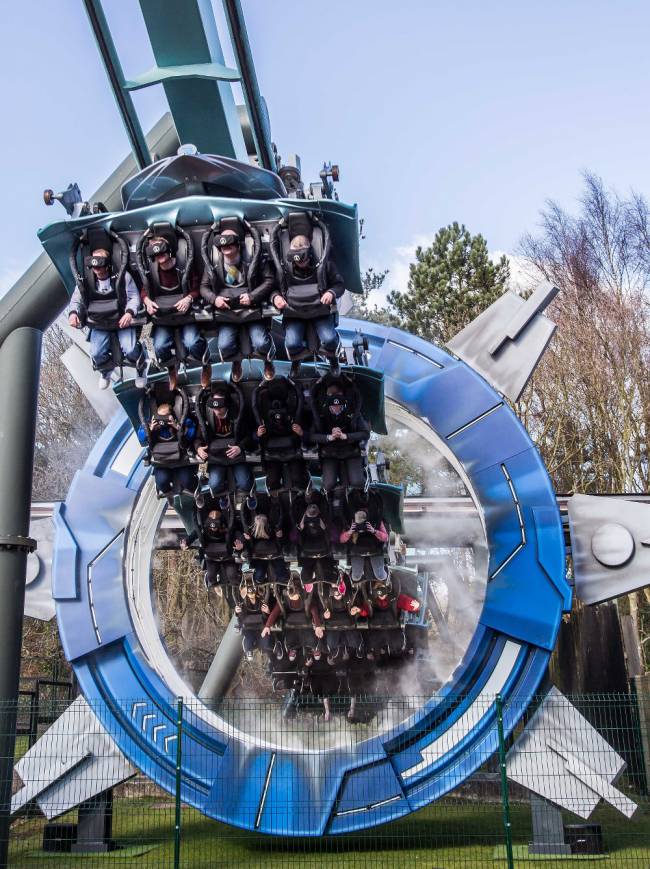 Set in 800 acres of stunning Staffordshire countryside, Alton Towers is a surprisingly beautiful theme park based in the grounds of an old stately home. The arrival of CBeebies Land a couple of years ago means there really is something here to thrill all age groups, so it's great for families with a big age range. With everything from an In The Night Garden boat ride to the Congo River Rapids that leave you drenched, plus some of the best rollercoasters in the world including the mighty Nemesis. This place has so much on offer, your only problem will be how to fit all in.
Kids will love: The rollercoasters! But do your homework on the website first, there's one for all heights / ages / bravery, so plan your day wisely!
Adults will love: Appreciating the beautiful setting on the Skyride and taking a break from the mayhem in the formal gardens.
Check out the KidRated Alton Towers review.
3. LEGOLAND WINDSOR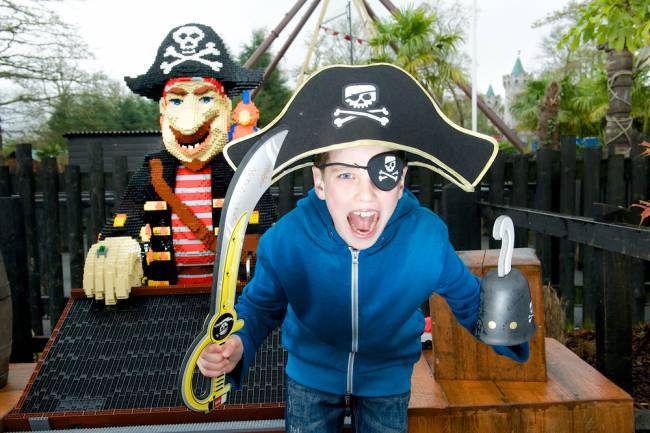 It never ceases to amaze us how much those clever Lego types can do with a little plastic brick! Legoland has got it all, and is a great day out for families with primary-school aged kids. As well as the unmissable Miniland, there are Lego fires to put out, boats and cars to drive, the Dragon roller coaster and the Jolly Rocker pirate ship to get your blood pumping, plus the SQUID Surfers and Pirate Falls to cool you down afterwards!
Kids will love: Looking at the detail that has gone into Miniland – nearly 40 million Lego bricks were used to recreate scenes from Europe and the USA.
Adults will love: Taking the weight off their feet while the kids are entertained watching one of the excellent live-action shows at Heartlake City
Check out the KidRated Legoland review.
4. DRAYTON MANOR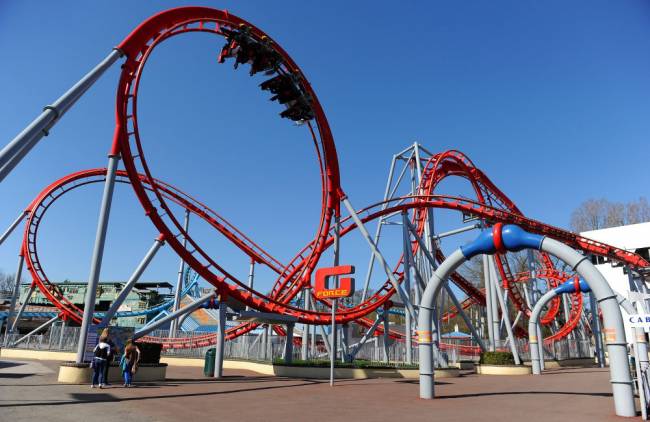 Set in woodlands in the West Midlands, Drayton Manor is another great day out for families with that tricky mix of teenagers and pre-school kids, as both will be well catered for here. Adrenalin junkies will enjoy Apocalypse with its 54m drop, the stomach churning spinning Maelstrom and the stand-up roller coaster, Shockwave. As well as all the usual theme park rides, Drayton Manor is also home to Thomas Land, a theme park dedicated to Thomas the Tank Engine and Friends, perfect for younger children.
Kids will love: Going backwards on the Stormforce 10 log flume and getting even wetter at Splash Canyon.
Adults will love: calming everyone down in the zoo that's included in the entrance price.
Check out the Drayton Manor website.
5. PAULTON'S FAMILY THEME PARK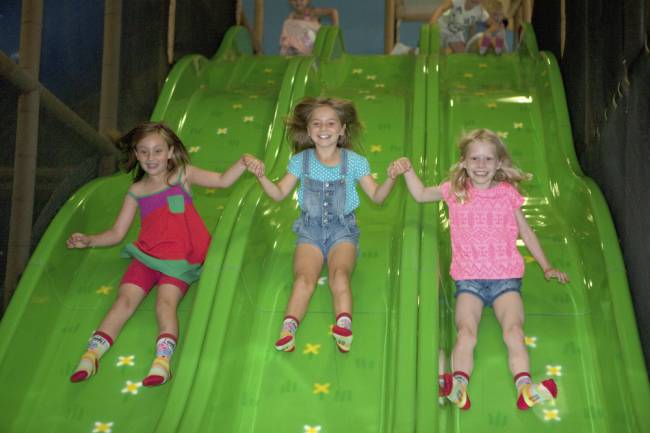 Situated right on the edge of Hampshire's New Forest, Paulton's Family Theme Park is best suited to families with children under 12 and is home to everyone's favourite pig family in Peppa Pig World. Peppa fans will love riding in Miss Rabbit's helicopter and Daddy Pigs car, and seeing Peppa's house and school, while older children will enjoy the new £9million dinosaur-themed Lost Kingdom with it's two brand new roller coasters – the Flight of the Pterosaur and Velociraptor – the animatronic dinosaurs are pretty cool.
Kids will love: Jumping in muddy puddles like Peppa & George Pig.
Adults will love: The New Forest setting – why not make a weekend of it?
Check out Paulton's Park website.
6. DIGGERLAND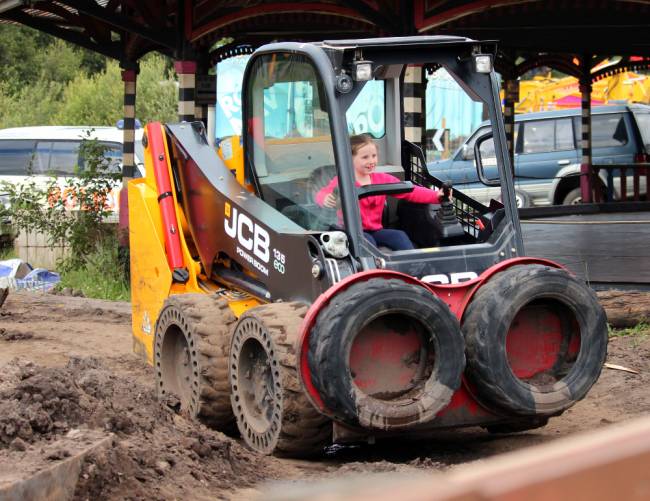 Yes, yes we know we always mention it, but we've yet to meet a family who didn't love Diggerland – the adventure park where all the rides and attractions are made from diggers, tractors and dumper trucks. And if that wasn't cool enough, both adults and kids get to control REAL construction machinery as well.
With Venues in Kent, Durham, Yorkshire and Devon (where you can also camp) there should be one within easy reach and, because kids can go on most rides with adults, it's a really inclusive and fun family day out. Each venue has over 100 diggers and dumpers and if you've never seen the look on the face of a kid operating a JCB, it's definitely a sight you'll remember.
Kids will love: Operating heavy plant machinery and not having to make the noise themselves.
Adults will love: Being able to walk round saying "I really dig this place!"
Check out the KidRated Diggerland review.
* HONOURABLE MENTION *
BLACKPOOL PLEASURE BEACH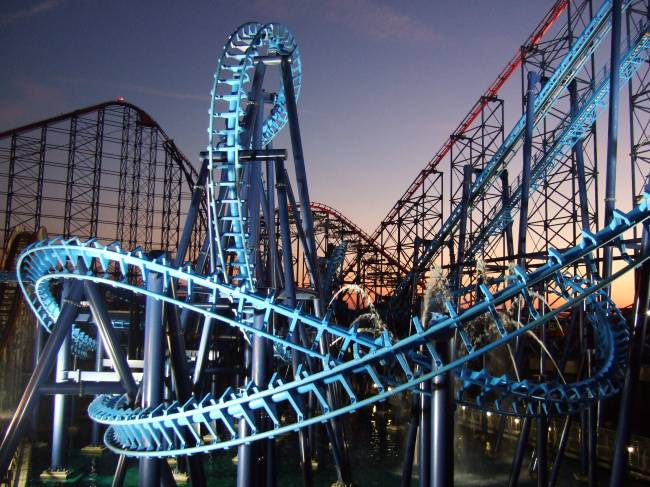 And we couldn't talk about theme parks without giving an honourable mention to Blackpool Pleasure Beach, over 100 years old and with legendary rides Valhalla and the Big One, it's a heady mix of seaside fun and theme park thrills.
We recommend buying a wristband online which means you can save up to £11 on the entrance price.
Kids will love: Nickelodeon Land which boasts 12 exciting rides based on some of the worlds most popular cartoons including SpongeBob and Dora.
Adults will love: The Rain Day Return promotions offer, which guarantees you a free visit the next day if it rains for more then three hours whilst you're there.
Check out the Blackpool Pleasure Beach website.
For more ideas of fun things to do with the kids, go to KidRated.com