There's nothing like a whiz around the rink to get you into the Christmas spirit. DAD.info takes a slide on 10 of the best…
Somerset House, London
Not just for city boys, this part of the capital has a secret – nestled under the soaring buildings of Canada Square is Canary Wharf Ice Rink, complete with scenic skate path, which leads you under trees lit with fairy lights, then back onto the main rink. Avoid said city boys during the week, and visit at the weekend, when everything takes on a slower, more family-friendly pace. But that's not to say you and the kids can't burn ice as you race each other round the rink. And after an hour of that, pull up a chair at the viewing terrace and enjoy the specialty of Cornish hot wings while pointing and laughing at all the other skaters who are as useless at staying vertical as you are.
Open until 24 February. To find out more and book tickets, go to icerinkcanarywharf.co.uk
Ice Skate, Birmingham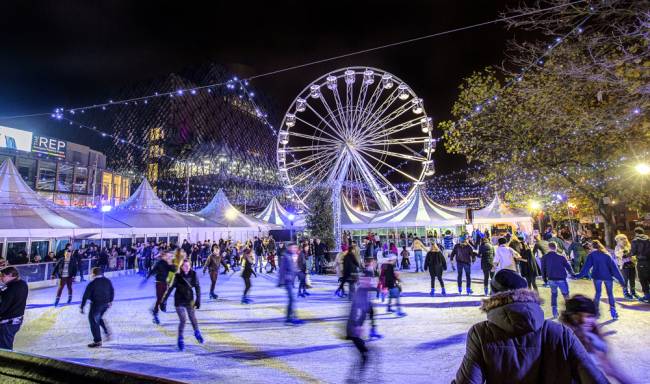 Ice rink? Check. Frankfurt Christmas Market? Check. Observation wheel? Check. We'd say with all this going on, you're pretty sorted for a top Crimbo day out with your gang. Located within the iconic Centenary Square, there are SeaLife penguin skate aids for children and there's plenty of festive food and drink to fuel the fun rink-side at The Ice Lounge too, with mulled wine and cider to spice up your outing, and hot choc with marshmallows for the kids. This year, the organisers have also put a roof over the rink, so the rain or snow won't spoil your fun.
Open until 7 January. To find out more and book tickets, go to iceskatebirmingham.co.uk
Royal Pavilion Ice Rink, Brighton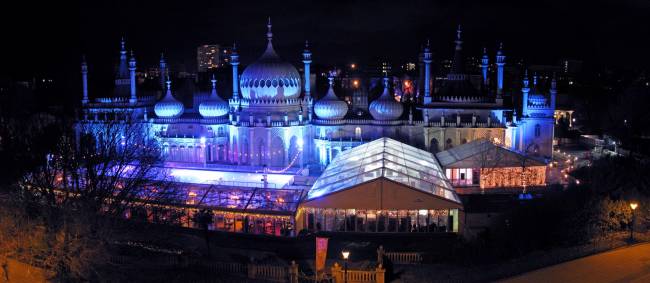 If you've ever wondered what it would be like to skate next to a towering magical Christmas cake – and quite frankly, who hasn't? – Brighton's Royal Pavilion is the venue for you. The stunning former pleasure palace of King George IV is now a museum, and provides one of the UK's most magnificent settings to skate, a stone's throw from the East Sussex coast. The rink's Bar & Kitchen offers craft beers and ginger wine, with panoramic windows for those who'd rather watch the action than partake, while outside skaters can enjoy all that this exotic slice of Brighton has to offer, as the Taj Mahal meets Dancing On Ice.

Open until 14 January. To find out more and book tickets, go to royalpavilionicerink.co.uk
Tower of London Ice Rink, London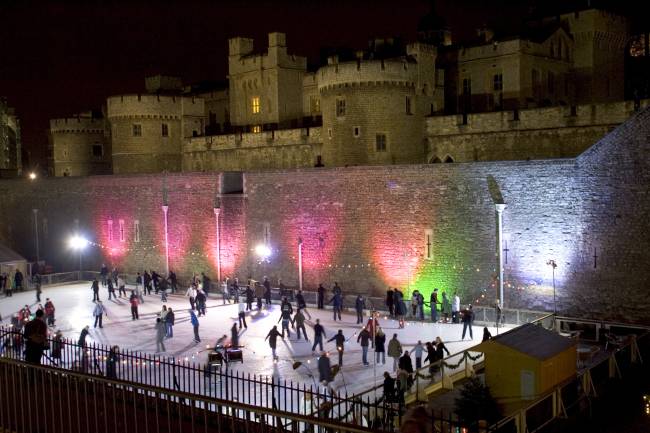 Located in the moat with stunning views of the Thames and Tower Bridge, the Tower of London rink pops up each year in one of the UK's most magical locations. Power your skate with food and drink from the rink-side cafe, and make sure you look up once in a while to remind yourself you're skating in the shadow of one of the world's most famous historic landmarks. Pretty cool.
Open until 10 January. To find out more and book tickets, go to toweroflondonicerink.com
St Andrew Square Ice Rink, Edinburgh
Breaking from tradition, this fun circular rink allows skaters the chance to whiz round the Melville Monument in Edinburgh's St Andrew Square. The city's centre is a veritable winter wonderland, with fairground rides including a helter skelter, while at Santa Land in East Princes Street Gardens, kids can meet the man himself in the Grotto, test their metal in the Christmas Tree Maze, speed on the Race-a-Rama ride and try out the Ice Wall. Could it be any more Christmas?!
Open until 6 January. To find out more, go to edinburghschristmas.com

Combine a morning on the ice at this rink in Newcastle's Times Square with an afternoon at the Life Science Centre, where kids can take a trip on the Happy Feet and 4D Motion Ride, mix up some mischief in the Experiment Zone, or get star-gazing at the Planetarium. You can also catch a live show in the Science Theatre, while little ones will love the Young Explorer's Zone. Education + fun = one happy Christmas. Enjoy!
Open until 18 February. To find out more and book tickets, go to life.org.uk