These two great shows and stay-and-play workshop activities at London's Sadler's Wells Family Weekend are perfect for keeping the kids entertained this Easter…
Snow White, balletLORENT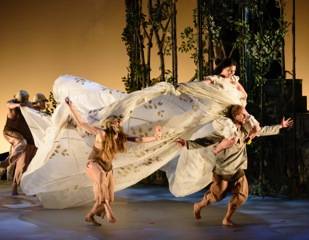 Following their award-winning production of Rapunzel, contemporary dance theatre company, balletLORENT, returns with this magical production of the Brothers Grimm fairytale, Snow White, featuring the company's excellent dancers, plus a cast of 12 local school children.
Narrated by Olivier and Tony Award-winning actress, Lindsay Duncan, and featuring renowned soprano Elin Manahan, this is a great way to introduce your little ones to the ballet.
With imaginative staging and fantastic costumes designed by Game of Thrones designer, Libby Everall, and a score provided by the Royal Northern Sinfonia, the UK's only full-time chamber orchestra, you're definitely in for a treat.
Age guidance: 7+
Digitopia, Tom Dale Company with MOKO Dance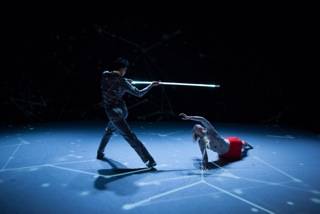 Tom Dale Company has partnered with MOKO Dance to present Digitopia, a dancing digital wonderland, whichintegrates live dance and digital technology to create an abstract world that defies the usual rules of gravity and physics. Sounds fun, huh?
Dotty's friend Hex is a simple two-dimensional line. One day Hex really wants to make a curve. With lots of effort he learns to bend, then multiply, and suddenly he can turn into anything he wants to, eventually popping into three dimensions.
This bold and innovative show takes young audiences into a sci-fi-like environment, where digital animations of brightly coloured patterns explode and morph with the movement of dancers. If you're looking for something a little different to do this Easter, this is it.
Age Guidance: 5+

Storytelling Workshops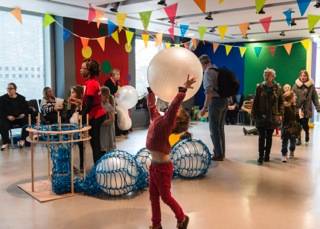 The Easter fun continues at Sadler's Wells Family Weekend with workshops and foyer activities before and after the shows.
The theme for this year's free creative play activities is 'storytelling', with a focus on introducing families to different worlds.
Rosie Heafford and the team from Second Hand Dance will stage pop-up performances, dress ups and interactive games to get kids moving.
One floor will be transformed into an enchanted forest, where children will be encouraged to contribute to 'The Tree of Dreams', and kids and their families will also be invited to share stories by contributing to the 'Once Upon A Time' wall. '
'The Story Den' will be filled with books to read and there will be a 'book bed' where duvets are turned back to reveal book pages. Another floor will be converted to a large mirror to inspire children to draw self-portraits, which they can take away with them.
There will also be opportunities for screen printing, drawing, hat making, face painting and much more, so don't forget to drop in.
Sadler's Wells Family Weekend, Friday 25 March 12.30-5pm and Saturday 26 Mar 10am-5pm.