Father of two, Nick Lloyd-Davies, takes the family to KidZania in London for some role-playing action…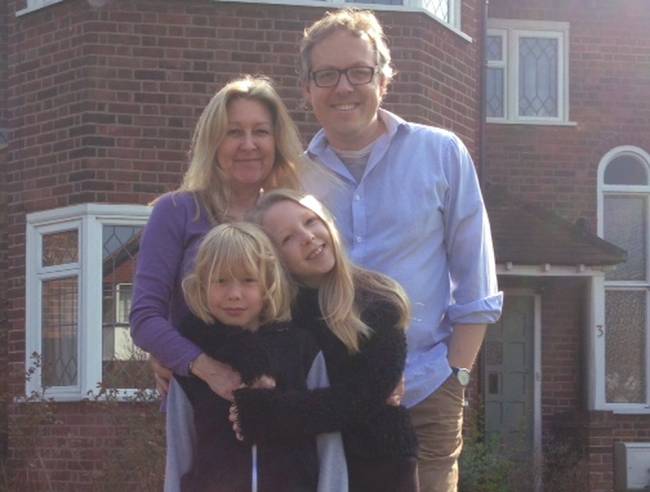 "KidZania? Never heard of it!"
This was my response when my wife told me we were heading to KidZania London at the weekend – with the kids of course. Great, I'd thought, another play-zone – hadn't they grown out of that sort of thing? In fact, the kids had never heard of it either so were naturally skeptical, especially teenage daughter Calypso (13) – anything pre-fixed 'Kids' is something to avoid like the plague.
So, they needed convincing and we checked it out on-line at KidZania.com and this is what it said:
"Imagine a 75,000 sq.ft. child-size City where kids are in charge! Designed to empower kids, KidZania gives them the confidence to challenge themselves and inspire them to explore the world of opportunities. KidZania is a real life role play experience for 4-14 year olds, blending learning and reality with entertainment."
It sounded intriguing with more to offer than regular play zones. Plus, it's based in the middle of the Westfield shopping centre in Shepherd's Bush, so as I had never been there either (the female half of the family are of course regulars…) at least there was a fall-back if it didn't quite live up to the hype.
Easy to get to on public transport, we were at Shepherds Bush in no time. We – as in dad (me), mum, teenage daughter (with teenage friend) and nine-year-old son Oscar – were directed by the KidZania website to a corner of the first floor and a replica BA Aircraft which was not easy to miss. At that point we started to get an immediate sense that this attraction was offering something unique.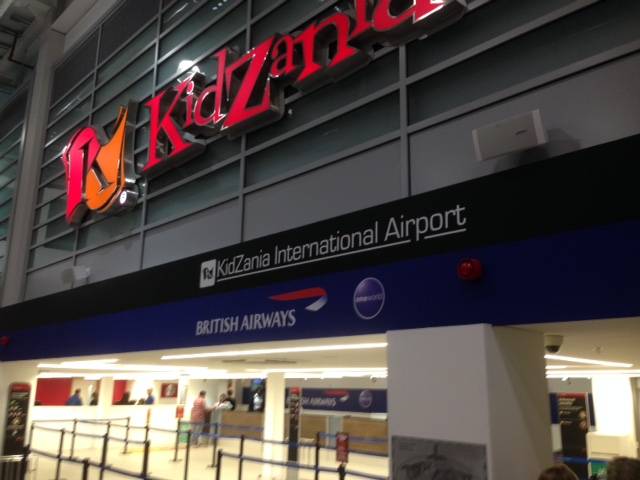 A series of BA check-in desks, with staff trussed up in BA uniform really did feel like the real thing. We were heading off on holiday – in the Westfield shopping centre! The giveaway was the fact that the staff didn't ask for our bags. Instead of wrapping those paper labels around suitcases, they tied tracker devices around our wrists, telling us that no child in our group would now be able to leave KidZania without one of the group's adults – pretty clever.
The check-in man was very enthusiastic explaining the KidZania concept and dishing out the legal tender, known as KidZos. As the website states, the earning and spending of KidZos is a fundamental part of the experience, as part of "the supply and demand economy". Kids will "reap the benefit of the working world". Yeah? What benefits? I mused.
We were each given a city map, which outlined different potential jobs and 'establishments' the kids could try. Some establishments were 'earning' venues marked with a '+' sign, whilst others were for spending only (marked with a '-'). You could also opt to open a bank account and get a KidZos cash card to use in a real cashpoint machine, and even get a passport for future visits. Amazing. We were intrigued as we were ushered in through the 'departure gate' with a float of 50KidZos per 'kid' to get us going.
And this is where things went a little crazy. A mini-fire engine immediately screamed across our path, full of little kids with yellow helmets on. We needed to reach the cloakroom to store bags and coats, but were blocked off by a police cordon managed by mini-policemen and policewomen. Mini-firefighters were directing real hoses (with real water) to a building, right next to the cloakroom and this went on, and on… But, in spite of our own temporary frustration, it was evident that the mini emergency service team members were really enjoying themselves!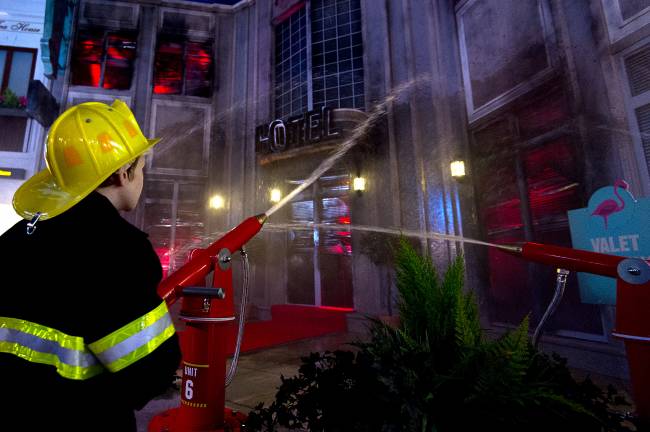 Teenage daughter (and teenage friend) both promptly disappeared to find something slightly more grown up – we didn't see them again until we texted to announce our departure, but suspected they had already made their mind up about KidZania. The place was dark, manically busy and noisy, but it was a Bank Holiday so I assume this was to be expected. Our focus was therefore on getting our nine-year-old son to give this a real go – he didn't look keen.
We looked at the map and saw a vast choice of 'jobs': hospital/A&E, forensics, pit lane experience, burger shop, supermarket, animation studio, fashion factory, beauty salon, estate agent, banking, tattoo shop photography, Capital FM radio, newspaper, stadium, acting and more, and more. An incredible choice. It reminded me of my school careers' advisor, with a large book of jobs, asking me questions and concluding I should be a hotel manager – well, at Fawlty Towers perhaps!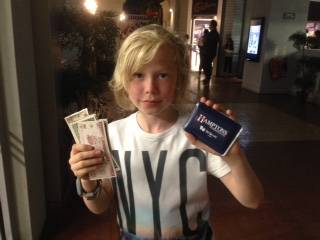 We settled on the stadium, estate agency and power utilities. The stadium session involved nothing more than rolling big balls into a tower of boxes to earn points (boys against girls) – not great learning to be honest. The estate agency sent the kids off into the city to find a property, measure it up and return with sufficient information to prepare sales details. OK, better. The power utility job got the kids to monitor properties with excessive light usage – a.k.a energy-saving education. Nine-year-old son seemed to connect with this one. But if I'm honest, I don't think this quite equated to enjoyment. Had he identified a career? Well… not really.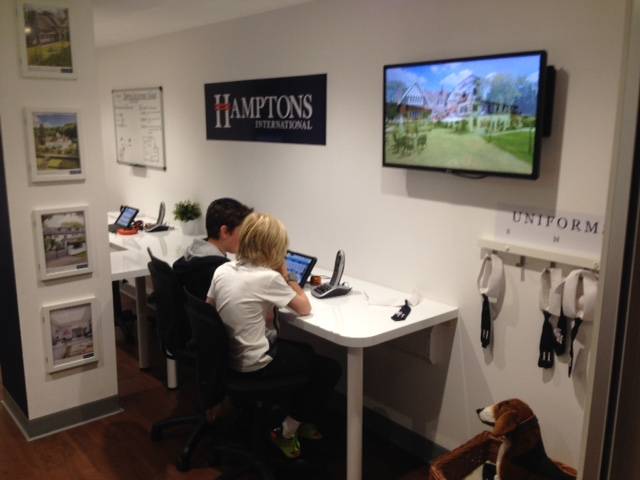 All in all – and recognizing we had only had two of the permitted four hours there so there was a vast amount we hadn't tried out – we all reached the same conclusion about the place: amazing concept, choose a quieter day to avoid queues (and keep your head!) and check out a lot more of the experiences. And – I'm afraid, KidZania is most definitely not suited to kids over 10, it's just for the littl'uns.
Top parent tips
Check out the 'Parents' Lounge' which is an oasis in the mayhem!
Plus, take a preliminary tour of the KidZania venue, so you know what to expect.
For more information on opening times and tickets, head to KidZania.com
Nick Lloyd-Davies is a town planning consultant and children's book author who lives in London. His stories can be found at glowstoneadventures.com