As their movie sequel hits DVD, we spoke to The Inbetweeners – aka Simon Bird, Joe Thomas, James Buckley and Blake Harrison – to find out what made the boys return to their seminal characters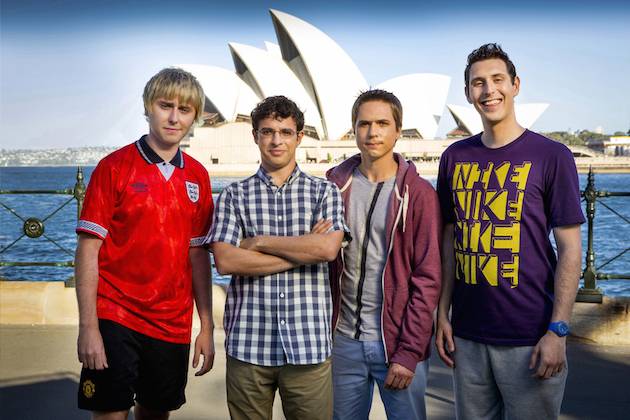 The first film was a smash hit – is The Inbetweeners 2 more of the same?
Simon Bird: We wanted to avoid the classic sequel mistake which is making a second film that's basically the same as the first.
Joe Thomas: With the first film, you could argue it was bordering on romcom territory…this one is not that sort of structure. It reminds me of one of the episodes. Within that, there are some lovely set pieces that we think are really funny. And some of the most ambitious we've done.
Blake Harrison: We still think of ourselves as a small British film and we are. So to get everyone over to Australia and to put us and the characters in such an epic setting was a really big deal, but I think it's paid off.
James Buckley: We always try to be bigger and bigger. After every series, we always wanted the next series to be more ambitious. And I think you'll get that feel straight from the opening credits.
You'd previously said you didn't want to do a sequel. What changed?
Simon: Before we read the script, we were all adamant we didn't want to do it. The first one had been such a high, it seemed like the perfect place to leave it. And we all wanted to do other things.
James: It's been really nice the way it's turned out. All of us – [creators] Iain [Morris] and Damon [Beesley] included – were happy to leave it the way it was with the first film. That was the plan. It was much more successful than we ever thought. After two-and-a-half years, we missed each other a lot, Iain and Damon came up with the idea and on top of that, we still had that demand, still had fans saying, 'please do another film.' Had it not been for that, I don't think we would have done this. We ran out of reasons not to do it. We want to make people laugh.
The Inbetweeners 2 is out 1 December.