Is it called 25? Is it out soon? Seriously, when is it going to be out?
It's STILL not officially confirmed, but it's looking more and more likely that Adele will release her new album this November. Finally. We've been waiting a very long time for a follow up to her 2011 worldwide smash hit, 21, which has sold over 11 million copies to date, and was the best-selling album of both 2011 and 2012 (it's still floating around the charts now, four years after being released).
Adele first teased fans on her 25th birthday back in May 2014, tweeting 'Bye bye 25, see you again later in the year" but sadly, never followed up on that promise. Now, Billboard magazine in the US has announced the imminent arrival of her third record, and the rumour mill has started up again. So – what do we know for sure about one of the most anticipated albums of all time?
– Ed Sheeran knows it's good. Back in July, he told Capital FM: "I haven't heard [Adele's album], but everyone I know who've worked on it is just like, 'Dude… that record!' Apparently, it's really good."
– Producing powerhouse Max Martin (whose had hits with everyone from the Backstreet Boys to Katy Perry, and was a driving force behind Taylor Swift's behemoth, 1989) has penned a single for the album.
– Ryan Tedder of OneRepublic fame is back on board, having co-written 'Rumour Has It' on 21.
– Pop's golden boy Pharrell has dropped hints about working with the Brighton songstress, albeit briefly. He told Ryan Seacrest: "She's kinda like, 'OK guys, I'm gonna open my diary for 20 minutes. Then she gives it to you and closes it up and disappears, and she's off with her beautiful boy – and that's what it's all about."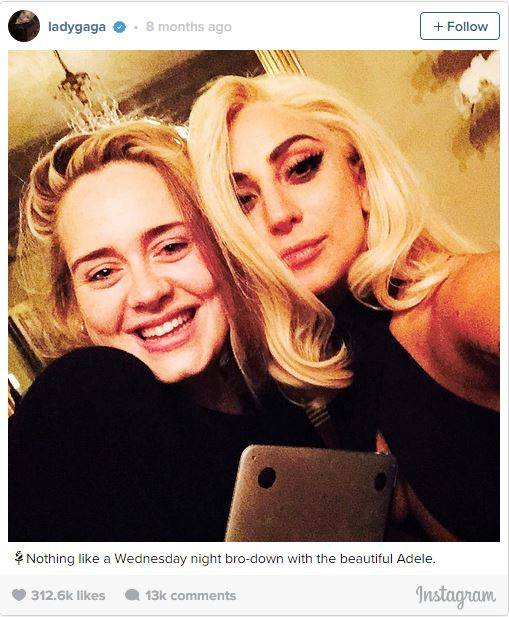 – Lady Gaga took things a step further by posting an Instagram snap of Adele and the Mother Monster back in January, grinning like a pair of popstars who have just recorded a chart-topping single together (at least, that's what we see in these smiles)
– She's gone down the country route; at least, according to Kelly Clarkson. "I heard Adele is doing something more country-influenced with [her] next record," said the 'Since U Been Gone' singer.
– Other artists are freaking out about the release. Beyoncé collaborator Naughty Boy recently stated, with absolute certainty, "Adele's album is coming in September and labels have cleared their schedules because they know it's going to wipe the floor. Emeli [Sandé]'s album is coming out next year now."
– It might actually be a happy record. Having kept herself well out of the spotlight for the last few years, everybody knows that Adele is very content looking after her young son, Angelo, with her partner Simon Konecki, at home in their West Sussex Mansion. She told reporters a while back: "I'm done with being a bitter witch" and it might just be that the heartbreak songs of 21 are replaced with some altogether chirpier numbers on 25.
It has to be released soon, right? Come on Adele, don't leave us hanging on any longer.