Last weekend, our very own Lewis Hamilton blazed to victory in Abu Dhabi as he took home his second Formula 1 title. Once again, he's the world champion and it's very well-deserved.
'When I crossed the line, the emotions flowed out,' he wrote in his BBC Sport column. 'It has been six long years since I last won the title and a lot of sacrifice from my family…'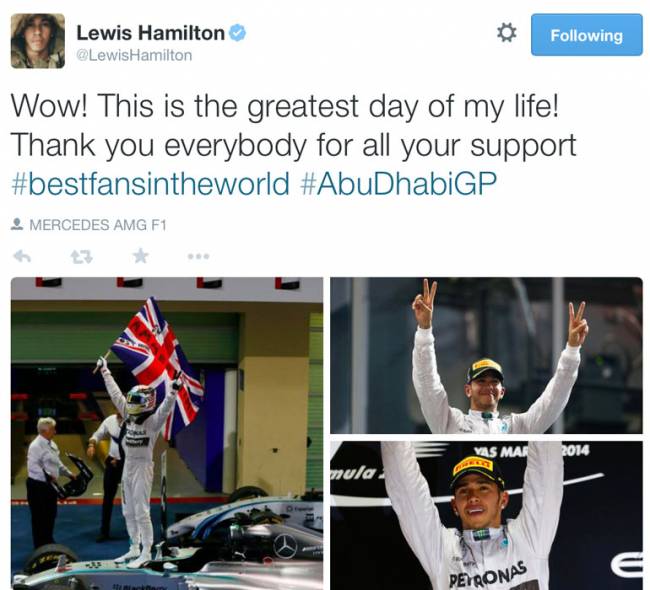 Interestingly, however, it's not the big thumpy, powerful beats of tracks like the Rolling Stones' Jumpin' Jack Flash that got him across that finish line – nor is it the equally inspiring, We Are The Champions by Queen. Instead, Lewis' taste is a little subtle (well, a lot more subtle actually). So what does a world champion racer stick on the speakers to get him in the mood?
'I listen to music before every race,' he writes. 'Generally there will be a song I'll get into over the weekend and I play it all weekend, particularly when I'm getting ready for a race. The Morning from the Weeknd is one I've won races to.'
So here it is; Lewis Hamilton's winning playlist. Massive tunes or surprisingly low-key? Either way, they're doing the trick… Congratulations, Lewis!
1. The Morning by The Weeknd
2. Backseat Freestyle by Kendrick Lamar
3. I Miss You by Beyonce
4. Studio by Schoolboy Q
And on that note, we want to you know your chosen big "go-get-'em" tracks. Let us know below…