You never quite expect chart-topping rappers to get involved in an important educational debate, but that's exactly what Tinie Tempah – real name Patrick Okogwu – did this week. And how unbelievably refreshing it is to hear…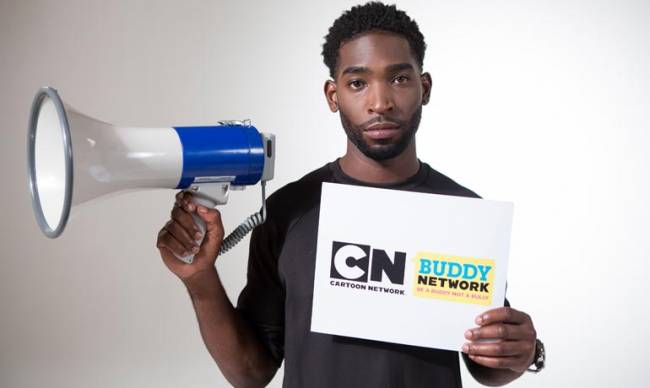 The songwriter and rapper, 25, hit the music scene in 2010, when his debut single Pass Out when straight into the Number One slot. Since then he's become one of the UK's biggest artists, befriended the super-talented Adele, partied with Sir Elton John and has even appeared in Vogue alongside supermodel Naomi Campbell and his great style sense has caused quite a stir too. Not bad for four years work.
This week, Tinie's involved himself in perhaps one of his most powerful roles to date – he's been named as ambassador of the Cartoon Network's anti-bullying campaign, CN Buddy Network, which launched on Monday. And you know what? This isn't yet another sneaky way for a pop star to grab a few headlines. No. It's clear Tinie has a real passion for the subject. Speaking to the Sunday Mirror's Notebook magazine, the Written in the Stars singer has spoken out about why banishing bullying should begin in the classroom – and why with understanding, comes acceptance.
'England is such a diverse place now,' he explains. 'And we celebrate great English history which gives us a sense of identity, pride and patriotism. But if you give people a better idea of their own individual histories and that of those around them, no one would feel more or less important than anyone else. We need to look at how we teach our kids.'
Tinie also went on to discuss the different natures of bullying that parents and friends should be looking out for – pointing out how being bullied is no longer only down to gestures such as 'name-calling and stealing lunch money'. In fact, bullying can happen anywhere and is not necessarily a face-to-face interaction. It's more common through social networks now, and this is something which he has experienced himself.
'"Trolling" will be in the dictionary soon, won't it? We're definitely in the age of opinion, which is great, but I knew from very early on I wouldn't be everyone's cup of tea.
'As long as I have the people I love and care about around me, it doesn't bother me what someone, who I'll probably never meet, says. I ignore them.'
So just why has Tinie become involved with this important campaign?
'My memory is of my friend at school who would never come in on mufti days because people would take the mickey out of his trainers and clothes. I started talking to him because he lived a few roads away and soon we were walking home together after school. That's when my friends started joining us and we became one big group of friends. He settled into school a lot better after that.
'It's time we taught people to involve and include – not divide.'
This sounds like a very good plan to us. Thumbs up for Tinie.
Tinie Tempah is ambassador for Cartoon Network's anti-bullying campaign, CN Buddy Network, which launched on Monday. To find out more visit cartoonnetwork.co.uk/beabuddy