We'd like to see you resist this lot…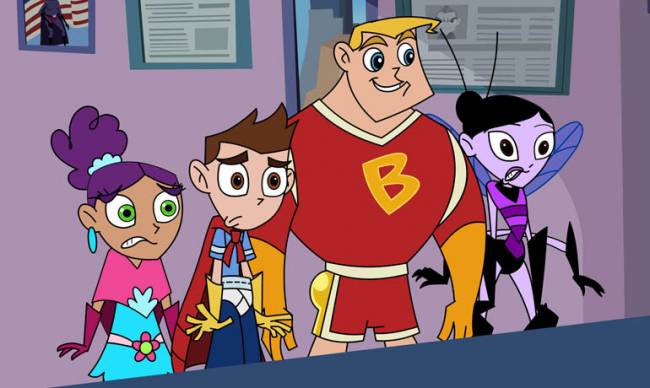 So the holiday season is nearly upon us and you're probably mentally gearing up for Frozen on loop, never-ending adventures with Lightening McQueen (although, let's face it Cars is a brilliant film) and perhaps some slightly over-done fun from Mr Tumble. Oh the larks we have. However, you'll be pleased to hear there are some top current TV shows that will keep not only the little ones entertained, but might leave you enjoying a little sofa sesh too. After all, some of the best children's programmes know how to entertain adults too… right?
Here are our picks…
1. The Furchester Hotel, Saturdays, 5pm, CBeebies
Every child we know is obsessed with this colourful CBeebies-Sesame Workshop collaboration about an 'almost' world-class hotel, looked after by a friendly bunch of puppet monsters. Funella and her hubby Furgus Fuzz are in charge alongside daughter Phoebe – but the most exciting part is, the Furchester tribe have welcomed two familiar faces into the fold: Sesame Street originals Elmo (who is on an extended break in one of the hotel rooms) and Cookie Monster (who has nabbed the job of waiter). You can imagine the fun!
2. Super 4, 4pm, CITV
Short and snappy Super 4 (each episode is just 15 minutes long – boom) is a fun animated comedy about a gang of superheroes (they're not quite The Avengers – but who is these days?) who have taken on the job of protecting their King, Kenric and the city of Technopolis from evil elements. Cue fights with storms and raging fires. Basically think Captain Planet crossed with Galaxy High. Winner.
3. Wizards vs. Aliens, Tuesdays, 5pm, CBeebies
Get your fill of out-of-this-world fantasy with this series about Tom Clarke, a young wizard who spends most of his time defending Earth from magic-guzzling aliens. Yes, magic-guzzling aliens, you heard right. Luckily Tom has a clever superpower of his own – brain power. And he somehow manages to keep those badass aliens (and Randal Moon, the hobgoblin) at bay. Phew!
4. The Avengers: Earth's Mightiest Heroes, 6.55am, CITV
Don't knock this until you've tried it – yes there may not be lots of things being blown up and 3D effects you'd want to see on the big screen but Marvel know how to do good animated series. It's just fact. And it's not like you can ever get sick of watching Iron Man, Giant-Man, Hulk, Thor, Wasp, Black Panther, Captain America and Hawkeye in action (not even when you're old enough to be a dad).
5. Blue Peter, Thursdays, 5.25pm, CBBC
Ahh, there's nothing like an old classic still going strong – and although the days of Shep, Goldie and Bonnie the dogs might be behind us, there are many more pets to coo over, including the latest Guide Dog in training, Iggy. Of course, it's not all just about the cute furry ones, the presenters are still pretty ace too – Barney Harwood, Radzi Chinyanganya and Lindsey Russell are doing a marvelous job. You might even learn something. *gasp*