Sir David Attenborough is a legend. That's just a fact. The man has done great things for the sake of bringing us educational and adventurous television…
He's lived in a polar climate for three years while filming his 2011 documentary Frozen Planet, he once came face-to-face with a group of suspected cannibals in Papua new Guinea (and didn't leg it) and has got up close and personal to some of the largest beaked-predators in the world. It's no wonder he won an award for being the Great Living British Icon.
We're sure you'll agree these are pretty impressive feats in themselves – and what's brilliant is, we get to soak up all his hard work from the comfort of our own sofas. Which, let's face it, is the way better than being stuck in -20 degree temperatures for the sake of that all-important penguin mating shot.
If you need more proof of how awesome he is, check out this list of Sir David's best documentaries. You won't be disappointed.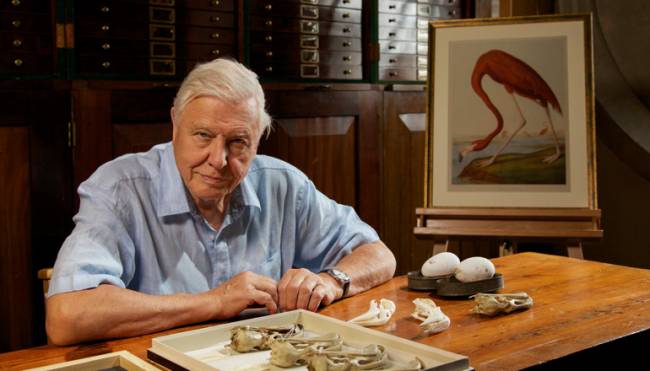 Africa (2013)
Widely noted as one of the BBC's most triumphant pieces of factual television, Africa had everyone talking when it hit our screens, with its tales of emotional attachment in elephants, the competitiveness of giraffes (you've seen nothing until you see a male giraffe take another out with one swoop of the neck) and how local communities fight to save their region's incredible ecosystems. A true celebration of how remarkable the natural world, and our mother continent, is.
Frozen Planet (2011)
This six-episode series investigates the dramatic seasonal changes of the earth's polar regions, the people who live and work there and the effect of climate change. He gets pretty pally with some Gentoo and Adelie penguins too. You'll also learn how although the Arctic and Antarctic feel like worlds away, the changes these regions face will soon be everyone's problem.
The Blue Planet (2001)
"Our planet is a blue planet: over seventy per cent of it is covered by the sea," explains Sir David in the first episode of this eight-show series, which won him and his team two Emmy Awards. From the Galapagos Islands to the sub-Antarctic islands of South Georgia; from the Californian coast to the Azores – there's a deep ocean world that is slowly being discovered – and with some stunning underwater photography, this set of documentaries allows us to see a piece of it. Pretty darn impressive.
Planet Earth (2006)
This 11-episode, four-times Emmy Award-winning series took a mighty five years to make – and the time doesn't give testament to how incredible it is. Each 50-minute episode focuses on one habitat or biome on earth (Ocean, Forest, Fresh Water, Sea, Desert, Cave, Mountain, Polar and Plains), discovering the wildlife living in the area and how they survive. It's also a great way to learn about the diversity of the planet, and learn some of the challenges documentary makers face when putting together a crafted piece of television such as this.
Natural Curiosities (2015)
Kicking off on Watch on 2 February, the third series of Natural Curiosities takes an interesting look at species that are linked by a distinctive adaption. Like cheetahs and fleas; they are both bloomin' marvellous athletes! While blue whales and flamingos survive by the same mechanism of filter feeding. Two completely different animals, which live worlds apart, but are fundamentally connected? Fascinating.
Of course, there are many, many more Attenborough masterpieces that shouldn't be missed – these are just our favourites. Don't forget to share your favourites using the comment box below…