Relive some iconic moments from the British TV institution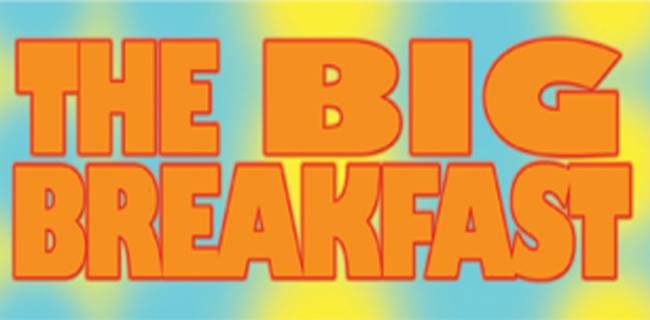 There's been a lot of fuss recently about Mad Max star Tom Hardy's old MySpace photos. We've all got stuff on the Internet that we are not proud of, but Hardy, being the legend that he is, refuses to be ashamed of his old poses. To be honest, there's plenty more from the early days of Hardy's career that he might cringe at: namely, his late 90s appearance on a Big Breakfast modelling competition, for starters…
That's right, just to be clear: our man Tom got his big break as a drama student, competing in – and winning – a Big Breakfast modelling contest. His prize? A tool box, a cheque, and a kiss from Yasmin Le Bon and Denise van Outen. Ah, the glory of the 90s. If you don't believe us, witness the swagger for yourself:
The Big Breakfast was potentially one of the best early morning TV shows of all time, and one that gave birth to some iconic telly moments. So kick back, relax, and relive some of that wonderful 90s chaos…
PAULA YATES AND MICHAEL HUTCHENCE
The infamous 'on the bed' interview that either sparked, or cemented, the love affair between the rockstar and the presenter. In one of the most flirtatious interviews of all time, Paula Yates conducted the whole chat with her legs entwined with Michael's and told him that he was her favourite guest, "even better than Willem Dafoe"
KEITH CHEGWIN DOORSTEPS STEVE COOGAN
Can you imagine this happening now? The morning after the BAFTAs in 1993, Keith Chegwin rocked up to Steve Coogan's hotel room, bashed on the door and eventually, Alan Partridge himself let Cheggers in for an early morning chat. Including a quick demo of the Corby trouser press, and a guest appearance by Coogan's girlfriend – still under the duvet – this was renegade celebrity journalism at its finest.
ROBIN WILLIAMS MEETS ZIG AND ZAG
The comedy genius meets two other comedy genii in the Big Brother bathroom. It's madness, absolute madness, as the unstoppable trio discuss the downsides of being an alien.
DONNA AIR INTERVIEWS MUSE
Way back in 2000, before they were stadium filling rock gods, Donna Air interviewed Muse on that famous Big Breakfast bed. It's a little bit awkward, but brilliant nonetheless.
DAVID BLAINE…BEING DAVID BLAINE
Remember David Blaine? That guy who was an amazing musician before Dynamo came along and stole all his glory? Just after he'd completed his 'trick' of being buried alive for seven days, he appeared on The Big Breakfast to have some fun with Johnny Vaughn and Denise Van Outen…