We've teamed up with video gaming website, Everybody Plays, to bring you five top family picks for Christmas…
If you're anything like us, video games have always played a big part in your Christmas morning – but when you're a dad, they provide two very different challenges. First, now that you've got a family of your own, it's often a bit of a game (ho, ho, ho!) trying to figure out which ones you should buy for the little 'uns – with so much choice, and next-to-no guidance on the box as to how complex a game is, you can never be sure if you're buying a game your child will actually be able to do. Similarly, while you're rushing around like a headless chicken trying to get everything sorted for the big day, it can be hard to steal a few seconds aside to sit down and have some fun with a game yourself.
But what if you could kill two birds with one stone? That's where we come in. Using Everybody Plays' fantastic EPAL ratings – an at-a-glance guide to a game's complexity, with levels from 1 to 5 – we've assembled a guide to the very best games the whole family to get stuck into – together – on Christmas morning. With four of the best co-op games, and an extra pick for dads who manage to sneak a few moments on their own, this should make Christmas shopping that much easier, and tick off two of the season's biggest problems. Enjoy!
1. Overcooked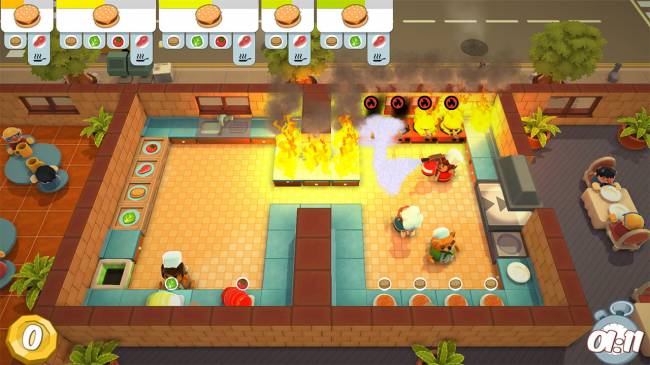 If things don't go entirely according to plan with the Christmas dinner, Overcooked is the perfect culinary way to blow off some cooking steam! A totally hilarious, frantic, pick up and play cooking game, Overcooked is designed to be played as a group (up to four people can join in the fun on one console), as you work together to run a kitchen.
The concept here is simple – all you have to do is prepare and serve the orders that come in – chop the veg, cook the meat, whack it on a plate, and get it out. Yet, as you'd likely expect, that's easier said than done. With narrow gaps to fit through, a relentless sense of pace, and pots and pans that can catch fire if you leave them on the hob too long, it's no wonder this is a game with a "shout at partner" button built in, that lets you spew "@!$@£" at your friend. Just wait until you try and cook meals on a boat in the stormy sea, while your cooker goes sliding from one side to the other, or in the frozen arctic wastelands, where you'll need to hop across icebergs to deliver your dishes, without taking a dip yourself. Genuinely laugh a minute stuff, this is a fantastic party game, and one everyone will love – even if the scores it asks you to get are a little bit punishing.
Publisher: Team 17
Developer: Ghost Town Games
PEGI: 3+
EPAL Rating: Level 3
Available on: PS4, Xbox One
Price: £20 from Amazon
Read Everybody Plays' Parent's Guide to Overcooked
2. LEGO Star Wars: The Force Awakens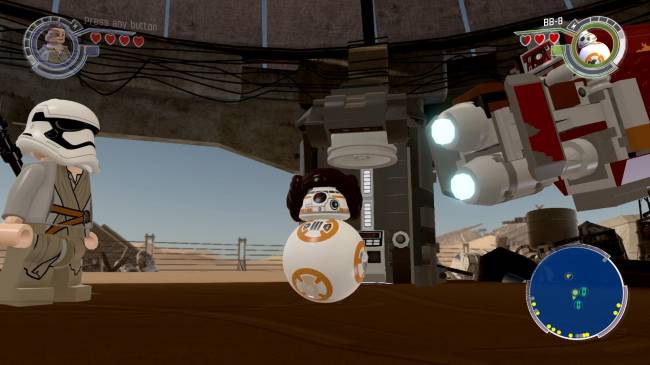 While the blockbuster film hit cinema screens roughly a year ago, its LEGO-y adaptation waited until earlier this year to hit the shelves. And it was well worth the wait. A fantastic family game, LEGO Star Wars: The Force Awakens lets up to two players team up to battle it out across an authentic retelling of the film's story. With simple, accessible gameplay, a fantastic sense of humour (you can dress any character in a Princess Leia wig – BB-8 and Kylo Ren both look gorgeous), and more Star Wars references and nerd-out moments than you can shake a lightsaber at (how many games let you and a friend hop on the gun turrets of the Millennium Falcon? This one does!), this is the LEGO game you're looking for.
Publisher: Warner Bros
Developer: TT Games
PEGI: 7+
EPAL Rating: Level 3
Available on: PS4, Xbox One, Xbox 360, PS3, PS Vita, PC, Wii U and 3DS
Price: £20 from Amazon
Read Everybody Plays' Parent's Guide to LEGO Star Wars: The Force Awakens
3. Skylanders Imaginators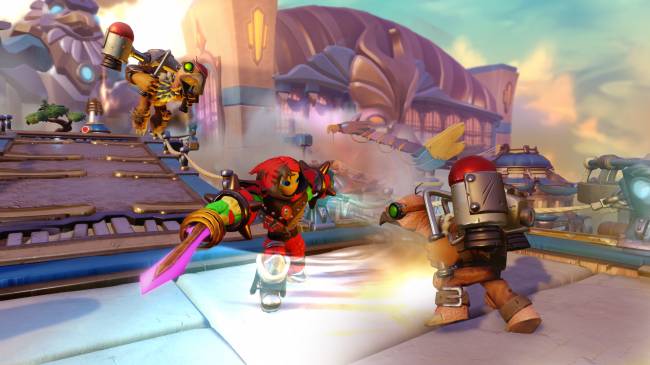 The latest in the now long-running Skylanders series, Skylanders Imaginators sees perennial baddie Kaos trying to take over the Skylands once again – and the only thing can stop him is your imagination! As before, Imaginators is a toys-to-life platform adventure, which is a fancy way of saying you can plonk real-life Skylanders toys on the bundled "portal of power" in order to play as that character in game.
The twist this year is the brand new creation crystals – one of which comes in the box. When you place these on the portal of power, they let you create your very own custom Skylanders hero, with an immensely powerful character creation tool for you to play with. Letting you edit absolutely every aspect of your character, from the colour of individual limbs to their size, shape and design, our favourite feature has to be the ability to create your very own catch phrase – choosing from a number of starts and endings, you can make it as memorable, or ridiculous as you'd like. With full backwards compatibility with all your old Skylanders figures, and support for two player drop-in, drop-out co-op out of the box, you can even bring a friend (or child!) along to share in the fun! If you're playing on PS4, make sure you keep an eye out for the special Crash Bandicoot edition, which packs in two more figures – Dr Neo Cortex and Crash himself – and a bonus level based around Crash.
Publisher: Activision
Developer: Toys for Bob
PEGI: 7+
EPAL Rating: Level 3
Available on: PS4, Xbox One, Xbox 360, PS3, Wii U
Price: £50 from Amazon
Read Everybody Plays' Parent's Guide to Skylanders Imaginators
4. Cartoon Network: Battle Crashers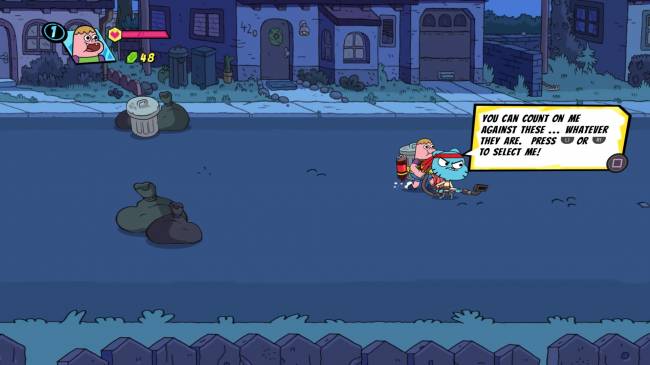 A game aimed squarely at a younger audience, Cartoon Network: Battle Crashers is a budget-priced, side-scrolling beat-'em-up that knows its market well. Letting you play as a number of your kids' favourite Cartoon Network characters, from Adventure Time's Finn and Jake, to the Regular Show's Rigby and Mordecai, and even Steven Universe, this is an old-school player that'll be familiar to any dads who grew up with console games like Streets of Rage and Golden Axe – only obviously, it's much less violent.
Each character has their own move set and special abilities, and each their own strengths and weaknesses. Steven Universe can blow bubbles, which he can use to either provide a handy shield for team mates, or burst them on enemies to deal damage; Finn can use Jake as a mallet to whack enemies over a surprising range; while Rigby and Mordecai can fire lightning bolts, or fend off enemies with devastating guitar power chords.
While you do have a rather limited number of lives (each character can only die once in the level, so you have a maximum of six lives to make it through each stage), and your child will need to be a confident reader if they go it alone (characters give you requests in each mission, telling you where to go next), the game does have full support for drop-in, drop-out four player co-op (on Xbox One and PS4), making it a great game to delve into on Christmas morning.
Publisher: Maximum Games
Developer: Magic Pockets
PEGI: 7+
EPAL Rating: Level 3
Available on: PS4, Xbox One, 3DS
Price: £20 from Amazon
Read Everybody Plays' Parent's Guide to Cartoon Network: Battle Crashers
5. Battlefield 1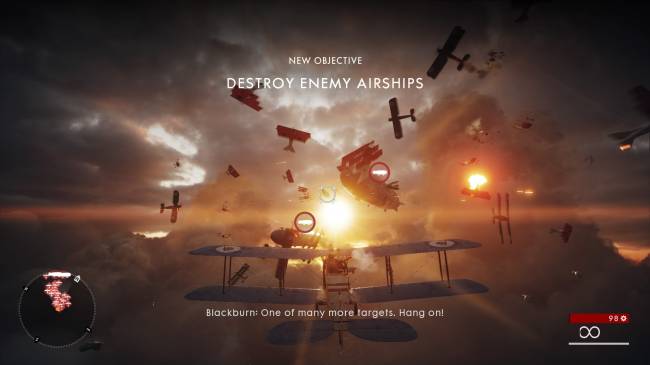 One for the dads that manage to get a few moments to themselves this Christmas, Battlefield 1 is a fantastic, historically charged trip into the Great War, that focuses on individual stories of heroism, bravery and loss rather than the overarching conflict itself.
A first-person shooter, Battlefield may be best known for its extensive multiplayer offering, but Battlefield 1 comes packing a genuinely brilliant single-player story mode to boot. Letting you step into the shoes of ordinary soldiers, the story mode is split into several campaigns, with each set in a different field of conflict – in one, you pilot a Bristol Fighter biplane and dogfight with Red Baron style Fokker Triplanes and Zeppelins; in another, you're a new recruit tank driver, paired with veteran commander as you try to survive whilst trundling across the trenches, churning up mud in the very first tank; while another sees you take to the deserts with Lawrence of Arabia, and even lets you ride on a giant, armoured railway gun. Less in your face than Call of Duty, and with an incredible sense of realism and authenticity, you'll practically be able to smell the mud and damp wood as you creep through the trenches, as Battlefield 1 brings history back to life.
Publisher: EA
Developer: DICE
PEGI: 18+
EPAL Rating: Level 4
Available on: PS4, Xbox One, PC
Price: £45 from Amazon
Read Everybody Plays' Parent's Guide to Battlefield 1