Fun sites to keep the kids busy while they wait for Christmas
Christmas is only days away – as if you needed reminding – so if you're looking for ways to keep the kids from bouncing off the walls, try this quintet of festive sites. You'll find last-minute ways to get a message from Santa, behind-the-scenes tours of his North Pole base and even satellite tracking of where his sleigh has got to.
Official NORAD Santa Tracker
The idea of NORAD tracking Santa Claus' Christmas Eve journey sounds like a clever PR stunt, but the North American Aerospace Defence Command (to give NORAD its full name) has been doing this for almost 60 years. It started in 1955 when a newspaper misprint of a telephone number led to excited children calling NORAD's predecessor, CONAD, expecting a chat with Santa. The grown-ups played along, with 'radar-tracked' updates on Father Christmas' location, and more than half a century on the tradition persists. These days Santa is tracked via satellite and his location displayed on Bing Maps, making this site an essential visit on Christmas Eve. But there are plenty of other fun features for children to discover while they're waiting for Santas' journey to begin.
Portable North Pole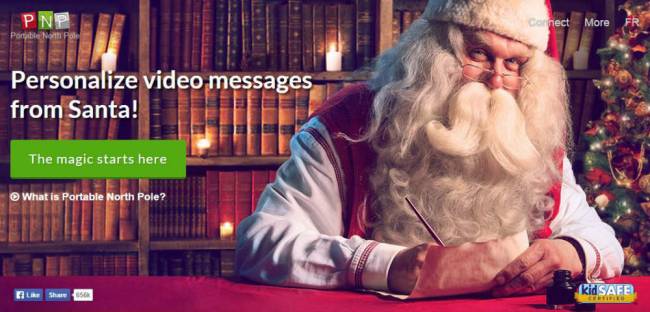 There are many companies that will send kids a personalised letter from Father Christmas, but with just days to go until the big day it's far too late for all that. Fortunately, we live in the future, so instead of a letter you can instead get Santa to send a video message. Portable North Pole is a site that's been doing this for years and its videos look suitably traditional and convincing. Even better, it's totally free to send the basic version (there is also a £2.99 alternative which is longer and includes more personalisation options). Don't fancy a video? You can also choose to have him make a phone call instead.
Email Santa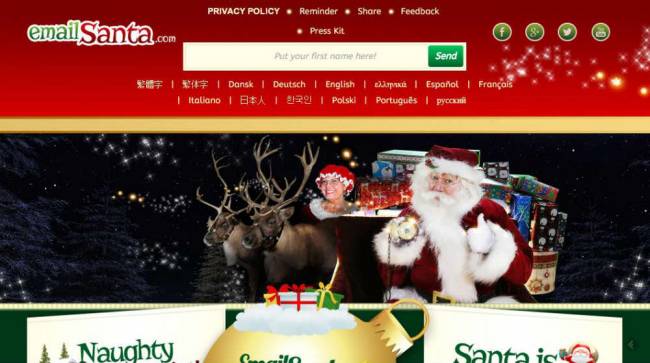 The 4G coverage isn't all that in the North Pole, but it seems that when Santa can get online he takes the time to send out a few emails to children on his 'nice' list. This site give children the chance to get in touch directly with Saint Nick: fill out the templated email and send it off and Santa's reply will be with you straight away. Young kids won't mind the slightly homemade feel of this site, and there's a lot of fun stuff to be found within it. Along with the Santa chat, the 'Santa Snooper' web cam (that enables you to watch exactly what Santa is up to right now) is well worth a look.
Northpole.com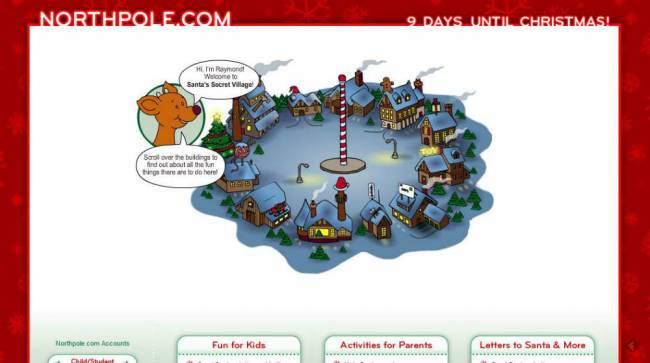 The cutesy comic book styling of Northpole.com makes it look like a site that's just for kids. However, there's plenty here for for adults as well, such as recipes, homemade gift instructions and ideas for educational games. Children will be kept busy with a wide selection of games and stories, and you'll probably want to encourage them towards the 'good deeds calendar', to help things along as their behaviour dramatically improves in the final run-up to Christmas. The 'mailroom' is fun as well, giving kids the chance to send festive animated e-cards to all of their friends and family.
Send a Personalised Message from Santa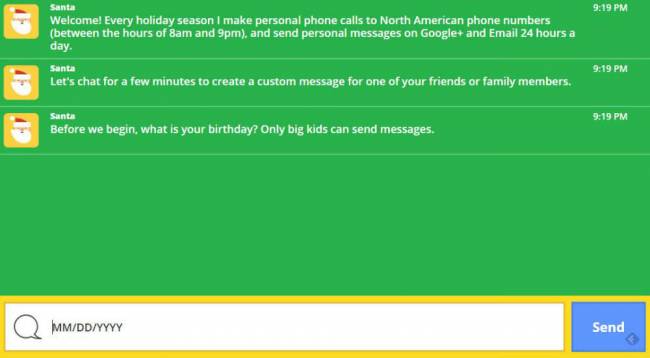 The Santa that inhabits this site sounds like he comes from California rather than the North Pole but, accents aside, this is a fun way to send your kids a voicemail direct from the big man himself. A mercifully brief series of live-chat-style prompts will get the important details from you (names, Christmas list wants, location etc); once you've added all those you'll hear Santa's jolly voice wishing your youngsters a happy Christmas. You're then able to share the message in a variety of ways, or simply save a direct link to it.