With stunning scenery, fantastic skiing, bright blue skies and the picturesque towns of Salzburg and Innsbruck to explore, the Austrian Tyrol is a great choice for a family escape this winter…
Choosing a location for a winter escape that works for parents and kids can be tough, but a mountain break in easily accessible Austria can be a great bonding experience, with ski slopes for you and the kids to enjoy, picture-postcard alpine villages, wonderful walks, plus some great family-friendly accommodation. Getting there won't break the bank thanks to regular flights with EasyJet, too, which is always a win.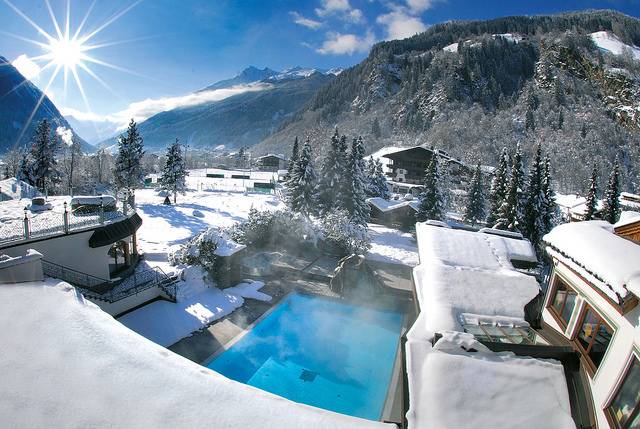 Nestled in a valley at the base of the Stubai Glacier – Austria's largest glacial ski resort – the family-run Spa-Hotel Jagdhof is a stylish yet cosy and comfortable mountain retreat. A member of the Niche Destinations portfolio and Relais & Châteaux group, with an impressive exterior straight out of Heidi, the hotel blends traditional and contemporary design, and offers super-friendly service from its traditionally-dressed hotel team. Family suites are well-equipped with spacious rooms, large dining areas and kitchens, plus cable TV and balconies offering stunning alpine views. They even lend guests welly boots and jackets if you forget to bring the right gear.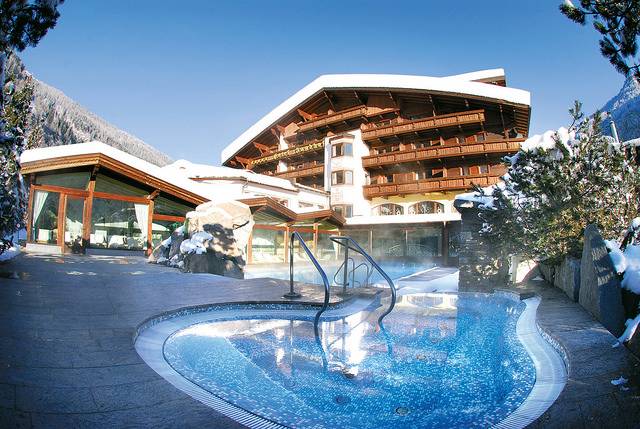 But one of the best things about this resort – which you won't see on the website or in the brochure – is the incredibly fresh, tingly mountain air that's an absolute tonic for guests, especially city types or screen-tied desk workers. Here, you can breathe deep and boy, will you sleep well. And how clear are the skies at night? Dazzling.
In spring and summer the region is an alpine gem for hikers, mountain bikers, golfers and paragliders, while winter months see the valley transformed into a snow-covered wonderland. The award-winning BIG family Stubai Tirol and Neustift ski schools offer safe skiing and snowboarding lessons for kids of all ages and abilities on the glacier. There's guaranteed snow cover from October to June, an ice grotto, an adventure playground, plus 12 natural toboggan runs and four night toboggan runs for some snow-powered fun.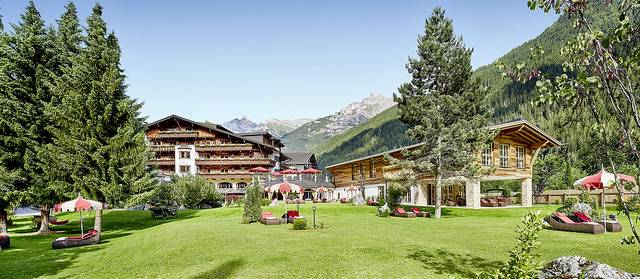 Busy, energetic mornings in the mountains can be balanced with lazy afternoons in the hotel pool and labyrinthine Vitality World spa. Offering 20 wellness experiences from an immune system-boosting spell in a tepidarium to an exfoliating stint in a rock salt grotto, the spa has an incredible variety of areas with saunas, steam rooms and jacuzzis.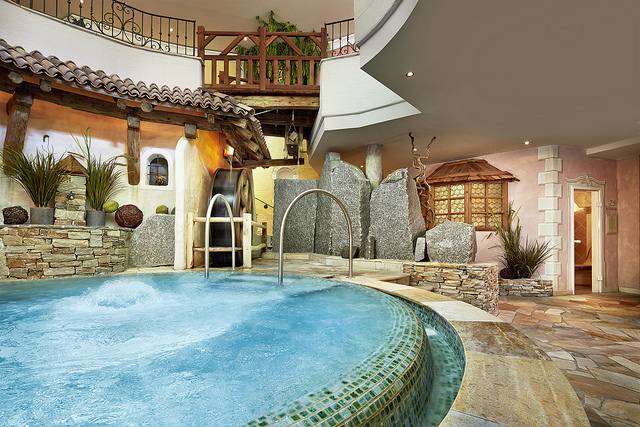 You could easily spend a week here going wrinkly trying them all, or relaxing with a book in the stylish, daybed-strewn Spa Chalet which looks out over the valley. For a super-special occasion, book the Private Spa Suite with an exclusive steam and sauna, plus colour light-therapy pool, hammock loungers and a champagne bar: you will never leave.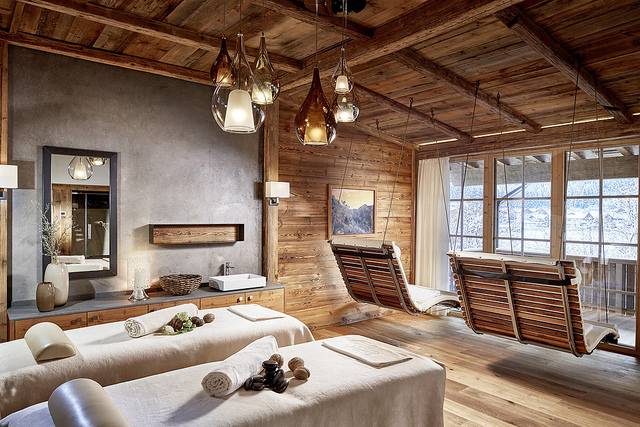 Want to step it up? Guests can enjoy a daily programme of activities, from cross-country hikes to spin classes and yoga, and of course there's a well-equipped gym, fitted with TechnoGym machines. Or take a swim in the heated pool surrounded by calming frescoes, before heading outside and enjoying the warm water while all around you is snow and ice. There's a hot tub too, to soothe any aching muscles, while kids can explore the hotel's extensive grounds and gardens, or be entertained at Jagdhof's Kitz & Teens Club, with a games room and children's workshops.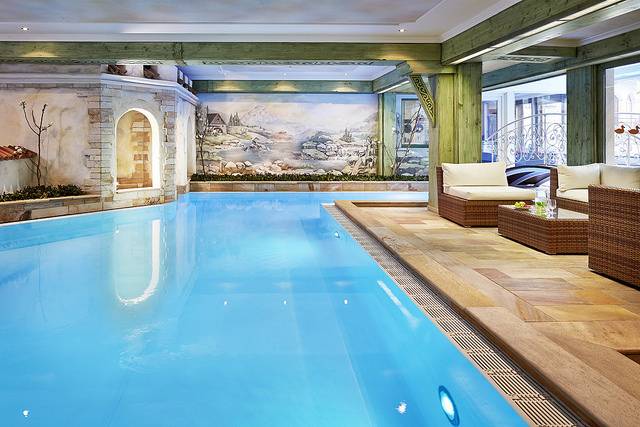 And food? Well, there's plenty of it, with a hearty breakfast buffet, a fantastic spread of cakes and pastries for afternoon tea, wonderful traditional Austrian dishes served at dinner and – my favourite – a cable car on the terrace which has been transformed into a dining hut or 'Stube'.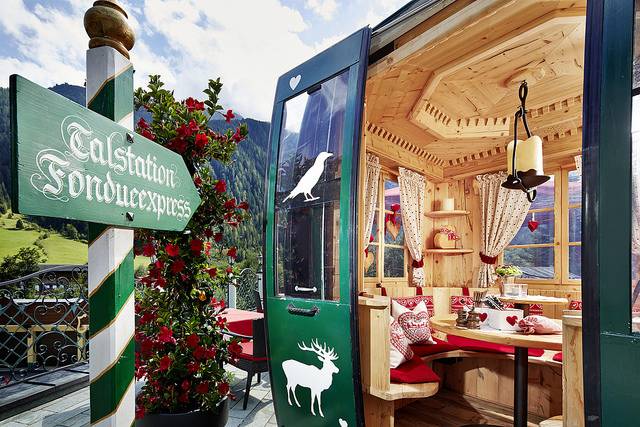 Available for exclusive bookings and with gorgeous views of the mountains, the Gourmet Gondola is the smallest fine-dining restaurant in the Tyrol with room for five. In summer there's delicious local cuisine, and in winter, there's meat, cheese and chocolate fondue: a winner with the kids who get to dip for their dinner. For mum and dad, there's the most incredible Gothic-inspired wine cellar beneath the hotel, with a vast collection of over 16,500 fine wines – be sure to take a peek before you leave (and sample a few over dinner, too).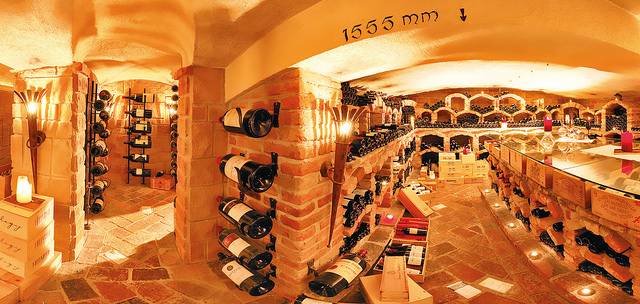 The historic regional capital of Innsbruck is within easy reach of Jagdhof, with artisan shops, family-friendly restaurants and sights such as the Imperial Palace, Triumphal Arch, Ambras Castle and the city's famous Golden Roof.
Set aside a day or two to explore Salzburg at the beginning or end of your trip, too. This stunning Austrian city has a wonderful Baroque old town to wander, plus an impressive citadel, Hohensalzburg Fortress, which offers wonderful views across the Salzach River to the mountains beyond.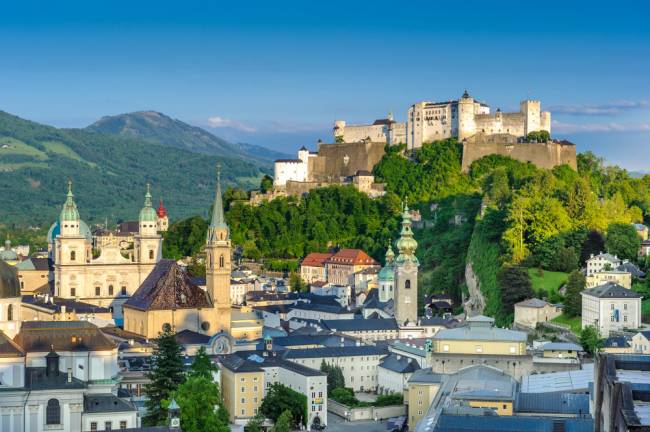 Famously the birthplace of the composer Mozart, music is everywhere, from intimate concerts in historical hideaways to top-notch classical performances in the squares and on street corners.
Salzburg is also home to Europe's oldest restaurant, Stiftskulinarium St Peter, first mentioned in 803 A.D., but offering delicious contemporary cuisine, served in the gorgeous medieval setting of St Peter's Abbey, complete with 11 dining rooms and a magical, vaulted courtyard. Drop in to the sumptuously stylish Hotel Sacher, too, for a slice of Austria's famous 'Sachertorte' – a rich, chocolate cake with apricot filling that the kids will love.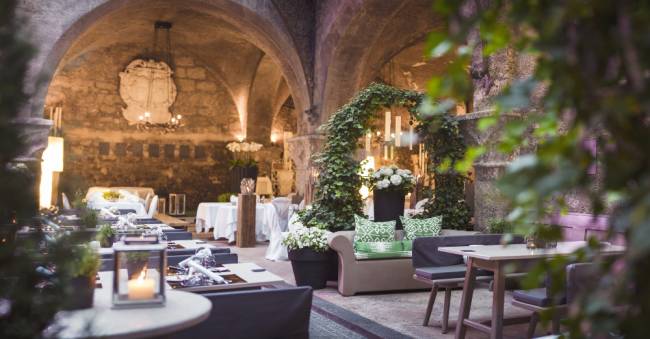 Famous for providing the backdrop for the family film classic, The Sound of Music, a movie-inspired tongue-in-cheek tour of the city and surrounding countryside is a must.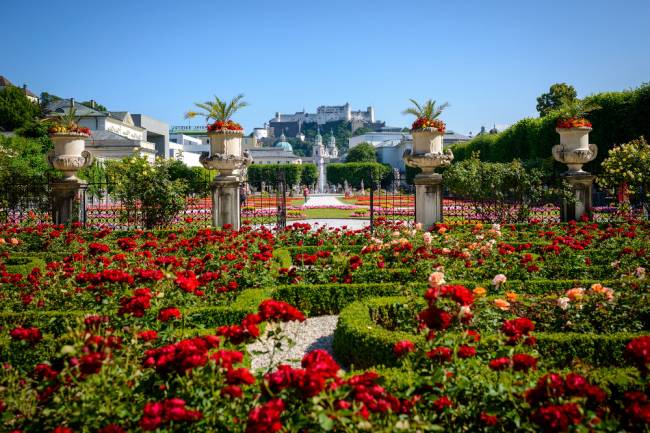 Board the Panorama Tours bus for a sing-along journey to see the Mirabell Gardens, where the song Do-Re-Mi was filmed, Lake Leopoldskron, where the boating scene took place, Nonnberg Abbey and the gardens of Hellbrunn Palace – the famous gazebo featured in the 16 Going On 17 scene.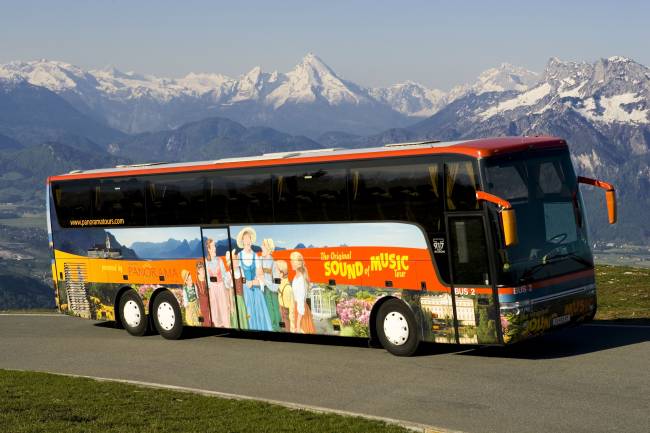 Heading out of town to the Lake District, you'll pass pretty lakes and mountains (where The Hills Are Alive, remember?) before stopping in the picturesque village of Mondsee, home to the famous church where Maria marries Baron von Trapp. Don't be shy – guys and girls were singing along with gusto on my tour, and the guide helps to ensure it's a fun experience for all – embrace the cheesiness of it all and you'll love it. Plus you'll see some of city's must-see sights along the way and take a little bit of Austria back home with you (have you ever tried to get Do-Re-Mi out of your head?). Enjoy!
A Family Ski Week at Spa-Hotel Jagdhof costs from €1,588 for seven nights. hotel-jagdhof.at
EasyJet flies from the UK to Innsbruck or Salzburg in Austria. easyjet.com
The Sound of Music Tour with Panorama costs from €42 per person. panoramatours.com
For further information on family holidays in Austria, visit austria.info