There's nothing we like better at DAD.info than an authentic Italian feast. Mandy D. Charles heads to Emilia Romagna for a gastronomic getaway…
Whether enjoying a visit during truffle-hunting season that runs from April to November or not, warmth and hospitality are the watch words in Emilia Romagna. The region has all the important elements that a visitor expects to find in Italy: art, culture, heritage, landscapes… and some of the world's most wonderful food and wine.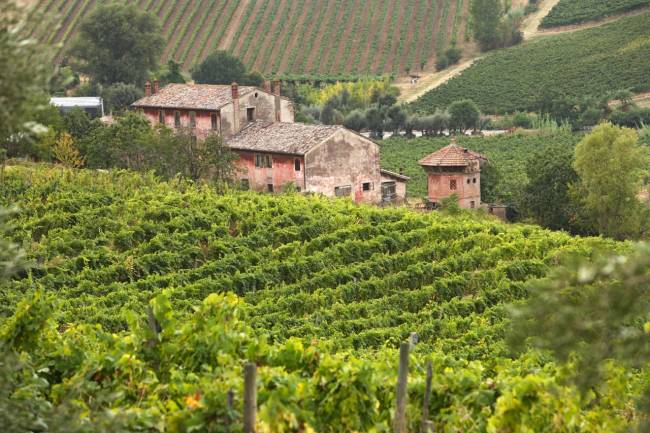 Best known as the country's gastronomic capital – parmesan cheese, balsamic vinegar and Parma ham all originate from here – Emilia Romagna makes a perfect short break for a getaway with your other half, and is fast becoming a foodie destination to contend with the likes of Tuscany, but without the crowds.
A tour of the historic foodie cities of Ferrara, Ravenna, Santarcangelo di Romagna and Rimini, travelling along Emilia Romagna's ancient Roman Road, the Via Emilia, gives you an opportunity to sample the rich and varied cuisine that the regions are so fiercely proud of. You can book a group or personalised day-long, expert-led food and wine tour with tour companies who will provide transport and help you plan a tailor-made itinerary. Or hire bicycles to explore the multitude of beautiful medieval towns.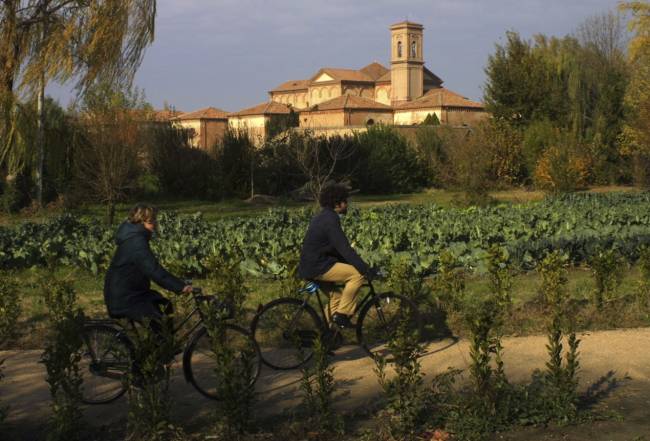 During my four-day visit, I discovered the many beauties of the region and enjoyed delicious food and wine, with the undoubted highlight of the trip being the opportunity to participate in a truffle hunt led by a truffle hunter and his dog and search for the elusive delicacy.
Head out from the region's capital, Bologna, to the old town of Ferrara. Stay at Hotel Ferrara, a well-appointed four-star boutique hotel located in the centre of the town. See the town by bike or on foot but don't miss the moated, medieval 14th-century Estense Castle with its atmospheric dungeons, where in the 15th-century, the condemned lovers Ugo and Parisina spent their final hours.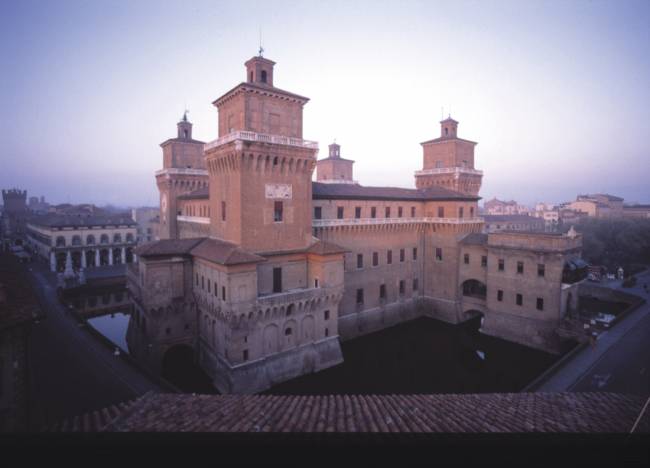 Experience the taste of Ferrara with lunch at Cusina e Butega. This is food that you eat with your eyes before your first bite. Highlights are velvety Pumpkin capellacci, a silky risotto with porcini and and a sensational chocolate cake. Whether you are sampling sparkling Lambrusco or inhaling the strawberry aroma of 'blood of Jupiter' Sangiovese wine, you're sure to find something in the Este cusine to suit your palate.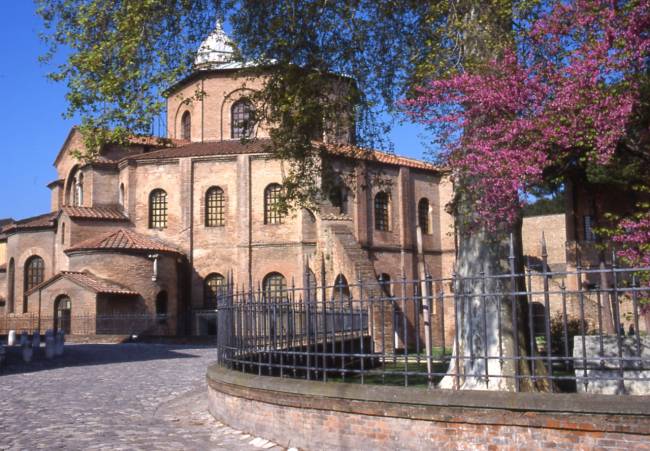 The next stop on this culinary adventure is a scenic hour's drive from Ferrara. As Ms Silvia, our guide in Ravenna says, "History is everywhere!" and as a former capital city of the Western Roman Empire, Ravenna takes great pride in its heritage. Travel back in time and marvel at the Byzantine mosaics of the Basilica of San Vitale, one of eight UNESCO World Heritage Sites in the city. Pay homage to Italian poet, Dante Alighieri by visiting his small marble mausoleum at Basilica di Francesco.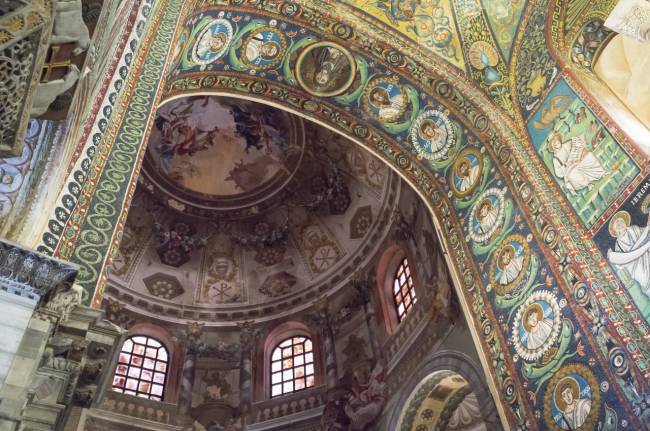 For sophisticated dining, lunch at the elegant Corte Cabiria, where I enjoyed an exquisite meal of rustic and extremely moreish 'paper bread', tortelloni (Ms Silvia again, "the right size is the navel of a girl"), pan-fried scallops, beautifully cooked sea bass with lemon mash and a divine ricotta cake served with fragrant orange ice cream. This is modern Italian food that explores and refines the traditional cuisine.
Learn to make tagliatelli and the traditional flatbread, Piadina, at Collina dei Poeti in Santarcangelo, a small, romantic vineyard just 40-minutes drive from Ravenna. We took a tour of the vineyard and wine cellar before creating our bespoke version of La Cucina Romagna under the instruction of the colourful Marina, whose joyful proclamations of 'In vino veritas' provided us with the encouragement we needed to produce the feast that we later shared. Our hearty meal of Piadina with salami and cheese followed by tagliatelli with a rich ragu sauce paired with the wines produced by the vineyard, Albachiara Rose Sparkling wine, Teatro 40 Sangiovese and Spinalbeto Sangiovese Riserva 2012 certainly made for a fun and memorable evening.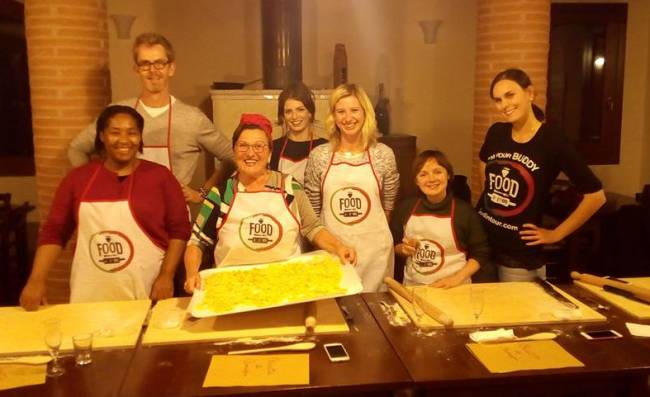 Overnight at Collina dei Poeti before visiting the pretty, historic hilltop village of Santarcangelo di Romagna, and do not leave without experiencing the descent into the network of subterranean caves, the Monumental Public Grotto. For a clear view of the Adriatic coastline, climb the cobbled streets to the top of the village and drink in the stunning scene before you, while the bell tower marks the hour.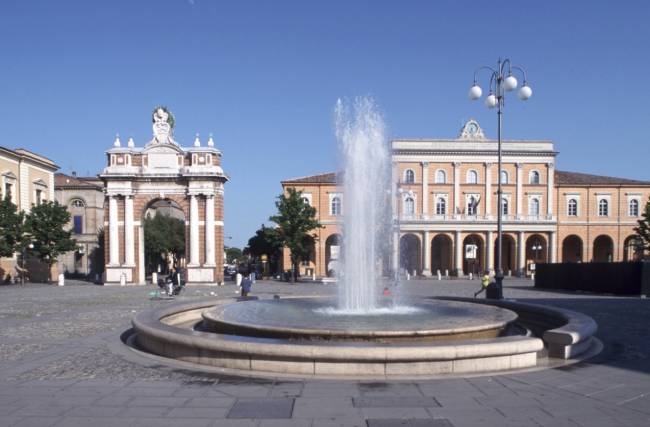 Located only 40 minutes from Santarcangelo, the seaside resort of Rimini is not only celebrated for its nine-mile long sandy beach and its plethora of boutiques, but also for its rich Roman and Renaissance history. Explore Piazza Tre Martiri to see where Julius Caesar is said to have uttered the immortal words, "The die is cast", then travel in the footsteps of the Romans over the ancient Tiberius Bridge. Visit a masterpiece of the Italian Renaissance, the Malatesta Temple. Walk through the colourful streets of Borgo San Giuliano, with the pastel-coloured walls of the former fishermen's houses painted with murals of scenes from the films of Rimini's most famous son, the director Frederico Fellini.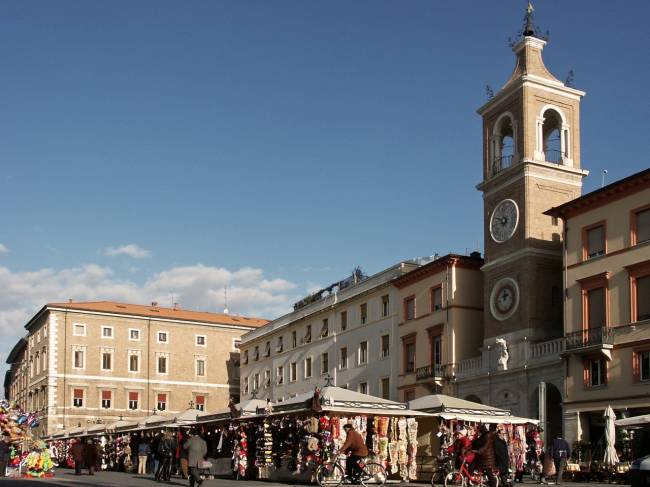 For a laid-back lunch that showcases the local seafood, visit La Mi Mama Via Luigi Poletti for Piadina bread stuffed with crunchy, grilled sardines and rocket, and passatelli (a pasta made of bread) with clams in a rich tomato sauce. Don't miss the best gelato in Rimini at Gelateria il Castello. Stay at Hotel Duca Montelfeltro, a four-star spa hotel in the enchanting town of Pennabilli, at the foot of the western slopes of Mount Carpegna, an hour's drive from Rimini. Just a short distance from the hotel, the attractive medieval town was shrouded in an eerie, dramatic mist when I visited. Al Bel Fico in the town square is perfect for an informal meal with the locals.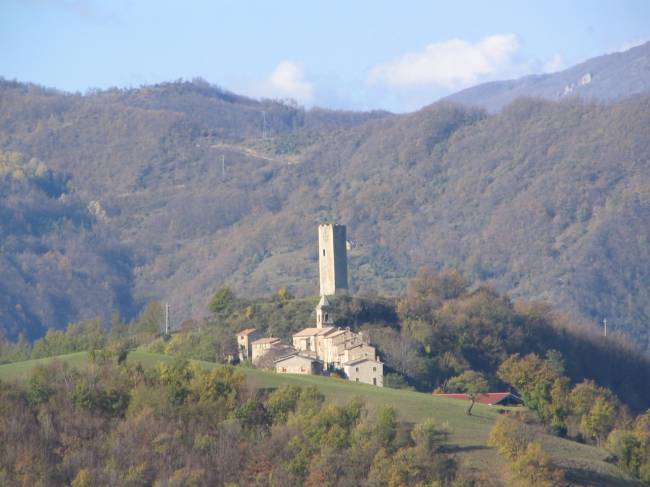 The next morning at 8:30am, I am in a wood just outside the historic village of Sant' Agata Feltria. A ghostly fog hovers over the trees and the grass is glistening with early morning dew and the fragile, gossamer creations of industrious spiders. My wellies squelch in mud as a small group of us led by Sauro, the tartufo hunter, obediently chase after Kiko, his six-and-a-half-year-old Springer Spaniel.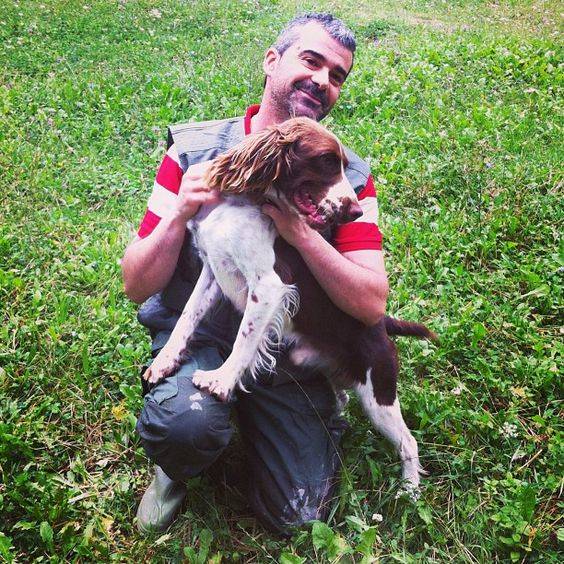 With his years of training Kiko is the expert here, as he sniffs the ground and hairs off after his quarry. Kiko begins furiously digging at the earth next to an oak tree and Sauro takes over, soon producing the prize that lured us from our warm beds in Hotel Duca Montelfeltro so early this morning. In his palm is a pungent, musty black truffle, its aroma the perfume of autumn. We all gaze in wonder.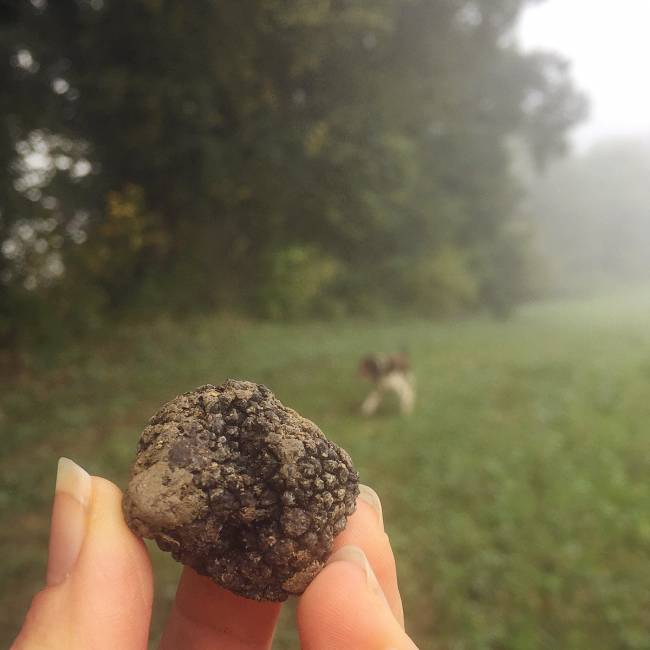 The dreamlike setting of this morning's truffle hunting adventure is still with me as we wind our way up the mountain road that leads to the fairytale village of Sant' Agata Feltria. The breathtaking landscape of valleys and hills shrouded in mist finally reveal our destination and the culmination of the visit, Sant' Agata's National White Truffle Festival. This annual festival, where white truffles are exhibited, celebrated, sold, cooked and tasted in many different ways, runs every Sunday in October and is attended by up to 50,000 visitors per week. The fair is a foodies' delight, full of stalls groaning with the best food and wine that local producers have to offer. Sample local delicacies including mushrooms, chestnuts, honey, chocolate, cured meats, cheese, olive oil, dried fruits and wine. If you can tear yourself away from the food stalls, visit the oldest wooden theatre in Italy, the exquisite Angelo Mariani Theatre.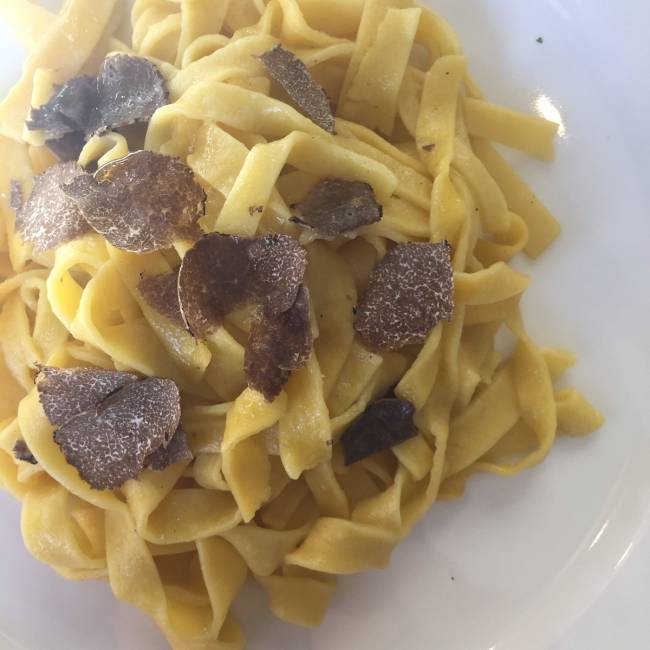 In this region so renowned for truffles that it is named 'Truffle City', I indulge in a final heady tartufo bianco menu at Il Tulipano Nero that calls on the area's best produce. I would happily eat this sublime menu again – crostini misti with white truffle, herbs and ricotta ravioli dressed with truffle oil and tagliatelli with white truffle. A truly comforting, satisfying and decadent way to end what was an unforgettable journey of discovery.
A trip to the region of Emilia Romagna not only pleasures the stomach but pleases the eye and restores the soul. You'll find a generosity of spirit and a genuine enthusiasm and passion for the regional cuisine. It's one of those incredibly special places where time seems to slow. Whatever you decide to do, one thing is for certain: you will soon want to go back.
Flights from the UK to Emilia Romagna start from £23 one way with Ryan Air.
To find out more about Emilia Romagna, go to emiliaromagnaturismo.com or visitviaemilia.it