If your kids are fans of Legoland in the UK, they'll love the new theme park that's recently opened in the dazzling metropolis of Dubai. Our DAD.info blogger, Ernesto Pitts, took his daughter, Leila, to discover if bigger really does mean better…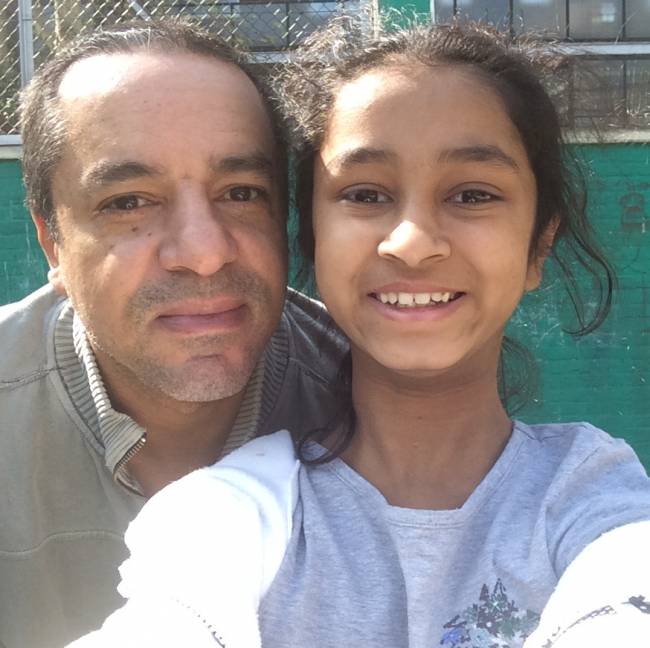 When it comes to building stuff, Dubai doesn't do anything by half measures. Rising from the desert in the United Arab Emirates, 'bigger, better, faster, more' are the words this decadent city lives by. The tallest building in the world, the 830-metre Burj Khalifa lights up like a billboard every evening, accompanied by the world's biggest water display, the Dubai Fountain, just down the road from the Dubai Mall, the world's biggest shopping precinct.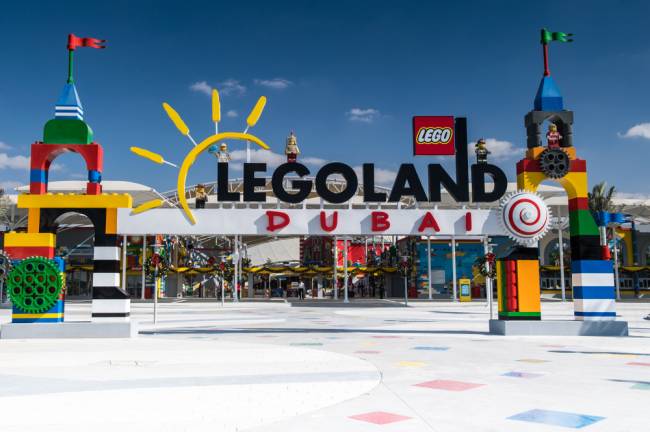 With gazillions of super-luxe hotels, some great beaches and attractions including an indoor snow resort at Ski Dubai and the vast Dubai Aquarium and Underwater Zoo, Dubai is blingy, brash and fun, and now a new Legoland has sprung up just outside the city in the theme park, dining and retail entertainment complex at Riverland.
This is news that hadn't escaped my 11-year-old daughter Leila's attention. Despite several visits to the UK theme park, and the fact she lives in a bedroom that's virtually made of Lego, decorated with every single Lego Friends kit that's ever been released, we simply had to go and investigate.
Emirates, undoubtedly one of the world's better airlines, flies non-stop from London in just under seven hours, so considering getting to the UK park on the M3 can sometimes take us three, visiting its middle-eastern counterpart didn't seem that much further to go. And you can watch movies all the way there, which is a bonus.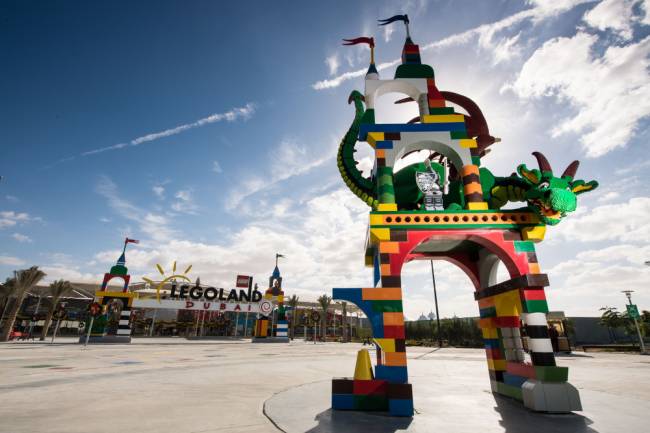 Legoland lies to the south of Dubai, so our first glimpse of the metropolis leaving Dubai International was of the city's Jetson-style skyscrapers looming from the desert, but plans are already in motion to expand and develop the area around the theme park. The next World Expo in 2020 will be held here, and the Dubai World Central airport, much closer to the resort, will soon be expanded to accept international flights. I was told that if I return in a few years, all this desert would be city – it seems Dubai's big ambitions extend far into the future.
We stayed at the Autograph Collection's Lapita Resort, which is part of the huge Dubai Parks & Resorts development. Legoland Dubai Resort and Legoland Waterpark are the latest additions to the entertainment mecca which already boasts Riverland (four themed areas with restaurants and events situated around the river); Bollywood Parks Dubai (the world's first park dedicated to all things Bollywood – Zac Goldsmith, take note!) and Motiongate (described as 'Hollywood in the Desert', with movie-themed rides and attractions).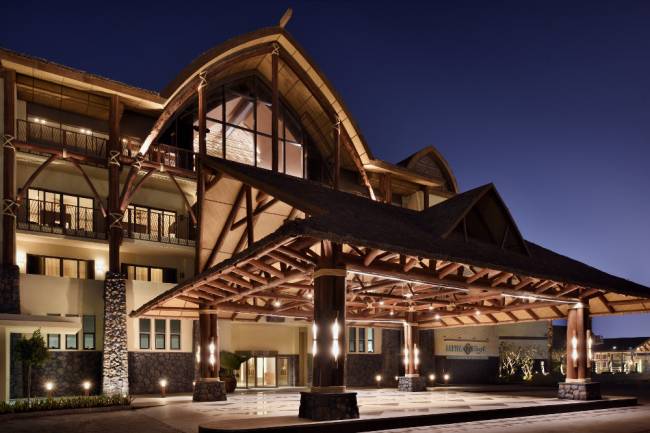 The Lapita puts guests close to the action, connecting directly to Riverland. The kilometer-long artificial river that gives the complex its name starts in the resort, and with just one gate and a few minutes walk separating the two, there were no complaints from Leila about distances we had to walk before we got to the fun.
The hotel is Polynesian themed, which at first struck me as being slightly incongruous in a desert, but Lapita turned out to be a lavish, four-star oasis. The staff were genuinely friendly and attentive, stopping to smile and have a conversation without ever appearing obliged, which was kind of nice. And they were always there, patrolling the grounds, holding doors open wherever you went, and offering lifts to destinations that were just metres away on little electric carts. It's heaven for a child that hates walking and not so bad for Dad, either.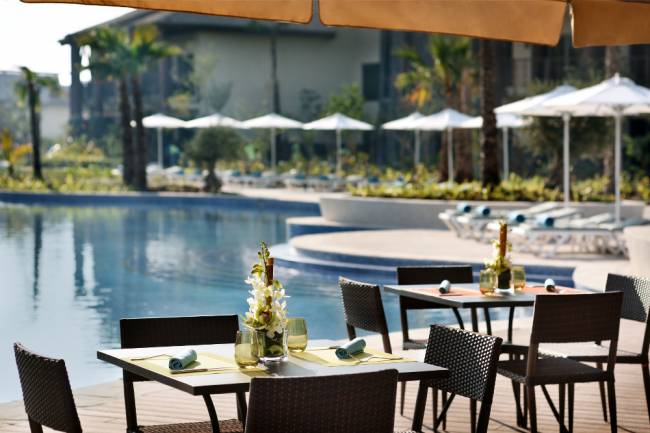 The resort has several pools for adults and kids, including one with a river run, and apart from the main dining hall that serves fantastically varied and well-presented food – all of which I tried to sample and failed as there was simply too much – there's also a Cantonese and Mediterranean poolside restaurant as well.
The guest rooms are plush with deep, comfortable beds, large bathrooms and balconies, full-size multi-channel flat-screen TVs, even a 'Decorate Your Own Cup Cake Kit' as a welcome gift. We didn't see that much of our rooms, but we were very happy to return to them after our days exploring the parks.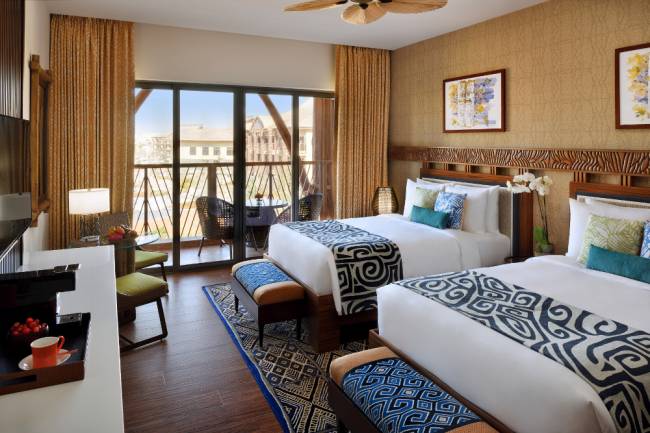 Dubai's Legoland (the world's seventh one) is laid out around a central dome, the setting for Miniland: an incredible Dubai in miniature (if you think that a seventeen metre Burj Khalifa is still mini). Surrounding this wonder are five extensive themed areas with over 40 rides and attractions and a whopping 15,000 Lego model structures made from over 60 million Lego bricks. We used Miniland as our hub and branched out. The first we tried was Lego City, where Leila got her first driving license and could also sail a boat or fly a plane. We zoomed around all of this in about 30 minutes, and the rest of the park at the same speed, because it was unusually quiet and we barely queued for anything – this was a definite bonus, but once news spreads of course, this probably won't be the case. As the day went on we sampled almost everything in Lego City, Adventure, Kingdoms, Factory and Miniland, including the Dragon Ride (twice), underwater adventures and shoot 'em up trips on rides through a pharaoh's kingdom. Imagination, where your child can attend Lego building classes taught by master builders was a particular hit with my daughter. Some of the encounters can be had at other Legoland parks, but there were plenty of original experiences too, including the tallest LEGO building ever built.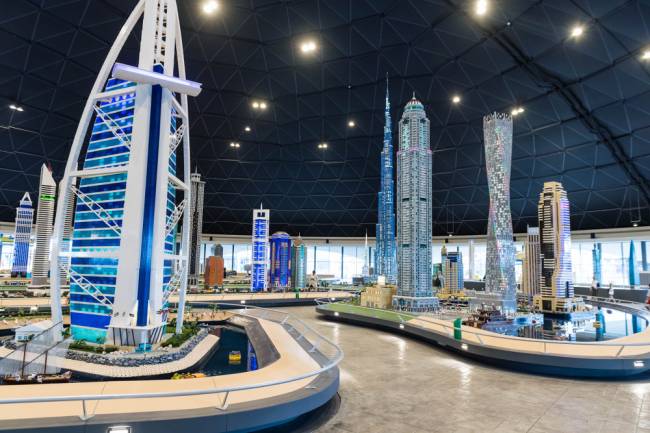 As I had come to expect on this trip, the staff and visitors were a friendly and courteous lot. Whether this is because they're too new to be jaded by hordes of over-excited kids and stressed-out parents, only time will tell.
The next day we explored the Legoland Water Park. On any other given day in Dubai this would have been a welcome escape from the heat, but it seems we brought the weather with us from England. The sky was overcast, the temperature was somewhere in the mid twenties and I wasn't really looking forward to getting wet. As usual, this didn't bother Leila who, along with some new-found friends, hurled themselves at the many rides, which because the park is so well staffed and patrolled, I was happy to let her do. I chatted to one of the safety managers who explained how staff were trained to watch out for danger signs or people in trouble with patrol techniques, and as we stood at the top of Slide Racers about 60 feet up, I could actually see them doing it. It was very reassuring, and from my conversation with him and other staff, you could tell they were happy to work here and cared about what they did. UK parks take note!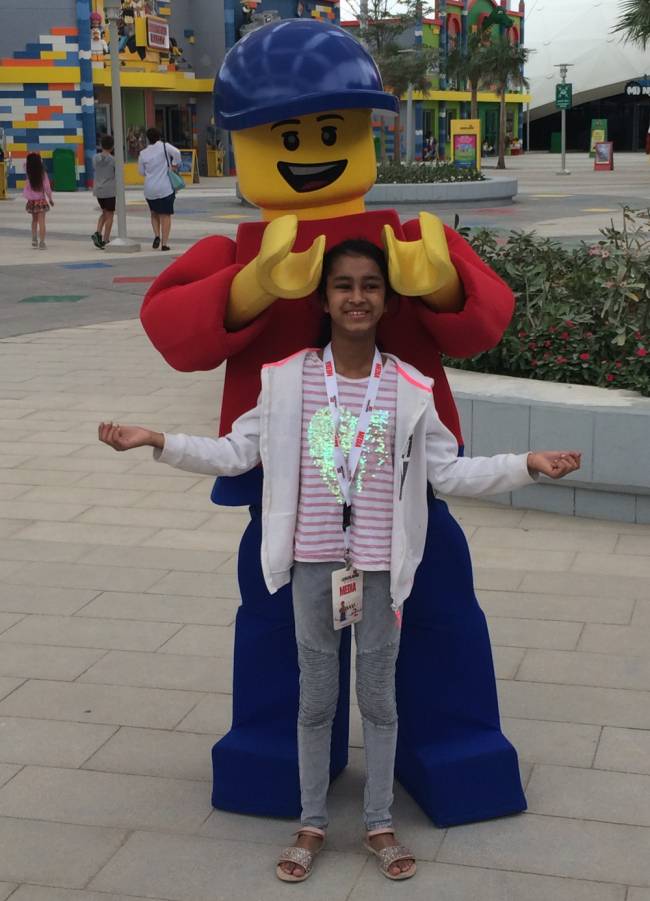 The water park has 11 main attractions. It's not trying to offer the kind of high-speed thrills that you can find in other water parks in Dubai like the Atlantis, just Lego's child-friendly version of one, so less height restrictions and more blocks. The river run had plenty. My daughter sailed by on its five-minute loop, trying to build a house and sail a boat at the same time. I had to get in eventually: I couldn't resist the Twin Chasers or the Twist and Spin. Almost all of the rides have twin floaters, so you can go down with your kids (if they'll let you). It was worth it, but I stopped to rest in one of the many reclining chairs and prepare for lunch. This was the only disappointment of the day. The two food outlets served the kind of fast food that – even though your child might like to eat it – you would prefer they didn't. And there wasn't much choice. It was basically standard pizza and burger fayre. It seemed a shame that this woeful kid's cuisine had spread even to this fantastic resort in the desert.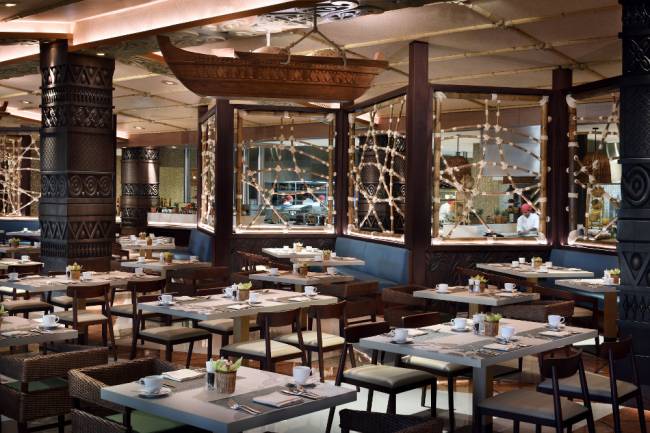 On the plane returning home I could tell that my daughter, like me, was theme parked out. And that can't be a bad thing can it? We had a great trip, but if there's one negative thing that I have to point out it's this: it's not cheap. The pound doesn't get many dirams these days and I had to stop my daughter buying Lego kits that she could have got at home for less than half the price. A picture taken on one of the rides that's offered to you when you get off cost almost £30 – ouch. And it wasn't confined to the park. In the resort, check the cost of food and drink before you order, otherwise be prepared for a surprisingly large bill when you come to leave.
That aside, if you want to experience something more exotic than Florida's Disney World and keep your kids happy, Legoland Dubai could be the place for you.
Thomas Cook is a great deal on a family package to LEGOLAND Dubai during the Easter school holiday. The offer is a four night stay in Dubai from £5,249 per family, based on two adults and two children sharing. Families would be staying at the five star Lapita Hotel on a bed and breakfast basis, flying from London Gatwick on 18 April 2017. To book visit www.thomascook.com, call 0844 412 5970, or visit your nearest Thomas Cook or Co-operative Travel.