If your partner has managed to plough through the notoriously poorly-written Fifty Shades of Grey series she really must be some kind of masochist, but there's a good chance she'll appreciate a firm hand this Valentine's Day
Eager to please and happy to serve, a selection of hotels and tour operators are bending over backwards to offer deliciously deviant getaways to coincide with the film adaptation's release…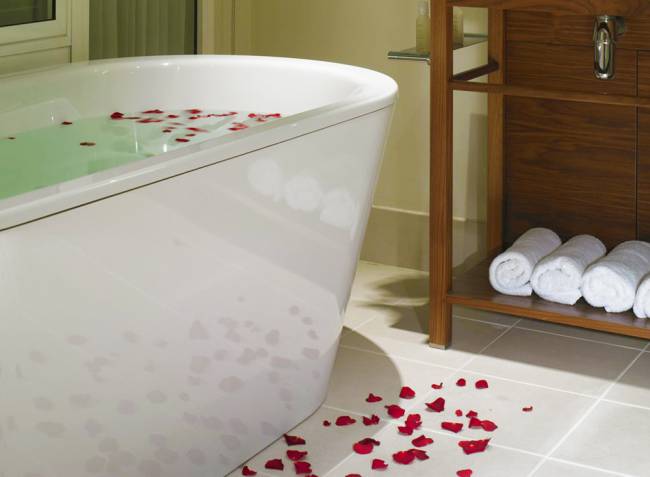 K West Hotel's 'Red Room'
K West Hotel in Shepherds Bush will be offering 'The Intimate Red Room' package from 13-15 February this year, inspired by the titular Christian Grey's 'red room of pleasure and pain,' from Fifty Shades of Grey.
Designed to help your lady 'unleash her inner goddess,' (yeah, that's actually a line from the book), guests will check-in to the sumptuously decorated room, bedecked with red silk bed sheets, red candles and red rose petals, and kitted-out with luxurious 'F Boxes,' which are filled with bondage toys like blindfolds, feather ticklers, bondage tape, and a scented candle for a little hot wax play. Ouch!
The package is priced at £699 per night, based on a couple sharing a K Suite and includes breakfast in bed, sensual bath oils in the guest room, an indulgent aphrodisiac tasting menu for two, and a pomegranate and Prosecco cocktail on arrival.
If your budget won't stretch to that (even with the aid of a rack), the hotel is also doing other Valentine's packages, including welcome drinks, chocolate treats and smutty movies in your room.
For more information, visit: www.k-west.co.uk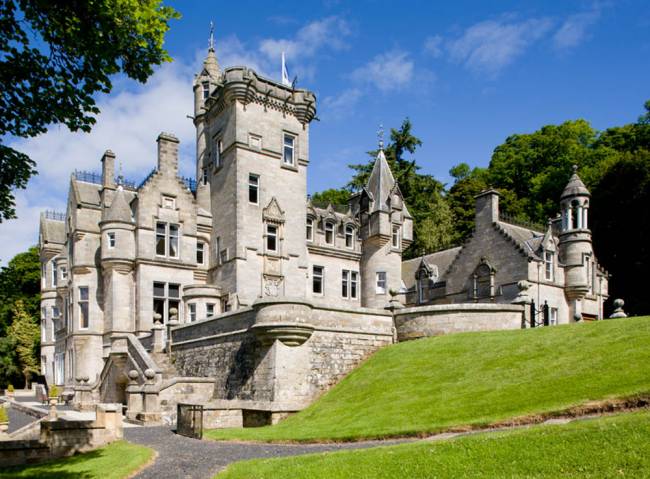 Kinnettles Castle's 'Fifty Shades of Tartan'
Rather than inspiring you to whip your partner's bottom into a livid tartan design, this altogether less experimental experience refers to its north-of-the-border location at Kinnettles Castle (which is itself north of Dundee), in time for Valentine's Day 2015.
Manacles and spanking paddles are eschewed in favour of blindfolds in a slightly more sophisticated two-night package that includes a blindfolded liquor and dessert tasting experience after a private dinner in the castle's Tower Room.
Starting from £500 per couple, the Fifty Shades of Tartan experience includes two nights' accommodation in the mid-19th Century Scottish Baronial castle, an indulgent hamper filled with naughty but nice treats, a bottle of champagne in guests' rooms and breakfast in bed each morning. As well as the blindfolded tasting evening, guests will also enjoy a candlelit three-course meal for two on the other evening.
By day you can enjoy the surrounding 44 acres of manicured grounds and activities such as Segway driving, clay pigeon shooting, and horse riding. The 13 bedroom suite property also has two dining rooms, two games rooms, a wine cellar and a bar with a grand drawing room and lounge.
They'll also arrange helicopter tours or luxury transfers to the cinema in Dundee should you want to treat your partner to an earth-moving chopper ride.
For more information, visit: www.amazingvenues.co.uk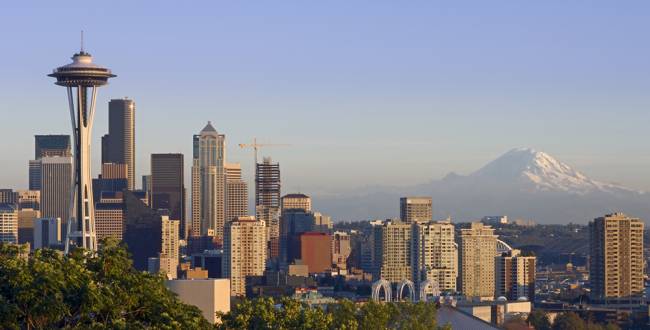 50 Shades Ultimate Romance Package
The USA's Pacific Northwest is where the novel's kinky couple, Ana and Christian met, and now Bon Voyage are offering superfans of the book and film the chance to visit some of the story's real-life locations, and take a high-rollers' road trip down to the sin city of San Francisco.
The adventure begins with two nights in Christian's home town, cosmopolitan Seattle, before heading past the snow-capped mountains of the Cascade Range on the way to Portland, where a private chauffeur will whisk you away to the Heathman Hotel for two nights – a property that fans of Fifty Shades will be familiar with.
Next on the itinerary, again travelling by private, chauffeur-driven car, is the rugged and romantic Oregon coast. Spend two nights in an exquisite oceanfront room at the Stephanie Inn, complete with gourmet breakfasts each morning and dinner with wine each evening, plus a 50-minute couple's massage.
 Another two nights are spent in the Timberland Lodge mountain retreat on the slopes of Mount Hood, where you'll be treated to champagne and strawberries, a trip to the Palmer Snowfield by private snow cat, a private wine vault tour and five-course gourmet dinner. 


You'll next head down to San Francisco overnight in a first class superliner roomette on the Coast Starlight train. On arrival, three nights are spent at the elegant and glamorous Clift Hotel. Tours of the city are included in your package if you manage to make it out of the bedroom.
Prices for this 12-night tour start from £4,995 per person inclusive of return BA World Traveller Plus flights from Heathrow, romantic meals and numerous city tours.
For more information, visit: www.bon-voyage.co.uk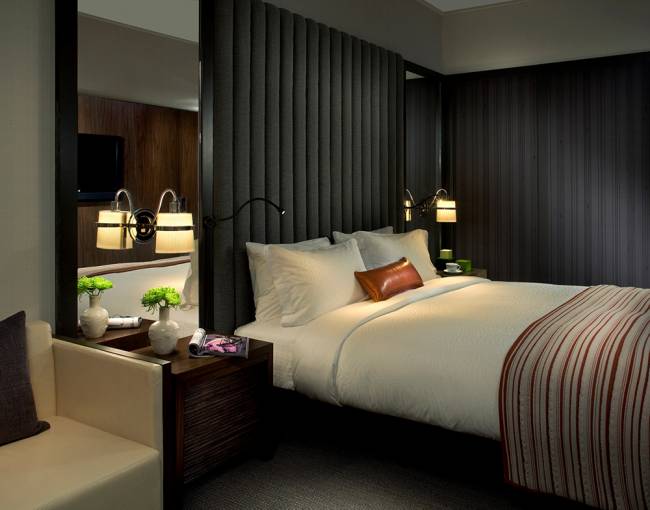 Bondage in the Big Apple
Two New York properties, Eventi and Ink48 are inviting carnally creative couples to stay up all night in the city that never sleeps with their take on the Fifty Shades of Grey package.
These properties in Chelsea (Eventi) and Hell's Kitchen (Ink48) are offering luxurious suite accommodation, complete with a welcome bottle of Veuve Clicquot Brut champagne and basket of aphrodisiacs, such as chocolates, chocolate covered strawberries, and even the somewhat unusual bananas and avocado upon arrival.
The package also includes a Babeland amenity kit containing satin bondage ties, a paddle, spanking powder and a necktie, as well as an intimate 50-minute couples massage. Additionally, indulge in New York's sensualities with two tickets to the Museum of Sex and a $200 La Perla or Agent Provocateur gift voucher so you can make sure your lady is really dressed for the role.
This package is available to book until 1 March 2015 for travel dates from 5 February to 1 March 2015, and prices start from £434 per night.
For more information, visit: www.kimptonhotels.com and quote code GREY