Walt Disney's European theme park, Disneyland Paris, turns 25 this year. DAD.info's Lauren Jarvis – one of the park's original opening crew – returns to see what's new…
That famous Disney magic starts to work as soon as you catch sight of the pink Disneyland Hotel which bridges the park entrance, as a beaming Mickey face formed from flower beds looks on. This is Instagram spot no. 1 of oh so many. You'll hear the Disney music – which will accompany you in various guises all day – and go through the gates where it's compulsory to check in any stress, worries or cynical thoughts: resistance is futile (and if you don't believe me, the Stormtroopers wandering Walt Disney Studios will tell you again).
Beyond the entrance lies Town Square with its bandstand, town hall and vintage buses and cars, leading to Main Street U.S.A. – a wonderfully nostalgic boulevard and the first of Disney's themed lands. Here. you'll find early 20th-century-style cafes and boutiques, offering a bewildering selection of Disney merch – there ain't nothing in the Disney realm you could possibly need that can't be bought here, but leave shopping til later in the day – you'll need both hands to cling on during some of the parks' zippier rides.
With the iconic Sleeping Beauty Castle forming the soaring focal point of Disneyland Park, four more spectacular themed lands fan out beyond.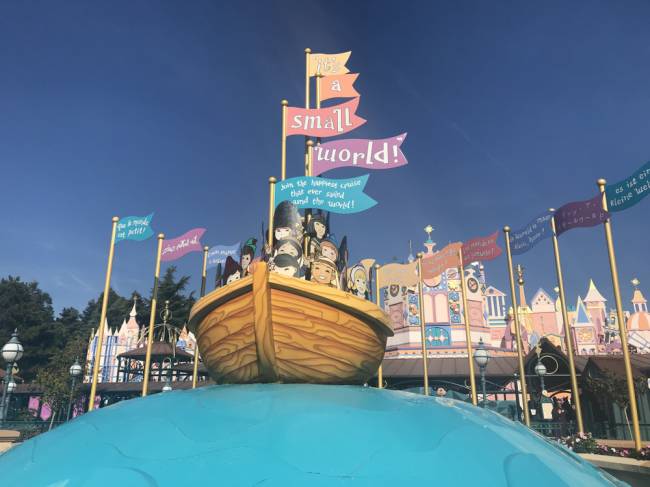 For little ones, Fantasyland is hard to beat. Here, you'll find the classic Dumbo The Flying Elephant ride, Mad Hatter's Teacups, the infectious It's A Small World and Peter Pan's Flight, while little princesses can meet their favourite Disney divas at the Princess Pavilion (book ahead to guarantee a slot). There's also the Alice's Curious Labyrinth maze, teapot-inspired coffee shops, a Lady & The Tramp-inspired pizzeria, cute cobbled streets and a traditional carousel, plus various photo spots for character selfies, so keep 'em peeled for Pluto.
Older kids – and you – will love Discoveryland, which has been imagined straight from a Jules Verne novel, with futuristic, steampunk design and some cosmic rides, including a couple of Star Wars crackers: the classic Star Tours simulation experience which has recently been revamped to incorporate elements of the new movies, and Hyperspace Mountain, a reimagined Star Wars version of the original Space Mountain roller coaster ride. Brave members of the Rebel Alliance can meet Darth Vader, too. For young ones, there's the fun Buzz Lightyear's Laser Blast, where you can zap aliens and battle Emperor Zurg.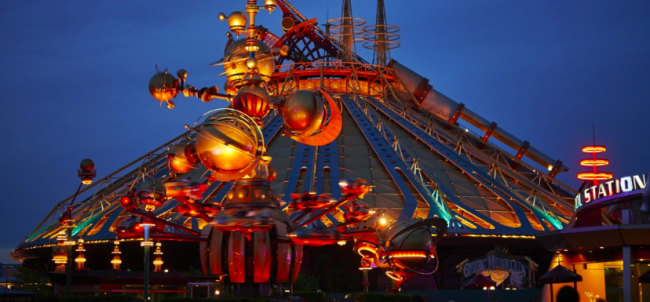 Adventureland has a great mix of rides for young and old, including the Indiana Jones Temple of Peril coaster, and the bawdy Pirates of the Caribbean romp through Captain Jack's lagoon restaurant into Davy Jones's Locker, one of the park's original rides. Skull Island, a Pirate Galleon and Swiss Family Robinson treehouse offer more traditional play areas for little ones, too.
For fans of the wild west, Frontierland is the place to be, with a runaway mine cart – Big Thunder Mountain – a haunted mansion, Phantom Manor, and 19th-century paddle boats cruising the lake. Little cowboys and cowgirls will enjoy the Pocahontas Indian Village and the Rustler Roundup Shootin' Gallery before heading for food at the Cowboy Cookout Barbecue.
Allow a day for the Disneyland Park and another for Walt Disney Studios, accessed through a separate entrance, and with equally as exciting areas to explore based on Disney TV and films.
Toon Studios is amazing for kids, with rides including Crush's Coaster, where you whiz along, spinning around in turtle shells on a Finding Nemo-themed ride, some fun Cars-themed, er, cars and a super Slinky Dog ZigZag Spin. Flying Carpets Over Agrabah takes you up on a magic carpet, straight out of Aladdin, while Ratatouille: The Adventure shrinks you down to rat-size, as you dodge the dangers of a French kitchen in a 3D fast-motion ride. There are animation classes inside the Art of Disney Animation centre, plus meet & greets with Buzz Lightyear, Goofy and Mickey, too.
In the Backlot area, you'll find an Armageddon Special Effects show, and speed-freaks will love the Rock 'n' Rollercoaster – a white-knuckle ride in the dark with an Aerosmith soundtrack, so you'll be "Livin' it up while you're goin' dooooown!" I can't help doing this one a couple of times over – not sure if that's good for back, bones or brain, but it's lots of fun (once you get over the initial terror of being thrust at lightning speed into a dark tunnel, before the strobes kick in).
But The Production Courtyard boasts what is quite possibly Disney's BEST RIDE EVER: The Twilight Zone Tower of Terror. With incredible attention to detail, this ingenious attraction scares the bejeezus out of you before you even enter: look up to the 13th floor of the haunted Hollywood Tower Hotel and you'll see riders strapped into an elevator plummeting down into oblivion – leaving fading screams as they free fall – not for the faint-hearted, just wait until you see what's in store inside… Mwahahahahahaha!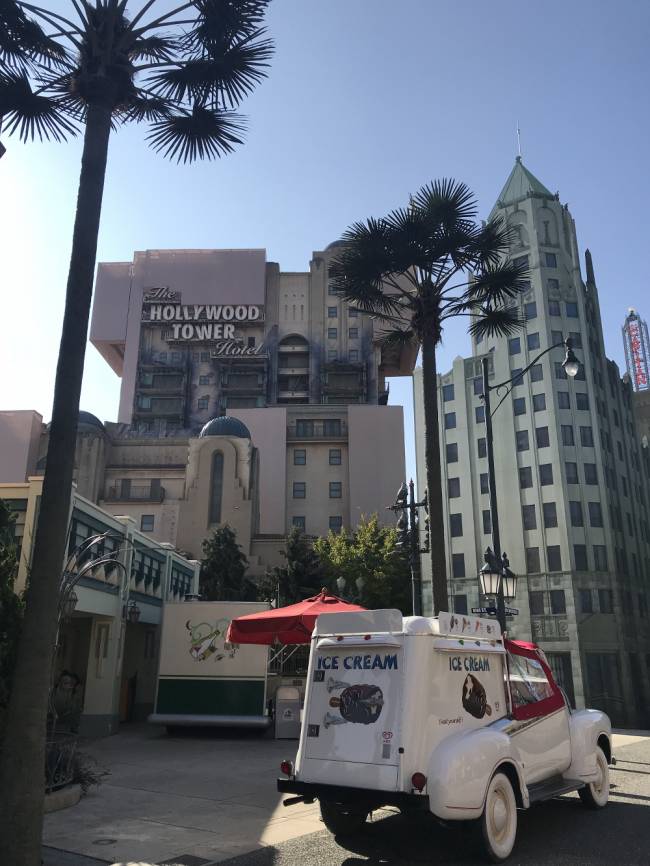 The incredible theming doesn't stop inside the parks. The on-site hotels are attractions in themselves, with each one offering a different kind of Disney adventure, along with themed restaurants, swimming pools and spas. Staying here has the added bonus of giving guests a few hours of exclusive 'VIP' access to the parks, so you can tick off your must-do rides before the gates open to the public.
The Grand Opening party 25 years ago saw a host of VIPs descend on Euro Disney, with Eddie Murphy wandering the grounds of the New Port Bay, the Four Tops spotted in a lift at the Hotel New York, Tina Turner strutting her stuff in Discoveryland and Michael J. Fox sporting a fetching Mickey sweatshirt at the Disneyland Hotel. How I'd love a DeLorean to zoom back to that night. Admittedly I didn't serve quite as many canapés and cocktails as I should, but it sure was fun.
The classic Disneyland Hotel puts guests right at the entrance to the park, and is about as 'Disney' as you can get without actually spending the night in Sleeping Beauty's Castle. The Victorian-themed hotel offers five-star luxury, with five-star prices to boot – but your own princesses will love it.
Hotel New York is an art deco gem, with Big Apple iconography, yellow taxis, black and white photos on the walls and mini Empire State Building lamps in each room. There's even a Rockefeller Plaza-style ice rink outside in winter.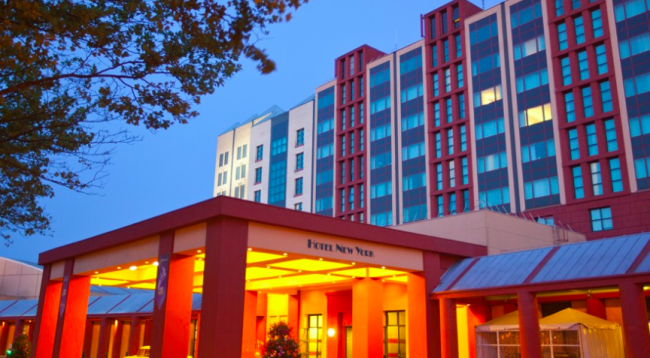 Sequoia Lodge whisks you to North America's national parks, surrounded by pines with a mountain-lodge feel, cosy open fires burning in colder months and woodland critters decorating the bedroom walls.
Newport Bay takes you to Cape Cod, with a lighthouse overlooking the huge lake and nautically themed dining areas and rooms.
A little further away and reachable by shuttle, The Cheyenne harnesses the cowboy style of the wild west and is a cheaper option than the hotels in walking distance of the parks, while the Santa Fe offers Route 66 pueblo-style cool, with rooms themed around Disney Pixar's Cars.
For those who prefer a break from the full-on Disney experience, Les Villages Nature Paris is a new accommodation village, a 25-minute paid shuttle ride away from the parks, offering cottages and apartments in a forest around a lake. Not a million miles away from a Centre Parcs experience, there are swimming pools, water parks and plenty of family-friendly activities to try.
You'll find other partner hotels for a variety of budgets in the areas around the resort. Back in 1992, Marne-la-Vallée was a wasteland – cast members lived in Paris and travelled to the park every day (some, like me, convinced I was a Disney-fied Audrey Hepburn, skipping to the metro nibbling croissants, whistling my way to work). But the commute to make the early or late shift was hard, and it was a relief when staff accommodation opened up, and 'home' was a short shuttle-ride away.
Today, those shuttles offer great connections between hotels and the park, with bus stops next to the station, where the Eurostar drops off and local trains head to and arrive from Paris. The transport zone is at the entrance to Disney Village – a buzzing strip of restaurants, shops and bars that stays open late and offers everything from line dancing in the multi-story, western-themed Billy Bob's Saloon, to beers in the Sports Bar and roller-skating waitresses at the brilliant 1950s-themed Annette's Diner – always a favourite of ours when Euro Disney opened, largely due to the novelty of Oreo-cookie milkshakes and the fact the waiting staff did a rousing rendition of Greased Lightning on skates every night – and it's still just as much fun. Buffalo Bill's Wild West Show is also still pulling them in, with fast-paced horseback stunts and Tex-Mex cuisine.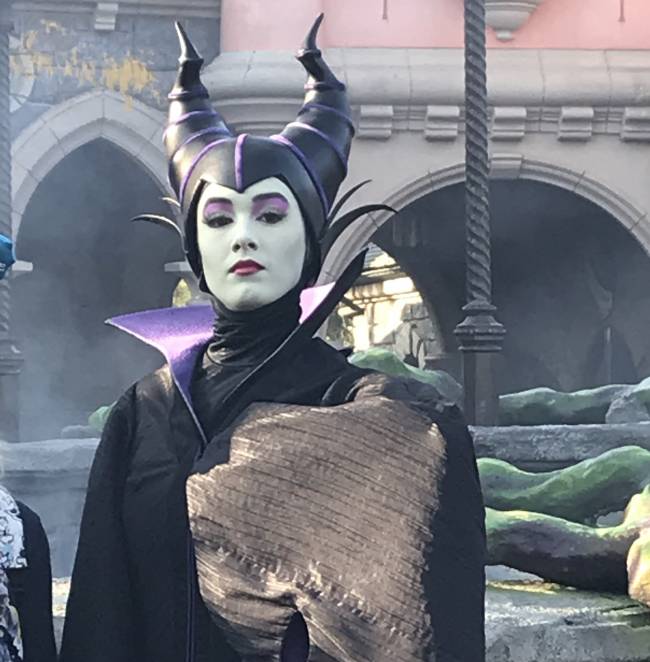 Back then, there were no branded eateries here, but now Planet Hollywood, the Rainforest Cafe, Five Guys and the compulsory McDonald's and Starbucks have sprung up. And this leads me to my only criticisms of this amazing Disney empire: the fast food and tonnes of plastic waste.
It may be nostalgia talking, but I remember my Disney offering some stylish dining options, high-quality fresh food and great wines, served by waiters and waitresses with metal cutlery on proper plates and it was good – a real pleasure to eat in so many places, from American fare in Walt's on Main Street to unique Creole cuisine in the Blue Lagoon.
Now, fast food seems to be everywhere – unhealthy choices for kids; uninspiring, limited choices for adults and if you're vegetarian like me, very little choice at all. In one of the rare 'fine-dining' restaurants, Bistrot Chez Rémy (themed around the Ratatouille animation), I was served a plate of boiled carrots and green beans, with a few cubes of raw tofu on the side – and I thought being a veggie in 1992 Paris was hard. Give me one of the gazillion cheese crepes I ate back then over this drab dish any day. The meat-eaters didn't fare much better, with three of them returning their too-tough-to-chew steaks, and one asking for a replacement pasta that came out cold. Rémy could have probably done better.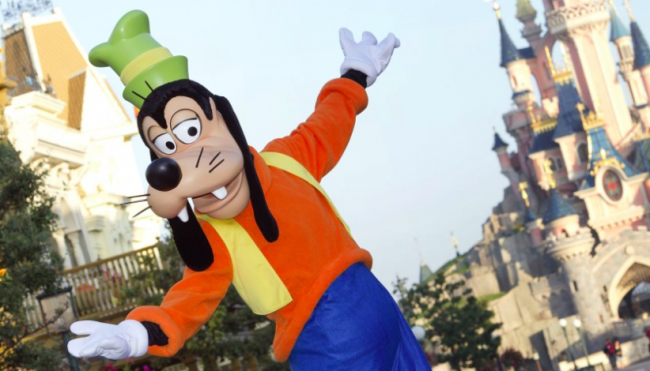 And in this environmentally enlightened age, surely all of this plastic has to go? Breakfast at the Café Hyperion, included in our hotel meal plan, was fast-food hell – plastic everything, while the actual food (ironically) tasted of cardboard.
People I've spoken to since have confirmed a similar experience: the food is the only tarnished speck in Disney's sparkling, king-of-all-theme-parks crown. I'm still baffled at how the genius company that designed and built something as wonderful as The Tower of Terror can't seem to cook scrambled eggs. And how the world's biggest family brand isn't providing more healthy meal options for kids, or limiting the use of the single-use plastics. Don't even get me started on the toys… Time to step up and take the lead again, Disney.
Food aside, there is little in Europe that can beat Disneyland Paris when it comes to memorable family breaks. Everyone knows that, which is why school holiday and weekend queues can be loooong. Make sure you book your park tickets in advance, and invest in Fastpasses to avoid as many long queues as you can. Don't forget to pick up maps and a programme as soon as you enter (or the night before) too, so you don't miss any of the excellent must-see Disney anniversary shows, and can bag a place early to watch Disney Stars on Parade along Main Street.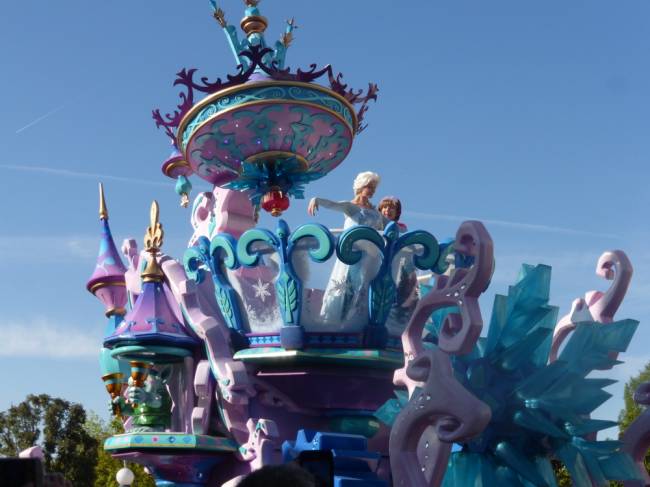 Sometimes it's not good to go back – places change and older eyes can see things differently (more cynically?). But our anniversary reunion was a joy – because of the timeless appeal of the park, of course, but also because of the friendships that had endured and the great memories that were made in this uniquely exciting place.
Our anniversary ended with the spectacular Disney Illuminations Show, which lights up the Sleeping Beauty Castle every day after dark.
Flames, stars and snowflakes were projected on the walls, while music from Disney movies filled the air: Captain Jack swashbuckled, Darth Vader menaced, Ariel swam and Elsa swirled, playing out classic scenes on the castle turrets, before fireworks flashed overhead.
Weary kids gazed wide-eyed up at the sky, as teens in Minnie bows hugged their Mickey-eared mates. A beefy man who looked like a gangster rocked a Goofy hat, while an elegant French woman snuggled into a stylish red-and-white spotted scarf, in an obvious nod to Mrs Mouse. Next to me, a few of my Disney mates wore their 1992 Opening Crew baseball jackets, while others put their own children up on their shoulders, telling them this was where mummy or daddy used to work a long, long time ago.
Somehow 25 years have passed, but as the saying goes, age is just a number: the real magic of Disneyland Paris hasn't changed at all.
To book your Disneyland Paris break and find out about special seasonal offers, go to disneylandparis.co.uk
A programme of special 25th Anniversary shows and events will be taking place throughout the year.