No matter if you're looking for a couples' retreat, mates' escape, family getaway, or an educational experience for your kids, there's a safari holiday that's right for you in Kenya
Sabuk Lodge, Laikipia – best for romance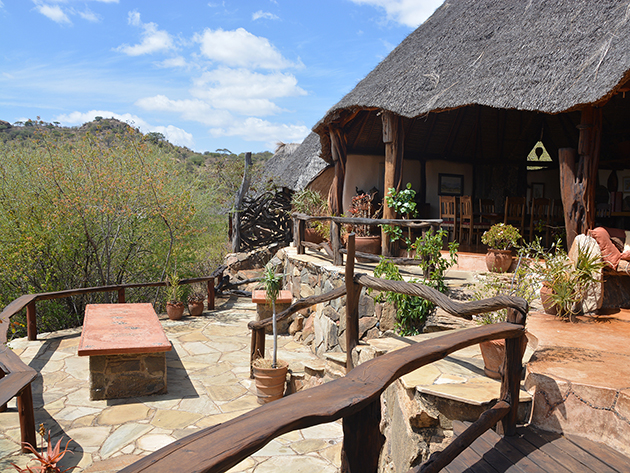 Teetering on the brink of the open cliff-side that forms the invisible fourth wall to each of Sabuk Lodge's six idiosyncratic, luxuriously rustic suites, birds flit in and out of your three-walled room and the sun seems to rise right on your balcony each morning. Overlooking the Ewaso Nyiro River, you can often watch wild elephants bathe as you savour a bedside breakfast in your bathrobes or enjoy nature like a naturist with an open-air shower together… in the all-together.
Safely ensconced in your private patch of paradise, you'll feel like the only couple on Earth, alone with your own mammoth menagerie; you won't Adam-and-Eve the procession of wildlife that passes by your always-open window.
For more information visit: www.sabuklodge.com
Laikipia County wildlife
If you do venture outside, you're encouraged to go on a walking or camelback safari because in many of the rest of the country's parks and conservancies you'll be required to ride in a vehicle.
Not that there are any manicured paths or fences separating you from the local fauna: wildlife can come and go as it pleases with you amongst it. You'll be relying on the considerable expertise of your Samburu guides for safety.
Leopards, elephants, reticulated giraffes, tawny eagles, Grévy's zebras, baboons and wild dogs can frequently be seen in the area. Though they could likely scale the cliffs, you needn't worry about the former catching you with your pants down in your room: while they'd love the opportunity to feast on one of lodge-owner Verity's adorable dogs, they're quite shy creatures and rarely dangerous to humans unless wounded, we're assured. Verity says a leopard in your bedroom "would even be spooked by your mosquito net blowing in the breeze"… let alone a banging headboard, eh?
Kipalo Hills, Mbulia Conservancy – best for adventurers
Situated on the Mbulia hills amid 12,000 hectares of conservancy, overlooking Tsavo West National Park and Mount Kilimanjaro, it's a long drive over rough terrain through overgrown dirt tracks to reach this remote lodge. Those who want to reconnect with nature will love the lack of mobile phone coverage (though wi-fi is still available).
Wannabe rangers will feel right at home because accommodation is in giant army-style tents complete with safari showers, their tanks filled by staff with buckets of hot water, so you'll not have long for your daily ablutions each morning. Electricity comes from an inverter system too so, if you're here with a lady rather than mates, she won't be able to use her hairdryer – that's another reason you'll be straight out on safari with no faffing each day.
Guests can even go on a course to be taught wilderness survival skills by the local park rangers. It's not all boot-camp basics though: each room has en-suite facilities and twin or double beds, and the central dining and lounge area – along with accompanying swimming pool under the stars – is built right into the natural features of the rock.
For more information visit: www.africanterritories.co.ke
Mbulia Conservancy wildlife
This location boasts easy access to both Tsavo West and Tsavo East National Parks that together form one of the largest and most diverse national parks in the world. Though renowned for having the largest elephant population in Kenya, all of the 'big five' (lions, rhinos, leopards, buffalo and elephants) can be spotted here.
A bird-watchers' paradise, this wilderness also features extreme variety of landscapes, from fields of iconic baobab trees to the 180-mile-long Yatta Plateau, formed by the world's largest lava flow. Get your hiking boots on.
Serian, Masai Mara – best for kids
While you'll still sleep beneath canvas here, you'll find wooden decking underfoot; luxurious bricks-and-mortar off-suite bathrooms with huge, unglazed windows; and cavernous tents wired for electricity. A few rooms contain two double beds and are commodious enough for you and your children, while there's also a family suite of adjoining doubles each with private bathrooms so you can give your teens a little space.
Accommodation overlooks a river filled with hippos, so your kids can watch the wildlife wallow while they splash about in the tub too.
For more information visit: www.serian.net
Masai Mara Wildlife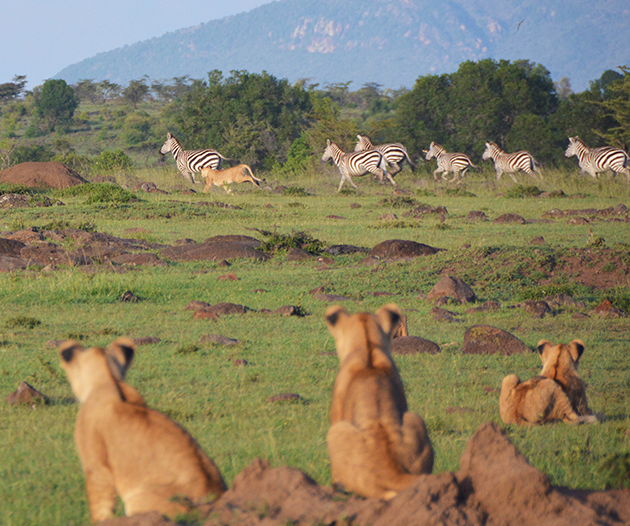 Probably the world's most famous national park, the Masai Mara is home to the annual wildebeest migration, often called the greatest show on Earth. Mara in the local tongue means 'dotted land,' in reference to the vast open plains once punctuated solely by wildlife and the quintessential, lonely Ballantine trees. Nowadays, littered with huge camps and game drives all departing together to encircle prides of desensitized lions, it could also be referring to the jeeps and trucks that dot the landscape, but Serian is a little different.
Set in Mara North conservancy, there are far fewer tourists on safari in this part of the region and – according to some experts – much of the national park's wildlife has migrated here for a quieter life. It's certainly very easy to spot lions, hippos, bison, crocodiles and the 'big five' here, and with bespoke safari drives from Serian going out at different times to suit each party of guests, you'll not be cramped up with all the other wildlife watchers.
This makes it a great place to take your children to witness in the flesh all of the animals they're almost certainly fascinated by… without having to take them to a zoo nor hiking through the wilds of the Congo.
Delta Dunes lodge – best for three generations
If a castaway Tom Hanks stopped talking to his volleyball buddy long enough to build a five-star hotel out of flotsam, driftwood and animal bones, that is what Delta Dunes would look like. Barefoot luxury best describes the kind of Flintstones-esque opulence on offer at this resort on the Tana River Delta, so secluded you have to take a boat to get to it.
Wannabe Swiss Family Robinsons who want to get away from it all to spend some quality time together should look no further than this remote retreat for a half-a-world-away experience with few enough suites to make the place feel like your own and just enough swanky seaside civilization to keep your folks happy.
For more information visit: www.deltadunes.co.ke
Tana Delta Wildlife
In its unusual 'beach and bush' location among sand dunes and wetlands, Delta Dunes sits at the confluence between the old Tana River estuary and the Indian Ocean, overlooking 30 miles of uninhabited beach. There are over 280 resident species of bird in this area and elephants have sometimes been known to wander down for a splash about too. The lodge's dining area even plays host to some wild bushbabies that often drop in at dinnertime because they're so irresistibly cute that guests can't help but feed them. Treat your tribe to a trip there.