… and still have time to hit the beach…
Kenya is back on the tourist trail. With FCO travel restrictions lifted, you can now follow in the footsteps of the celebrities and wildlife enthusiasts pouring back into the country.
As well as its dazzling beaches, stunning landscapes, and a fascinating mix of cultures, Kenya offers one of the most dense wildlife populations on the planet and the very real chance to see the big five ­– lion, leopard, elephant, rhinoceros, and buffalo – along with a whole host of other incredible creatures in just a week-long holiday.
Check out our top tips to tick off this most well-known wildlife bucket list…
Elephants
How anyone can find a white chess piece, domino, or a carved ornament more beautiful than seeing these breath-taking animals in the wild is utterly depressing and equally unfathomable, but a shocking 100 African elephants are poached every day to sate Asia's demand for ivory products.
Thanks to the herculean efforts of people like American wildlife conservationist Dr Cynthia Moss, and the courage and commitment of the Kenya Wildlife Service – the thin green line protecting the country's endangered species from the unscrupulous and idiotic – Amboseli National Park, the KWS say, has not lost an elephant to poachers for years, and their population of 1,500 grey giants is thriving.
The Serena Safari Lodge provides guided drives through Amboseli's expansive swamp system, where you can witness these family-oriented mothers splashing about with their babies. With the majestic Mount Kilimanjiro as a backdrop, be humbled by the magnificence of these intelligent, social, marvelous mammals … yes, you might see a buffalo too.
For more information about Dr Cynthia Moss's fantastic work, visit: elephanttrust.org
To organise a stay at Serena Safari Lodge, visit: serenahotels.com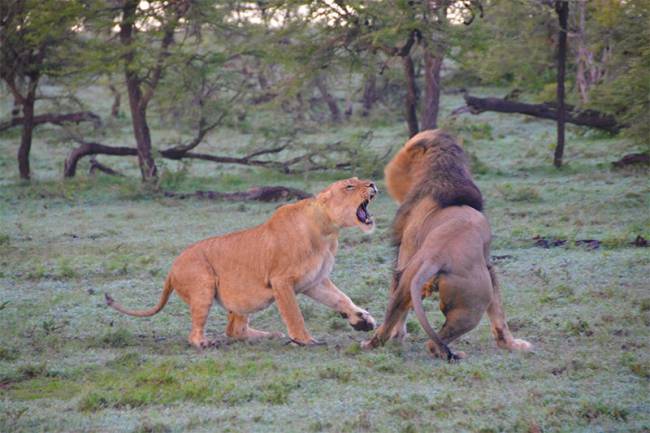 Lions
We won't keep you waiting any longer to hear about the star of the show: you only have to look at the international outcry caused by the news of a desensitised dentist killing the much-loved Cecil, to see how much people (even those who'd wolf down a Whopper Meal) revere Africa's undisputed king.
For us, the best place to see them is the Maasai Mara – surely the most famous wildlife park on the planet and home of the greatest show on Earth, the annual wildebeest migration, which sparks a colossal feeding frenzy.
Practically every visit to the Maasai Mara yields lion sightings, but because the place is so famous, the reserve tends to get rather crowded, and your photos will likely have a LandCruiser full of tourists as a backdrop.
Consider instead staying in one of the conservancies that border the national park itself, like the Porini Mara Camp in the Ol Kinyei Conservancy. The annual migration passes straight through Ol Kinyei and it's also permanent home to a pride of 30 lions.
The conservancy model, originally dreamed up by Jake Grieves-Cook, is a great idea that benefits the local community as well as Kenya's wildlife. Safari companies, such as Jake's company Gamewatchers, rent the collective lands belonging to local farmers and herdsmen, and thus create private reserves, granting wildlife a greater protected area in which to roam, and giving local people an income stream that directly connects their livelihood with the ongoing existence of Africa's wildlife.
The results are a greater intolerance towards poaching, with Gamewatchers also running anti-poaching initiatives; the conservation and regeneration of the ecosystem and protection against future habitat loss, with the national park's range effectively being expanded; and giving Maasai landowners a genuine stake in wildlife conservation. The Born Free Foundation is playing an important part in helping locals and lions live side-by-side with their project to reduce human/predator conflict by building lion-proof fences to protect goat-herders' villages too.
Visitors see the benefits, of course: because Ol Kinyei Conservancy offers on-site accommodation with a maximum density of one tent per 700 acres – granting exclusive access to its guests – there are significantly fewer tourists here, even though it adjoins the Maasai Mara National Park.
From Ol Kinyei, you can visit the main reserve and also explore the conservancy with some of the Maasai guides who actually own the land, and offer activities prohibited in the national park itself, like night drives and even walking safaris.
Find out how you can help Born Free with its wildlife conservation projects throughout Kenya, at: bornfree.org.uk

For more information on booking a safari and stay, visit: porini.com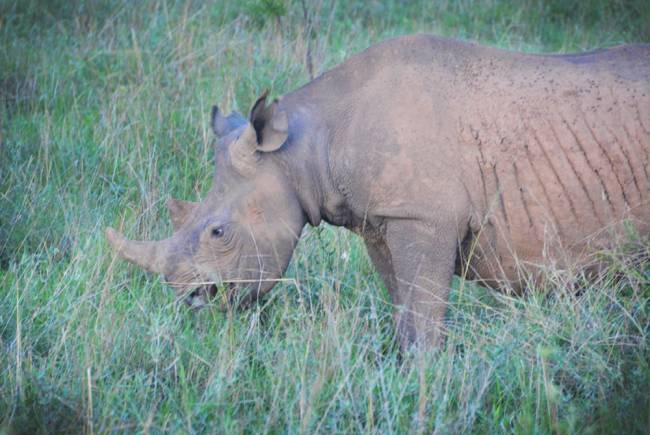 Rhinos
One of the planet's most critically endangered animals, rhinos are not easy to see anywhere in the wild because they've been so mercilessly hunted for their horns.
Nairobi National Park, however, is just a stone's throw from the nation's urban capital and, not only can you be out on safari or sleeping under canvas at Nairobi Tented Camp within 25 minutes of leaving the airport, but it's also a great place to spot the super-rare rhinoceros.
This is because the protected creatures have been relocated here from other parts of the country so they can be more closely monitored for their own protection. This is far from a visit too the zoo though, and these prehistoric-looking animals still run free throughout the reserve – sometimes chasing passing safari vehicles as they go.
For more information, visit: nairobitentedcamp.com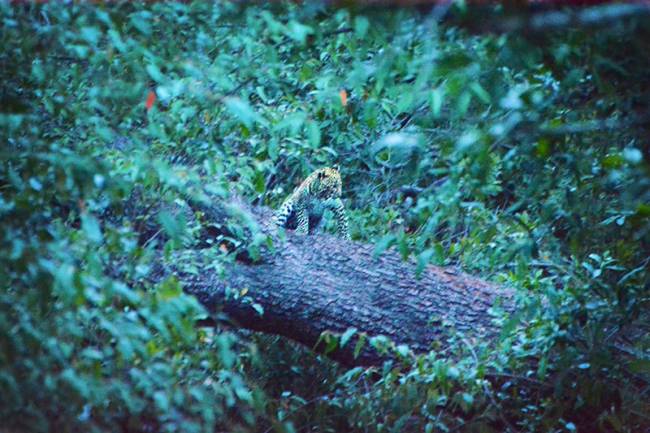 Leopards
Forgive the awful pun, but the elusive leopard is incredibly hard to spot. We've been on safari in Kenya three times, and only on our most recent visit – when Gamewatchers' guides were able to show us the 'big five' in just five days – did we finally lay eyes on a leopard.
The best place to look for leopards is in trees, where they like to doze and hang out. They even drag their kills up there so they can eat them in peace, sometimes heaving a dead antelope up among the branches.
We saw our leopard cub trying to camouflage itself up in the leaves in Olare Motorogi Conservancy, which is home to some of the largest free-roaming big cat densities in Africa, including local celebrity Fig the leopard and his family.
The Porini Lion Camp, where Sir Richard Branson has stayed, offers luxury tents alongside the Ntiakatiak River where hippos wallow by day, and by night you'll hear them foraging for food on the other side of your canvas walls…. So keep your doors zipped up!
For more information, visit: porini.com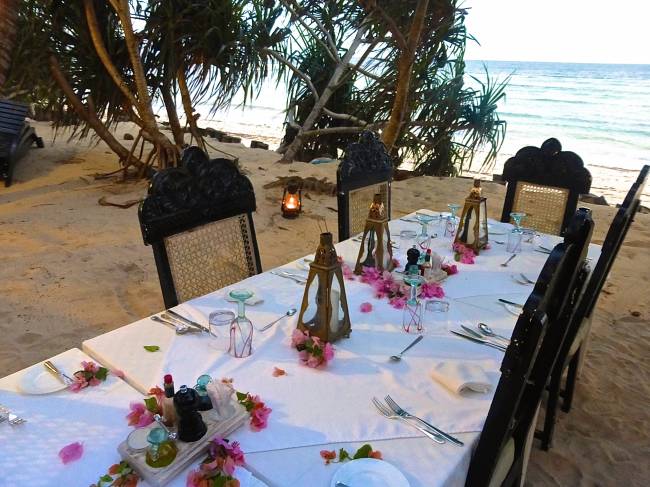 … now it's time to head to the beach
In case you've been getting some grief about not doing enough relaxing on your trip, you can earn some serious Brownie points by rounding off your holiday with a stay at Msambweni Beach House & Villas.
Located near the FCO-approved beach resort of Diani, a little south of Mombasa, the whitewashed ramparts of this Moorish-influenced castaway's hideaway offers views over – and steps down to – powder-soft beaches lapped by the Indian Ocean. While away an afternoon sunbathing down here, or by your own private pool, and explore the nearby reefs with locals on a traditional dhow boat, before lighting a bonfire on the beach and dining under the stars. At the right time of year, you can even spot turtles hatching at sunset and help these cute critters make their way down to the water's edge.
For more information, visit: msambweni-beach-house.com
The Born Free Foundation runs conservation projects throughout Kenya, including building lion-proof fences to protect local villages. Find out how you can help at bornfree.org.uk
Gamewatchers Safaris can put together a one-week itinerary, so you too can see the big five in five days. For more information, visit: gamewatchers.com
If you'd prefer a more relaxed pace, they offer an 11 night/12 days safari and beach package with first night at Nairobi Tented Camp, two nights at Porini Mara Camp, two nights at Porini Lion Camp, two nights at Amboseli Serena Safari Lodge, and four nights at Msambweni Beach House, from £3,050 per person on a full-board basis based for two sharing. The price includes domestic flights on Safarilink (flysafarilink.com), safari activities, park/conservation fees, all airport transfers, meals and non-premium alcoholic drinks and taxes. International flights to Kenya are not included.
Kenya Airways (kenya-airways.com) operates daily overnight flights on its new B787 Dreamliner from Terminal 4 London Heathrow to Nairobi Jomo Kenyatta International airport. Economy return flight prices to Nairobi start from £722.45 including taxes.

For more information on visiting Kenya, visit: www.magicalkenya.com