DAD.info travels to Finnish Lapland and discovers a dazzling year-round destination with much more to offer than Santa and sleigh rides…
In a land where snow and pine trees dominate the landscape, you might think that aside from skiing and the occasional snowball fight, there'd be little else to do. But, despite double-digit sub-zero temperatures (the locals class anything above minus four degrees as 'warm'), this part of Northern Finland has become a playground of winter sports. Thrill-seekers couldn't ask for more choice, especially when it comes to choosing a mode of transport. Planes, trains and automobiles fall by the wayside in favour of ice karts, turbo-charged dogs and snowmobiles.
Finnish Lapland really is an extreme landscape, one of the world's last wildernesses. A land where for 51 days of the year, the sun doesn't rise, and for 73, it doesn't set. Somehow the native Finns have stuck it out and and made it home, whereas chances are, us weather-obsessed Brits would have given up long ago. There's no point sugar-coating it, it's a cold, cold place, freezing in fact, but with plenty of base layers and a sturdy windproof, you'll be good to go!
Things to do for all ages…
Second only to Santa in this landscape of myth and legend are the reindeer. Over 200,000 of them roam the land, but unless you're constantly on the prowl for them, the easiest way is get up close and personal to these friendly beasts is a trip to Reindeer and Fishing Farm Palosaari. A two to three hour reindeer sleigh ride costs from £22, and gives you plenty of time to feed them their favourite healthy snack – Finnish moss.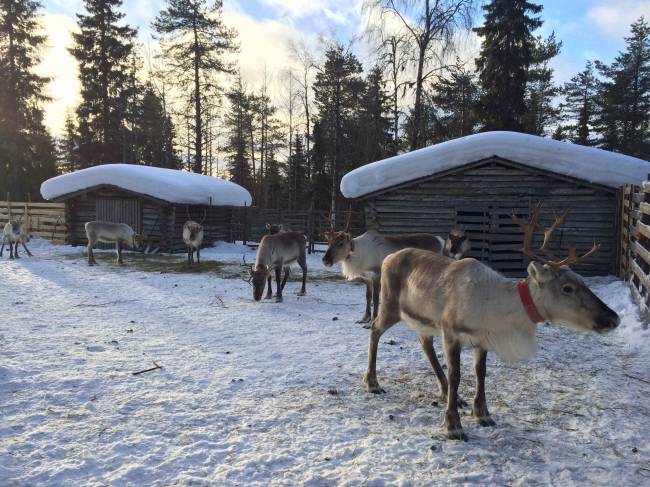 Fancy a hike up a big, snowy hill in the dark? No? What if you might get to catch a glimpse of the northern lights? Ah, that's changed your mind, hasn't it?! Grab your snowshoes and walking poles and follow one of the guided walking safaris. At night the snow encased trees resemble giants in the weird landscape. Even if you don't catch a glimpse of the lights, the sky is still filled with stars and the views of surrounding towns is pretty awesome. A three hour snowshoe safari with Ruka Safaris costs from £50 per person.
Not everyone want to be trekking at night, especially with bleary eyed kids in tow, so if a daytime ramble is more your thing then take a trip to the Oulanaka National Park. A guided hiking trip along the Kiutaköngäs Trail (from £58 per person with Tailored Adventures) will take you along the river path, which in summer is home to death-defying rapids, up to an outdoor shelter where hot snacks and drinks are conjured up from on a log fire. The pace can be as steady as you like, giving you plenty of time to soak up the amazing views. Just make sure you pack a selfie-stick for those group pics!
Head to Riisitunturi National Park in search of the cutest (and possibly noisiest) mode of transport to date – dog sledding (from £81). Never underestimate the power of the husky, their little legs drive forward with some incredible speed, and they seem to be loving every minute of it, just watch out for low-flying turds… (joke, well… kinda). Dog sledding is possibly the most fun you can have on 24 legs and is certainly not to be missed.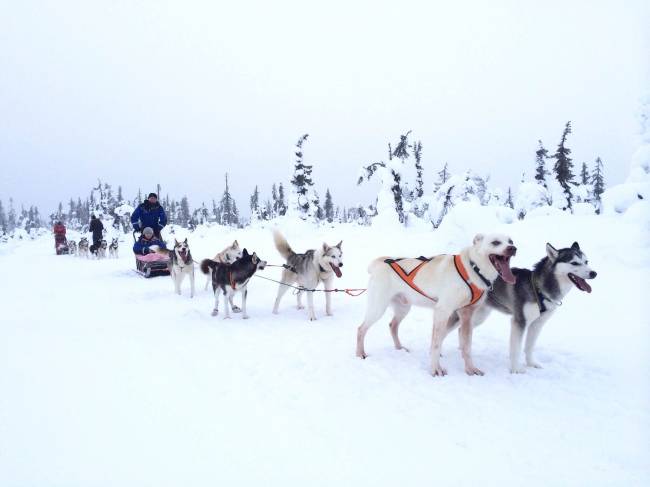 Other things to do…
You may feel like you're in a never-ending land, but everywhere you'll want to visit feels very accessible to the Ruka-Kuusamo area. Even with snow covered roads, that would bring the UK to a perpetual standstill, no where seems to be more than 40 minutes away by car or taxi.
Sometimes you may fancy some downtime while you're travelling around, its only natural, but one method of transport will give you even more relaxation that you could realistically fathom. We're talking about a sauna bus. Yes, that's right, an actual sauna on a bus. Finns seem to spend a large proportion of their lives in saunas, apparently babies get their first experience from around three months old, so it must have seemed like a genius idea to deck out a single decker with some decking and create the weirdest bus around. To experience the real Finland, a sauna tour is a must. It's not a case of, 'seen one, seen 'em all', saunas are pretty complex things. Saunas made out of ice, saunas heated with smoke, saunas on the aforementioned bus, they're all good. And for the ultra-exhilarating experience, a quick dash from the sauna into a hole carved into the ice of a frozen lake is a must – the few seconds of shock are soon overcome by an overwhelming feeling of calm and warmth as the endorphins kick in! A Wellbeing In Wilderness sauna tour costs from £172 with healthy snacks and a little birch-twig slapping thrown in too.
While go-karting may scream 'stag do', ice karting is a different affair altogether. Zip around a snow and ice covered track to qualify for your fastest lap, before pressing the gas pedal (as hard as your boxers will allow without lightly soiling) for the final race. Pack a pair of sunnies as unsurprisingly it can get pretty bright out there on the all-white track. A session costs from £37 with Ruka Adventures.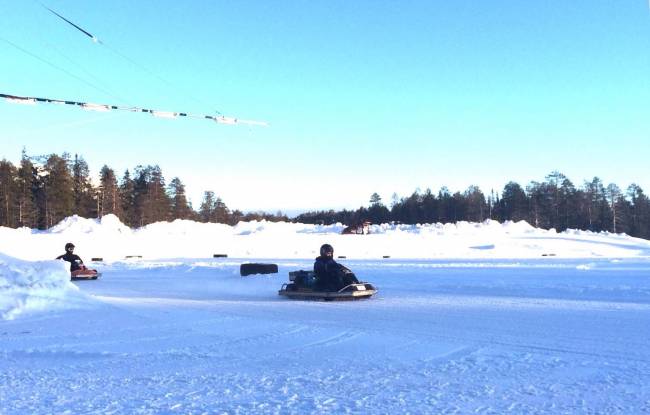 A View To A Kill, True Lies, Die Hard 2. What do they have in common? Snowmobiles, of course! Channel your inner action hero with a snowmobile safari (from £63), zipping across a frozen lake, at up to 70kmph, zooming through forests and speeding down hills really is more fun than you could shake an icicle at, just watch out for skiers (and Bond villains).
Ever walked past a frozen waterfall and thought, ' I wish I could climb up that'? Course you have! Well, practice your ice climbing skills with a tutored session (from £55 with Hiking Service Finland) and master the basics on the man-made frozen precipice. You'll get to wear some pretty menacing looking shoes that will certainly earn you lots of man-points.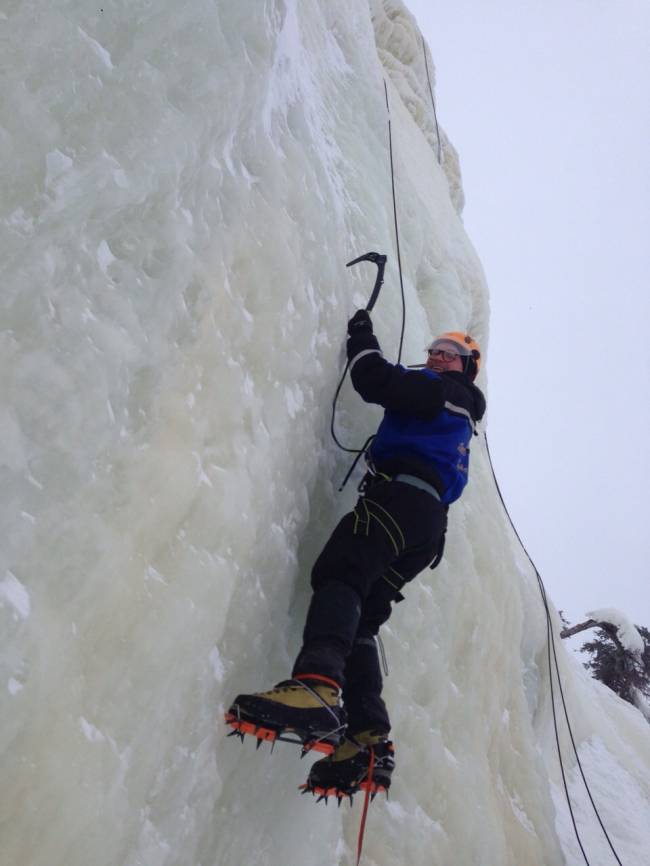 What to eat…
Wild food is central to traditional Lappish cuisine, never a meal goes by without a healthy dose of wild berries making a colourful and zingy appearance. Comfort food would best describe things, even when it comes to 'exotic' meat such as reindeer and elk, which are served in similar ways to beef. Local salmon and the aptly named whitefish crop up on many a menu, and you can be sure the distance from water to plate is so small, they probably could have jumped straight into the kitchen. Butter, cream and smoked cheese are staples of most meals, but when it's nose-nippingly frosty outside, this much-needed sustenance becomes totally guilt free. Fussy and less adventurous appetites are catered for too, with pizza and burgers within easy reach of the ski slopes.
Wash down your meal with a local beer, or shot of tar liqueur with it's semi-medicinal flavour. If you want a sweeter tipple look out for cloudberry liqueur with its honeyed sweetness, or salmiakki – a slightly salty licorice liqueur which really isn't as bad as it sounds! Just watch out for the local vodka, it's often served with a pickled fish shoved in the glass! Learning to say cheers is essential in any language, so in case you were wondering it's Hölökynkölökyn. Try saying that after a few fishy vodkas!
Where to sleep…
Go traditional with a wooden chalet set among the pine trees. Complete with wood burning fire, sauna and all the basics, the Rukan Salonki Chalets costs from £718 per week for a two-bed chalet.
If ski-chic is more your thing and you fancy rallying the troops, the stylish Luppolinna costs from £770 for six rooms (minimum two night stay and minimum booking of six rooms). Lake views, modern sauna, and outdoor hot tub make this a great party pad.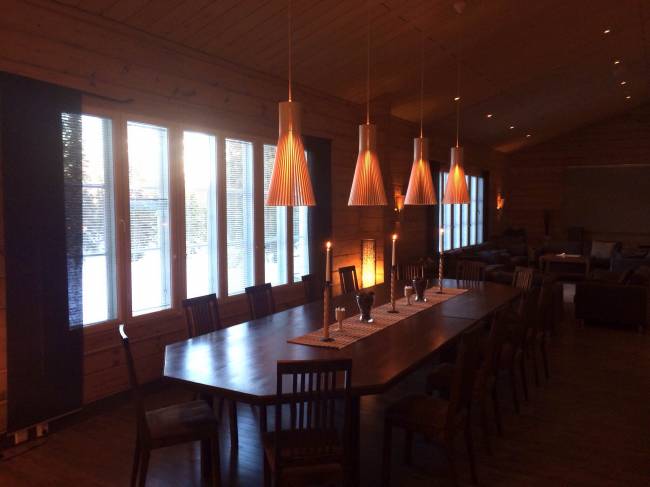 Getting there…
Return flights from London Heathrow to Kuusamo with Finnair cost from £226 return.
Plan your trip to Lapland – The North Of Finland at onlyinlapland.com