What's the point in having kids if you can't get a little amusement out of them by scaring them witless once a year? While the USA dominates Halloween celebrations, there are a few surprises on our list of our five fave eerie events on the planet… And we'll let you know which are just for big kids like you and which are suitable for actual children…
Day of the Dead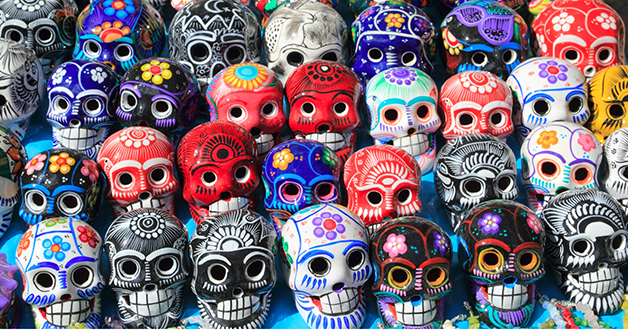 Mexico's most famous export (aside from controlled substances, tequila slammers and a glut of burrito bars around London), the world-famous Dia de los Muertos is now celebrated in parts of Spain, the USA and South America… but the original and best events take place in its homeland.
Though not strictly a Halloween event and actually a form of ancestor veneration during which people build altars at the final resting places of their loved ones, the festivities run from 31st October through to 2nd November and are plenty spooky enough for some Halloween fun.
The most iconic images associated with the event are sugar skull sweets, graves festooned with garlands of marigolds and skeletal face painting, and the best place to see them is in the isolated town of Janitzio on Lake Pátzcuaro. The only way to access the island is by water and on Day of the Dead a candle-lit boat procession makes its way to Isla de Janitzio before revelers make their way up the hill to the graveyard for an overnight (and usually rather boozy) festive vigil.
One for the kids? Either take them along and leave early or tether them to a cactus and go adults-only. It's not really scary, more eerily beautiful, but it does turn into a crowded and rowdy all-nighter.
Emma Crawford Coffin Races
While this inauspiciously-titled event might sound like an elderly lady driving a turbo-charged Citroën 2CV, this Colorado, USA Halloween festival is actually a wacky (read: hilariously disrespectful) way to pay homage to a treasured town legend.
The titular Emma Crawford moved to Colorado's Manitou Springs in 1889, in the vain hope the area's mineral springs would cure her tuberculosis. While in town she fell in love with the nearby Red Mountain, so to honor her dying wish, her fiancé and 11 men spent two days carrying her body up the 7,200-foot peak and buried her coffin at the summit (not exactly low-maintenance, was she?). In 1929, her illegally buried remains were dislodged by heavy rains and allegedly careened down the side of the mountain, with only her skull, a few bones, the coffin handles and (conveniently) her nameplate all making it to the bottom. What was left of Crawford was finally laid to rest in Manitou Springs Cemetery, though naturally local legend maintains her spirit now eternally haunts Red Mountain.
Eschewing the more staid candlelit vigil for a more high-octane form of reverence, locals pay tribute to Emma's everlasting spirit each year by dressing up and racing through downtown Manitou in elaborate casket-shaped go-karts, each propelled by a team of four 'mourners.' Visit Manitou on the fourth Sunday of October from 12pm – 3pm to watch these wacky racers for free, though if you want to enter the race you'll need to bring your own coffin and a $50 entry fee.
One for the kids? When the tricky subject of death inevitably crops up, it's always tough trying to explain to children the journey of life through to the ultimate terminal for each living being. This event may therefore serve as a helpful visual metaphor for your little ones, though you might want to clarify that our final destination is not the cute little deli by the finish line, no matter how heavenly their olive oil may be.
Village Halloween Parade
The city that never sleeps hosts a party that may leave you unable to nap at night for more reasons than one. Not only are New York City's legendary celebrations likely to spook you sleepless, but the after-partying might last until the sun comes up too.
The world-famous Halloween parade is open to anyone turning up in costume, drawing more than 60,000 participants, two million street spectators and another one hundred million viewing the parade on TV, so you and your little 'uns can be stars for the day. 2014's event promises 53 live bands, as well as dancers, circus performers and the parade's signature giant pageant puppets. Basically it's the world's biggest and baddest and should be on your bucket list.
One for the kids? Hell, yeah! Though it does start at 7pm and run until 10pm (and maybe beyond), which may be past your diddy devils' bedtimes.
Banks of the Foyle Hallowe'en Carnival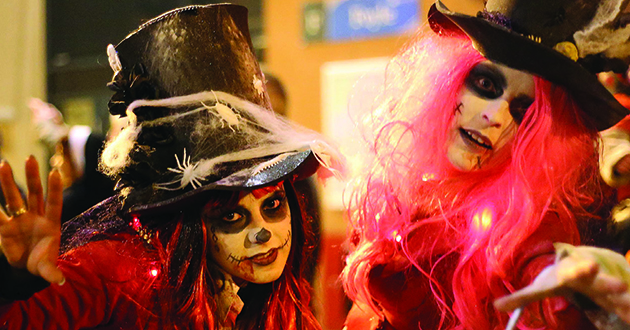 Our big, brash brethren across the pond hold such glitzy, glamorous and rampantly commercialised spooky celebrations that you'd be forgiven for thinking they invented the concept of Halloween. Actually the origins are from the Gaelic festival of Samhain which was celebrated from sunset on 31st October to sunset on 1st November to mark the end of the harvest season and the beginning of the 'darker' half of the year. It was thought to be a time when fairies and the souls of the dead entered the living world and even involved dressing up and going door-to-door reading verses in exchange for food (though their trick or treaters were then more likely to receive apples than today's gelatinous nuggets of hydrogenated glucose syrup).
These days, the largest Halloween celebration in Ireland (and Europe, they claim) is the Banks of the Foyle Hallowe'en Carnival in Derry-Londonderry and runs from 29th October to 2nd November in 2014. The five-day event features funfairs, parades, haunted houses, fireworks, storytelling, ghost tours, scary movies, arts & crafts workshops, night markets and more spine-chilling fun than you can shake a trident at.
One for the kids? This is a family show, people. While some younger children could find it frightening, it's intended to be fun for all your little leprechauns.
Salem Festival of the Dead
There are too many amazing Halloween celebrations across the USA to list with theme parks like Universal Studios and Disney going all out at this time of year and the Spanish-moss-shaded voodoo and vampire mysticism of New Orleans being a perennial draw for fans of the dark arts. It was, therefore, a tough call to pick our final spot but one place in particular, with its month-long October celebrations and horrific history, couldn't go without mention.
The small city of Salem in Massachusetts – notorious for the 17th century witch trials in which 20 people were executed – plays host to the month-long Festival of the Dead each autumn. Over the course of October events such as psychic readings, séances, ghost hunting sessions, and a dumb supper (a dinner held in total silence to honour the dead) take place across the city, culminating in the Salem Witches' Halloween Ball when fires burn on every hilltop and costumed revellers gather to feast, rejoice, and cast spells (read: attend disco and get drunk).
One for the kids? Yeah, sure… if you want your kids to turn out like that girl from The Exorcist! This Halloween event takes its occult roots a little more seriously than most and features workshops like a guided meditation session designed to "bring you on a spiritual journey into the realms of the Horned One himself." If you don't want your kids' heads rotating through 360 degrees then maybe find a baby-sitter for that night, eh?