DAD.info's Simon Harris and family head to the sunny south of Spain to review IBEROSTAR's family-friendly Costa del Sol resort…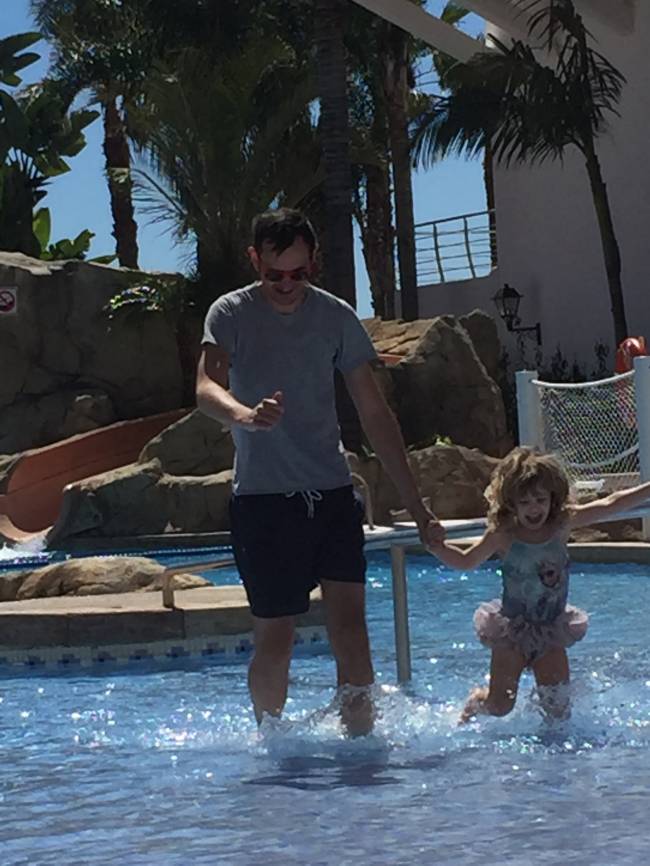 "Wow, Daddy. Are we going to live here now?"
It seems the beautiful and rather grand entrance of Marbella's Hotel IBEROSTAR Costa del Sol has obviously made a great first impression on Mary. And rightly so.
The lobby is cool and relaxing with a sweeping staircase, waterfall and marble, marble everywhere – creating an overarching aura of luxury.
"Yes, Mary, for a few days anyway…" I respond, as I drink it all in literally and metaphorically. The refreshing water on tap at reception is just one of those touches which says: 'Stop, relax, you have arrived.'
I'm always excited and nervous when opening the door to a hotel room for the first time. Like opening a present from a rich aunt, you know it won't be cheap, but sometimes it might be wrong. Or sometimes it's just fine… you know, nice but a bit boring and functional: nothing to moan about, but just not quite 'wow!'
"This. Is. Amazing!" gasps Mary as she runs in ahead of us. Yup. She isn't wrong. Our room… ahem… our suite.. is the equivalent of good ol' Aunty Mauveen giving the missus a little something in a Tiffany box.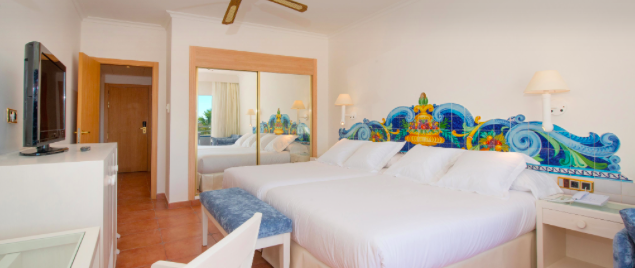 Massive bed? Tick. Walk-in wardrobe? Tick. Huge bath overlooking a stunning view of the beach and the sea? Tick, tick. Swim-up pool? T.I.C.K. Yes. Swim. Up. Pool. Our first-floor balcony somehow leads directly into a semi-private pool, which we share with the other four or five suites alongside us.
Now, I don't know about you, but I've stayed in a few decent hotels in my time (and more than a few not-decent ones too, in case you think I ain't got range), but this is a first. It looks fantastic. I say 'looks' because we visit in late-March when the water is full of brass monkeys, so sadly this time we don't get to take the plunge.

But stay there in the summer, get other friends or family to take the suites alongside, and you've got yourself a pretty awesome situation. A best-of-both worlds scenario: fantastic hotel with all its shizzle (more of that in a sec) AND rooms with huge living space AND a private pool for you all to muck about in and not annoy strangers. And downstairs there's a fantastic, huge outdoor pool, plus a smaller kid's pool and a great indoor pool area, too. If that isn't enough water-dipping action for you, then it's just a hop, skip and jump into the Mediterranean Sea. This hotel is beachfront, so I reckon you could do a sea-outdoor pool-outdoor kid's pool-indoor pool-indoor jacuzzi-private pool-bath tub relay in record-breaking time. No running though, kids.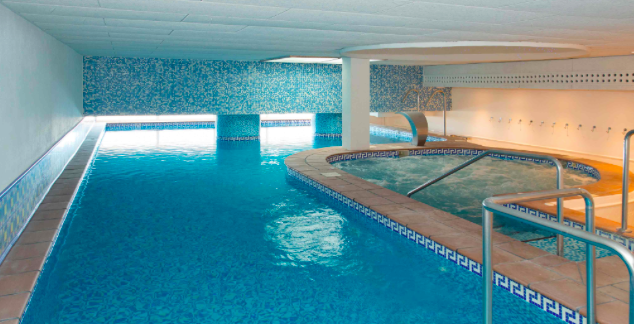 We stay half-board so our dinners are in the buffet restaurant. When you've got children, there's nothing easier for you or more exciting for them. Mary's eyes boggle at the vast array of colourful food. The choices for both breakfast and dinner cover all palates with daily changes and chef's surprises to keep things fresh during longer stays.

The beachfront restaurant is an added bonus too. Serving deliciously fresh, local produce – fish, olives, wine, salad and meats – it offers a more sophisticated, light and airy Cape Cod environment than the hotel's buffet restaurant, while still managing to make you feel comfortable enough to dine there with the kids. The service is impeccable, the food bountiful, the view paradise-ful (I know that's not a real word, but language evolves all the time).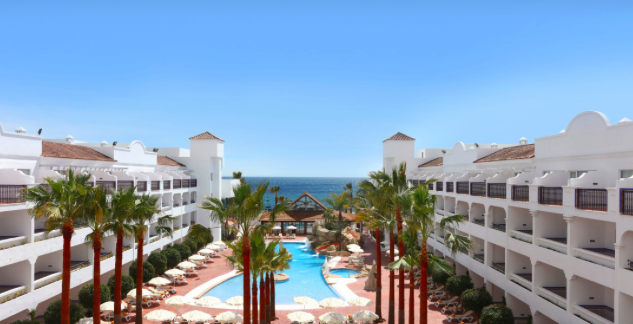 So, in between eating and splashing, what else is there to do? Well, the Kid's Club is a great chance to grab a break and hone your adults-only water skills or hit the spa while your little ones have their own fun. The Club has an indoor soft-play area as well as a crafts zone, and is supervised by smiley, hands-on, English-speaking children's entertainers. There's also a huge outdoor activity area with crazy golf, giant chess, a climbing frame and slides, and there's even an archery lesson going on during our visit.
Everywhere we turn there were friendly, efficient staff and a smorgasbord of things to do or things to eat.
So, as we're leaving and Mary asks if we can come back one day, I have to nod and say, "I hope so, Mary. I really hope so…"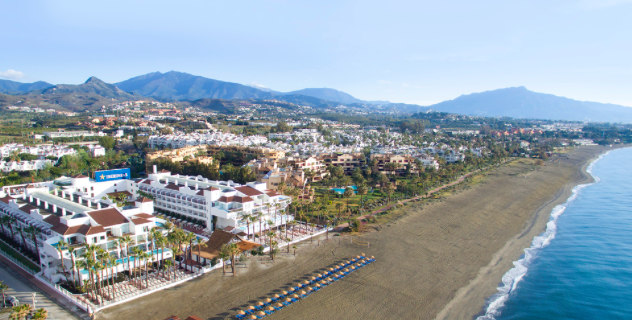 The Hotel IBEROSTAR Costa del Sol offers four-star family accommodation in Marbella, with direct access to the quiet El Saladillo beach, just 10km from Puerto Banús.
Choose from accommodation-only holiday options to all-inclusive packages, staying in spacious rooms or luxury family suites, with prices from 65 euros (around £50) per person per night.
SPA Sensations has an exclusive water circuit and wellness centre including a sauna, Turkish bath, relaxation area, foot pool, multi-sensory showers, jacuzzi and acclimatised swimming pool in winter. The resort also offers a mini-club for children plus games, sport and entertainment for adults and families.
To find out more and make a reservation, go to IBEROSTAR Costa del Sol.