In the wake of 2013 documentary Blackfish, which was critical of the way SeaWorld treats its captive orcas, the company has seen its stock value drop by half. This month the floundering business announced plans to phase out its San Diego orca shows, and open branded resort hotels in a bid to reverse its fortunes.
But with celebrities shunning the company, Pixar reportedly changing the plot of their Finding Nemo sequel (Finding Dory) in the wake of Blackfish, and even One Direction's Harry Styles speaking out against SeaWorld, it's not likely to be top of any kids' holiday hit lists anymore (particularly not teenage girls, thanks to Harry). So what do you do with your animal-loving children next holiday?
We show you the best places to take your kids to see marine wildlife, where it belongs… in the wild.
Swim with the world's biggest fish – Ningaloo Reef, Western Australia
Literally the biggest fish in the sea, these gigantic sharks, which grow to over 40ft in length, can be seen in many places around the world, including Honduras, Belize, The Philippines, The Seychelles,Thailand, and Mexico.
Our favourite place to see whale sharks though is Ningaloo Reef, in Western Australia. The mass coral spawning phenomenon here attracts tons of whale sharks looking to feed between March and July each year, when sightings are very common.
Take a tour with Ningaloo Reef Dive & Snorkel for the chance to swim right next to the biggest fish in a very big pond.
Where to stay: A cut above the usual more business-oriented hotels of the brand, Novatel Ningaloo Resort Exmouth offers family luxury, overlooking the sea. Similarly the Best Western Sea Breeze offers unique and quirky apartments in the converted officers' quarters of an active naval base!
For more information, visit: www.ningalooreefdive.com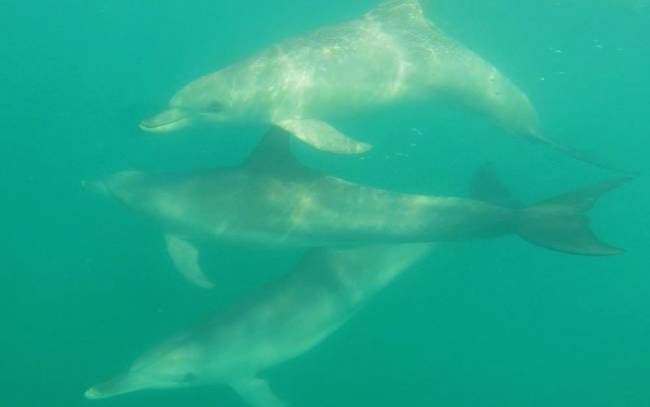 Swim with wild dolphins – Rockingham, Western Australia
This is at the number one spot on bucket lists and children's wish lists the world over. Lots of places from marine mammal parks to sea pens (which contain dolphins in a small area of the ocean, easily accessible to tourists) offer the opportunity for holidaymakers to swim with captive dolphins. Clutching on to their dorsal fins and being dragged through the waters is treating these highly intelligent animals like circus freaks: don't do it.
Take a tour with Rockingham Wild Encounters and you'll get to swim with wild dolphins in the sea. They don't use fish to attract these marvellous mammals, instead they rely on dolphins' sense of fun. Staff use underwater sea scooters, a propeller that whizzes them through the water at high speeds, to get the dolphins excited so they come and play with guides and guests alike and compete to prove the superiority of their subaquatic acrobatics. It's awesome.
Where to stay: Since Perth is only 45 minutes' drive from the sleepy seaside town of Rockingham, you'll probably want to stay in the city where there are lots more things to do to keep the kids entertained. We recommend a stay at The Terrace Hotel, a 19th century Bishop's residence that has been converted into 15 suites in Perth's city centre, offering stylish and sophisticated accommodation right in the heart of the city.
For more information, visit: www.rockinghamwildencounters.com.au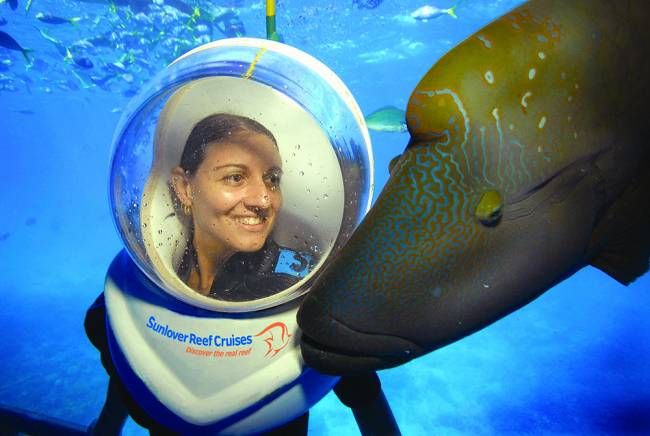 Scuba diving for non-swimmers – Great Barrier Reef, Australia
Much better than bringing marine wildlife into our environment, is entering theirs. You can scuba dive anywhere on Earth where there's water, but your kids are unlikely to have the necessary qualifications to do so. Never fear, Sunlover Cruises offer the opportunity to get you and your kids out and under the waves.
While many resorts offer try-dives for beginners, Sunlover Cruises offer helmet diving, which is great way to get up close and personal with different marine species without even getting your hair wet. These Seawalker experiences have been designed to introduce people to the excitement of the underwater world,without any prior dive knowledge or experience… even if you can't swim!
Where to stay: If your kids are mad about the Great Barrier Reef, having seen it in movies like Finding Nemo, and never want to leave, then you can stay all night with Cruise Whitsundays' Reefsleep experience. Watch the sun go down over the world's largest reef system, enjoy an optional night dive, and sleep under the stars in the middle of the ocean. Wow.
For more information, visit: www.sunlover.com.au and www.cruisewhitsundays.com