The superstars of the biggest sports in Ireland aren't professional athletes paid millions, they're your postman, greengrocer or your children's teacher. They're amateurs… in the strictest sense of the word.
As the FA Cup approaches – a once-great, giant-killing football competition crushed by the Goliath of big business – DAD.info's James Draven travels to the emerald isle to experience Gaelic games first hand, and you can too…
I'm on my feet cheering. I'm sat in a sports pub in Kilkenny watching an international football match on TV. Irish forward, Robbie Keane, valiantly scrapping away in front of goal, has snuck one past the keeper and put the home side ahead. Now, I'm English but being a Spurs fan this reaction is ingrained in my every fibre despite our erstwhile striker having left my club a good few years ago. Keane's tenure at White Hart Lane has conditioned me with a sort of Pavlovian loyalty. Robbie is a footballing commodity though and club loyalty is a luxury frequently-transferred players can't afford to have.
I thought at least I'd be in good company, but I immediately feel a bit daft because my congratulatory shouts are the sole response to the goal; nobody else in the room is cheering. Nobody else is really even looking at the screen… they're more interested in the All-Ireland hurling trophy, the Liam McCarthy Cup, I've nonchalantly perched on a table next to my pint of cider.
The sport of hurling is huge in Kilkenny, bigger than any other Gaelic sport and bigger even than football, so when I stroll through the city's streets clutching a trophy as symbolic to the locals as the FA Cup and the Premier League trophy melted down and recast as a statue of Sir Bobby Charlton snogging Barbara Windsor would be for the English, it's unsurprising that we stop traffic.
"It's a replica," I tell the occupants of a car that screeches to a halt beside me and the wide-eyed maniacal glint in their eyes subsides, they smile and drive on. That's is a lie. It is the real cup. Well, one of them at least.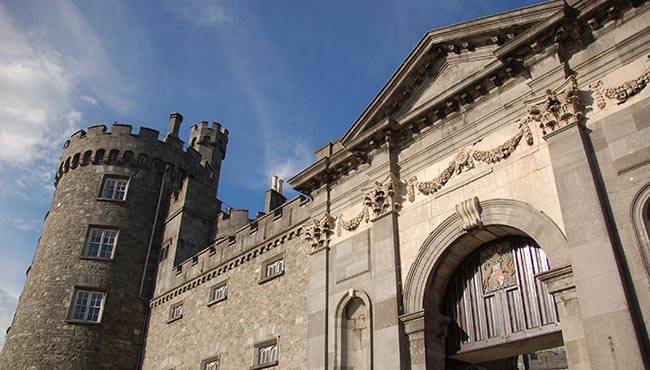 There are three MacCarthy Perpetual Challenge Cups (to give it its full title) in existence, you see. The 1921 original which was retired in 1992 and now is on permanent display in Dublin's Croke Park stadium; its replacement exact replica which is what you'll see awarded to the winners at the All-Ireland Senior Hurling Final; and a third identical trophy which the winning team takes back to their home county and I'm now carrying under my arm as I weave in and out of the Friday night revellers on Kilkenny high street.
I'm not just in Ireland this weekend to visit Kilkenny Castle, drink in the local pubs that spew live music and Irish stepdancers, and watch the hurling final though: I'm here to try my hand at the national pastimes, Gaelic sports that attract viewers in their millions locally but are relatively unheard of outside of this small island. Jaded by the big business decisions that come foremost in the once beautiful game, I'm intrigued by the notion of national sports played by amateurs.
From Dublin it's just an hour-and-a-half train ride down to Kilkenny, the county that has won the All-Ireland Senior Hurling Finals more than any other team, 35 times. It's here I meet up with star of the sport Richie Power, a nationally revered sporting hero at weekends and a travelling salesman by day. He must have something of a Clark Kent complex. Despite playing for the most successful club in the top flight of the most widely played sport in Ireland, he's not a professional… he's not even paid.
For the uninitiated, hurling is 3,000 year old sport a bit like a hybrid between field hockey, rugby and quidditch. Legend has it that it all began when a man killed a dog with a stick and a ball(!) Nowadays only humans are on the receiving end of the odd blow to the head. Two teams of 15 players, each armed with a hurley – a large wooden stick with a flat paddle at the end – take to a huge field and attempt to score points by using their hurley sticks to wallop a small leather ball called a sliotar (it's a little reminiscent of a baseball) either between the vertical arms of an opponent's rugby style H-posts (for one point) or in the netted goal below the horizontal post, defended by a keeper (for three points).
Adding to the magical, hand-wrought atmosphere of the sport, many of Kilkenny's star players have their hurleys hand-made by local hurley-maker Mark Dowling who, like his father before him, creates three for each player, all hewn from the same piece of Irish ash. They say locally that you do not pick your hurley, the hurly picks you, so he also spends a fair bit of his time repairing players' damaged favourite sticks.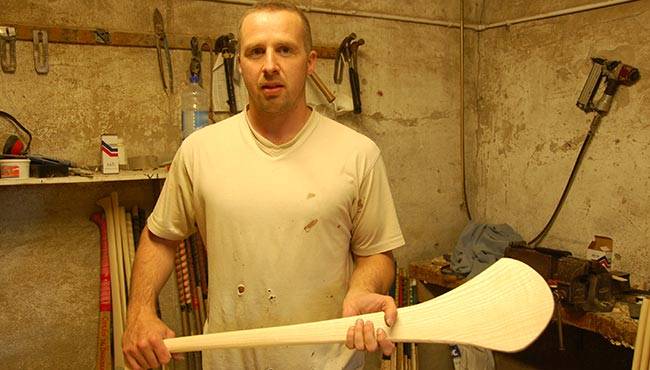 Once my hurley has picked me, I take to the field and chat to Richie as he puts me through my paces and teaches me the basics of his beloved sport. While we warm up we talk about footy: of how – since the only non-league side to ever win the FA Cup was Tottenham Hotspur in 1901 – we'll certainly never see the feat repeated again, and – since no team from outside the top flight has won the cup since a Second Division West Ham bested Arsenal in 1980 – we'll most likely not see a non-Premier League side, bankrolled by big business, ever lift the FA Cup in the future. Talking of Spurs, we discuss Gareth Bale's €100m transfer and top footballers' astronomical weekly earnings: I ask Power, as a man at the top of his own game, if he's not just a little bit envious of how good soccer (as they call it here) stars have it. Wouldn't he like to be similarly remunerated for his skills?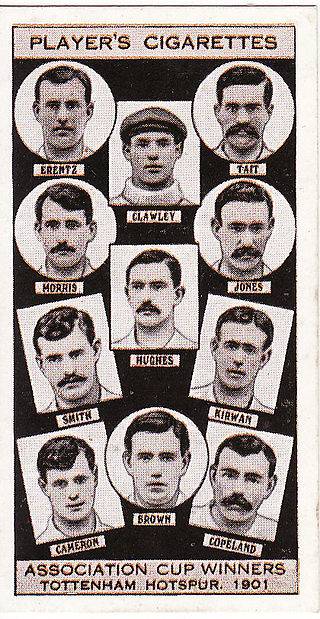 His response is refreshing: "When you introduce money into the sport it becomes a business, he says, "Winning the All-Ireland trophy, getting your medal, that's what you play for, it's what you dream of when you're a child. You're only playing for the pride of victory."
Power says he does not want to be paid a salary on par with Premier League players and would go so far as to oppose it if it were mooted. He believes that victories are sweeter when they are the only goal because defeat is that much more bitter when you don't have an astronomical salary for comfort, regardless of the result.
It's this attitude that makes the sports of the Gaelic Athletic Association special. The GAA is the governing body for Gaelic football, handball and hurling. Its remit is not just to promote the sports but to champion Irish culture, music and identity. Hurling and Gaelic football are the fabric upon which this rich tapestry is woven and, with 2,400 clubs dedicated to Gaelic sports around the country, its embroidered onto the hearts of most every man, woman and child. It's not about money: it's about history, community, pride and competition. It's about what all sports were once, and still ought to be, about.
While Kilkenny's residents might disagree, because they play it almost exclusively, hurling is not the only traditional Gaelic sport in Ireland. In order to make dual use of the country's playing fields, Gaelic football is also played on the same pitch as hurling and the rules are near-identical, with the notable exception that players are not armed with dirty great sticks.
On my way back up to the capital I stop off at Sarsfields GAA club in Newbridge, County Kildare, where I meet with husband-and-wife team, Cormac O'Donnchú and Georgina Caraher of Dublin-based company Experience Gaelic Games. They usually operate out of the capital, which is ideal for a sporty weekend break, but they'll also travel around to local GAA clubs to host events for everyone from stag parties through to family getaways and corporate team-building sessions. Having already received training in hurling from a legend of the sport, Cormac and Georgina talk me through the history and rules of Gaelic football before we go outside for some training and a quick game.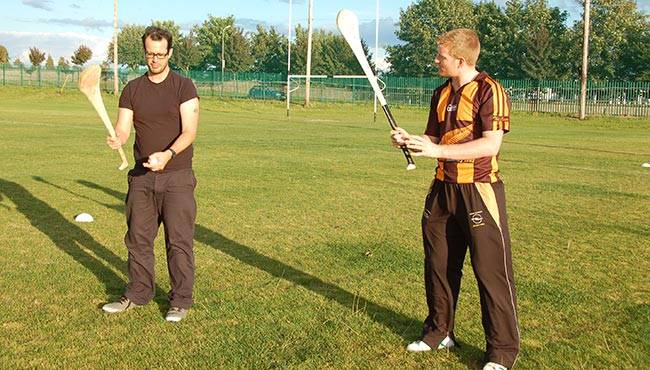 I've previously been assured that hurling is safer than Gaelic football because you can use the hurley to defend yourself during collisions. One man's defensive stick is another man's bat to the head in my opinion, but I soon learn – as I clatter to the floor for the third time in nearly as few minutes – that Gaelic football is quite a physical sport and a well-timed shoulder charge is all part of the game. Big boys can get boisterous, but I'm assured they tone things down a bit when your kids are playing.
For both sports – hurling and Gaelic football – each season ends with a visit to Croke Park, Dublin's huge 82,000-seat stadium – the fourth-largest in Europe – which is home to the GAA's various sporting events. The ticket sales for each event generates around €3m, 87 per cent of which is ploughed back into the sport at a community level.
Now that's what I call a beautiful game.
Try hurling for yourself with The Kilkenny Way (www.thekilkennyway.com) and Gaelic football with Experience Gaelic Games (www.experiencegaelicgames.com). For more information or to plan your trip, visit: www.ireland.com