Sweden may not be top of your list for a fun family escape but as Jonathan Staines and his daughter Martha discover, there's plenty to keep kids and parents happy in this beautiful Scandinavian country…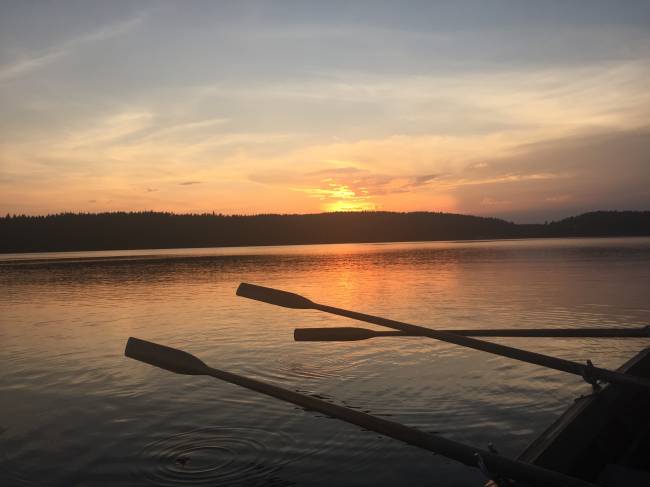 The words 'family holiday' might make you think of a week or two in Cornwall or the Costa Brava and perhaps Sweden isn't the first destination that springs to mind. But having recently spent four days there with my six-year-old daughter on an adventure weekend, I can report that it's a wonderful alternative to more obvious holiday hotspots.
We based ourselves at Baldersnäs Mansion, eager to sample the region's glassy lakes, pine forests, canals, rivers and walking trails.
Given the natural beauty of their country, it's no surprise Swedes love the great outdoors and apply the famously high Scandinavian standards of design and manufacturing to the gear they make. So on the second night, we decided to give our brand new kit, bought in Sweden, a 'roadtest'. The Hilleberg tent went up within twenty minutes and a couple of beautiful Helsport sleeping bags ensured a decent night's sleep.
The following day, we headed into 'picture postcard' Sweden – as you might expect, it's all verdant countryside and tranquil lakes, fringed by pine forests and undulating hills. A mountain-biking blast through the woods was exciting – especially on a tandem mountain bike with my little girl behind me. An hour flew by.
With plenty of well-stocked lakes, Dalsland is an angler's paradise and I sought to rekindle my teenage love of freshwater fishing. I was upstaged by a six-year old girl – my daughter landing a rainbow trout at her first attempt – with a little help from the instructor. My efforts weren't as impressive but standing at the edge of a sun-dappled lake, repeatedly casting and reeling in an empty hook was very therapeutic.
One of the highlights of the trip was canoeing along Stenebyälv, a narrow, meandering river. My daughter took the helm of the aluminium touring canoe and I sat astern. Martha was spooked at first and wouldn't paddle. Nevertheless, with me as the sole source of propulsion, we progressed steadily, negotiating logs and branches above and below us as well as a very low iron bridge. These obstacles and a short section of rapids provided just enough jeopardy to make us feel like intrepid adventurers.
The following day, we learnt to use Morakniv's excellent knives and fire steels. Again, the quality of the product made the experience all the more satisfying – whether learning how to carve or practising sparking a fire. You might think that both activities wouldn't work with children but they did – and without injury.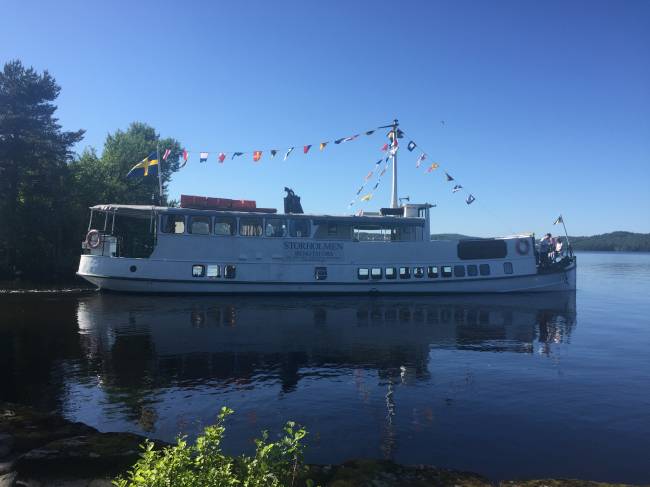 The aqueduct in Håverud is famous as one of the few places in the world where road, rail and canal all intersect and it's where our tour along the Dalsland canal began. We passed through several locks and the kids loved watching the locks fill up from the front of the boat and standing in the resulting mist and spray.
On our last day, we visited Upperud 9:9, a fascinating architectural project that has taken a former grain silo and converted it into a contemporary hotel and arts venue. Upperud 9:9 has kept elements of the original building and used natural materials and upcycling to create five, homely, apartment-style rooms that are ideal for families. Maybe next time…
Stylish places to stay, sun, scenery, fresh air and adventure. Yep: Sweden will keep your kids happy and will lift your spirits too.
How to book it
Double rooms at Baldersnäs Mansion start from £131.56 per night. Go to baldersnas.eu to find out more about their special family packages. 
Outdoor travel specialists, Nature Travels, are offering a four-day Tipi Adventure in Dalsland, Sweden, starting from £393 per tipi (maximum group size of six) until late September 2016, including the use of a rowing boat and a session in a wood-fired hot tub. Tipi accommodation is next to a lake and visitors can also try canoeing, kayaking, horse riding, high rope activities or team games. For more information and to book, go to naturetravels.co.uk
Dalsland approximately a 2 ½ hour drive or train journey for Gothenburg Landvetter Airport, with direct flights from airports including Gatwick, Stansted, Manchester and Edinburgh. Car hire is recommended to make the most of the area.
To find out more about Dalsland and West Sweden, head to vastverige.com and to read more about Sweden, go to visitsweden.com
Jonathan Staines is a Planning Director at the BWP Group, a creative marketing agency in London.