Pictures of the pop star and family playing with tiger cub anger animal rights group
Beyoncé has shared pictures online of herself, her two-year-old daughter, Blue Ivy, and rapper husband, Jay Z, playing with a tiger cub while it is bottle-fed, on their recent holiday in Thailand.
The pictures, allegedly taken last week during a visit to FantaSea in Phuket, show the whole Carter clan mollycoddling a baby tiger, with Bey stroking the big cat while it drinks milk.
World Animal Protection has blasted Beyoncé and Jay Z for their ill-advised photo, saying: "A tiger is not a plaything."
Dr Jan Schmidt-Burbach, wildlife expert for the animal welfare organisation, continued: "Holiday snaps like these support an industry that relies on animal cruelty. The tigers used for these photos are often crammed into tiny cages or chained to the floor for long periods. They are also forcibly removed from their mothers to be fed artificially by tourists. But this sordid side of tourism is conveniently hidden from public view."
Up-close tiger experiences such as these are not uncommon in Thailand, and attractions like the famous Tiger Temple in Kanchanaburi, which claims to be a tiger conservation initiative, have long been popular with tourists seeking the ultimate Facebook selfie, and even promoted as responsible tourism destinations. As we reported in our recent article, 'Top 10 travel faux pas to avoid this year, ' it has emerged that the Tiger Temple, and other similar attractions, actually participate in the illegal trade of big cats, and keeps the tigers chained, without shade, in 40 degree heat.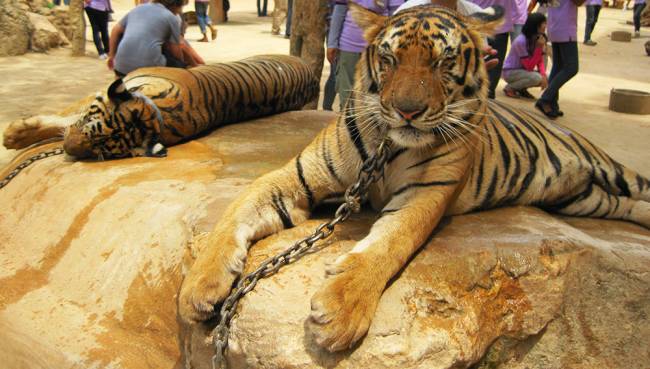 Several years ago, our Travel Editor, James Draven visited the temple when it was being promoted as a tiger conservation destination, and was instantly disgusted with what he saw.
Tigers were chained to the ground, unable to even stand up in many cases, for tourists to pose with and even sit on. The monks that claim to look after the creatures were messing around with the big cats and using them as playthings, and tourist were even offered the chance to 'walk the tigers' by holding the great beasts on leashes as they were lead to a nearby water hole.
"I urge anyone who is thinking about posing with a wild animal to watch World Animal Protection's video to learn the facts before they book their next holiday," says Dr Schmidt-Burbach.
"Once people know the truth, they can take action to end this cruelty by choosing to see wild animals in the wild where they belong."
Learn more about World Animal Protection's Before they Book campaign.