Research shows that more UK children want to be dancers than singers, as Butlins and Diversity launch a nationwide campaign to find the best young dancers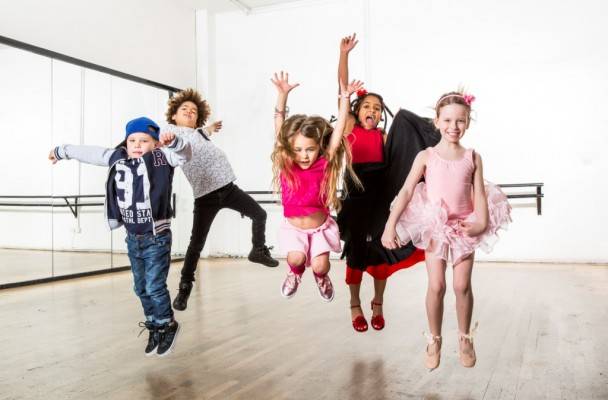 • Strictly beats X Factor in children's ratings – as more want to become dancers than singers, beating out actors, artists, nurses and models too
Gangnam Style topped the poll as the favourite move by far, with 'street dancing' named above traditional ballet and tap
• Children looked to the old and new for their dance inspiration with favourites named as Diversity and Michael Jackson – with Ed Sheeran taking nil points
• So Butlins has teamed up with Diversity on dance-themed breaks to give children the opportunity to learn from their heroes – and together are on a quest to find the next hot dance troupe through a new initiative called #Miniversity
• The five best young dancers across the UK will get a once-in-a-lifetime experience – to perform on a Butlins stage
• Diversity will be performing a exclusive show at the breaks featuring never-seen-before routines and brand new moves
Popular TV shows such as Strictly Come Dancing and Got To Dance are turning the next generation into budding Billy Elliots, according to new research which shows that children in Britain would rather be dancers than singers or actors.
The poll, commissioned by Butlins to launch the new Dance with Diversity dance-themed breaks, surveyed 500 4-11 year olds to reveal that Psy's Gangnam Style is still king on the dance floor, beating classics such as the Moonwalk and even the Robot:
Favourite Dance Moves of children aged 4-11
Gangnam Style
Breakdance
'Spinning Around'
Pirouette
Moonwalk
Body-Popping
Robot
Macarena
Side Step
Twist
Children have also been inspired to Step Up to dance – when asked about their favourite styles, streetdance was a favourite with over one in ten kids (11 per cent) beating traditional ballet (seven per cent) and tap (two per cent). The research also showed that there are some mini rock gods out there too, with three per cent loving to play the air guitar.
When asked who their favourite dancers were, dance troupe Diversity were ranked alongside king of pop, Michael Jackson – unlike wannabe mover Ed Sheeran who didn't get a single vote despite pulling out his best moves in the recent Thinking Out Loud video.
British-born talent generally fared well against international competition though, with dancer George Sampson being twice as popular as global superstars Lady Gaga, Rihanna and Justin Timberlake.
So to give kids across the UK a chance to dance with their idols, Butlins has teamed up with Diversity on a range of breaks where there will be an exclusive performance by the group, with never-seen-before moves choreographed by Ashley Banjo.
But for all the wannabe Ushers out there, Butlins and Diversity are taking this one step further in a quest to find the next hot dance troupe through a new initiative called #Miniversity. The five best young dancers across the UK will get a once-in-a-lifetime experience – to perform on a Butlins stage that has launched the career of so many entertainers.
Proud parents of budding Banjos simply need to submit a short video of their child showing off their dancing skills by doing one of the top ten dance moves (as uncovered by the research) to social media sites using the #Miniversity hashtag.
The top five dancers – as picked for their skills by a panel of experts – will not only get to perform a choreographed routine on stage but also win a trip to the Dance with Diversity breaks – and be able to take part in the sold-out Dance Academies -a money-can't-buy must-have for every young Craig Revel-Horwood.
The criteria the judges are looking for include:
· Natural 'star quality'
· The most innovative take on the dance moves!
· General cuteness
As more than three times as many kids voted for their mum as the best dancer they know than their dad, it may be best that dad stays behind the camera rather than teaching the children a few moves!
To provide inspiration for wannabe movers, Butlins has brought in former child dancer, S Club Junior member and choreographer Aaron Renfree to create some step-by-step tutorials on how to perform the top three dance moves, as voted by kids, hosted on www.butlins.com/miniversity
Aaron said:"I've been passionate about dancing since I was young and it's amazing to see that kids are increasingly inspired to move. We've put some short tutorial videos together to provide encouragement for kids in #Miniversity but to also show everyone how fun and easy dancing can be. Good luck!"
Ashley Banjo said:"Dancing is a great way to express yourself, it's fun and accessible and anyone can do it which is why we're so delighted to be working with Butlins to help inspire the next generation of dancers. And of course we're Thrill(er)ed that children put us in the same bracket as Michael Jackson. #Miniversity is a great way to get young children dancing and who knows, we may even spot the next big thing!"
Visit www.butlins.com/miniversity for more information, or follow @Butlins / www.facebook.com/butlins to view the dance tutorials. Make sure to use the #Miniversity hashtag when uploading videos to social media posts. THIS COMPETITION HAS NOW CLOSED