If your children are about to embark on the traditional travelling Down Under trip and you don't fancy bankrolling the whole thing, you might want to know how to sort them out with a Working Holiday Visa and more tips to get them on their way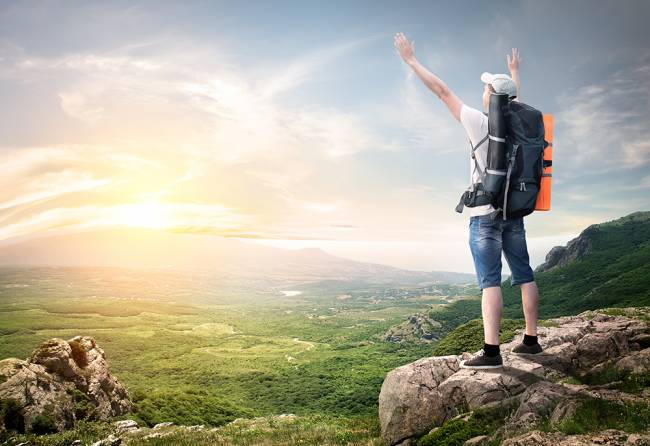 Work is in abundance, the lifestyle is laid back, and the work experience is rewarding and will boost their CVs, so its worth encouraging your kids to work on their Australian gap year.
Organising their trip is straightforward if you have the basic information so here is a three-step plan to get you started and answer all of their questions…
Step 1: Sort their Working Holiday Visa
How long will it take to get my Working Holiday Visa, Dad?
If you apply online, the visa is normally finalised within a few working days. In some instances, applications may need to be referred to an Australian Immigration Office in Australia for further processing. Referred applications may take up to four weeks to finalise.
Who can apply and how long can I stay?
A Working Holiday Visa entitles you to stay in Australia for up to 12 months and work for up to six months with each employer. You must be aged between 18 and 30 (inclusive) at time of applying, and travel to Australia within 12 months of applying. Travelling with dependent children is not permitted and there are some addition health, character and financial requirements (you may need to prove you have sufficient funds of around AUS$5000 and having a criminal conviction may slow down your application or mean you are turned down). You may be asked to provide evidence and this may include a certified copy of a bank statement and an air ticket out of Australia. Full details can be found on the Australian government's website
What does it cost, Dad? I'm skint.
Applying for your visa is a simple online application and costs AUS$420, which is about £210. You can earn that in a week of flipping burgers. Here's the online application form.
What if I want to stay longer than a year?
There is a shortage of employees in some industries and locations in Australia so in recent years the government has offered a second year Working Holiday Visa, if you undertake three months 'eligible work' while on your Working Holiday Visa. Eligible work includes many different jobs and detailed information is on the website Second Working Holiday Visa Eligibility. To give you an idea jobs like picking fruits on an orchard, feeding and cattle herding, landscaping gardens and painting new buildings are currently eligible.
Step 2 – Sorting them out with a job
Can I sort out a job before I get to Australia?
This is unlikely as the jobs tend to be short term and employers want to know you have actually arrived in Australia (and not been side-tracked in Asia en-route). However you can certainly be prepared for when you arrive. Make sure your CV is up to date and saved online or on a USB ready to distribute when you arrive. A simple search online will give many recruitment agencies in the area you are planning to visit or specialising in your profession so you could try sending an email before you arrive – if nothing else this shows you are keen. As well as your CV don't forget any proof of qualifications that might be useful.
I've heard about fruit picking, that sounds OK.
Whether it is pineapples on the Sunshine Coast or grapes in Victoria the Harvest Trail, this website will give you all the information needed including what to pick, where, current vacancies as well as details about working condition .
I've heard that YHA Hostels can help with job vacancies.
All YHA hostels provide some support including noticeboards in the hostel advertising local jobs and local employment contacts for guests travelling with a Working Holiday visa. In some locations YHA hostels go much further and have long-term accommodation rates for working backpackers and specific arrangements for work.
Queensland offers a huge variety of fruit picking options including bananas, avocados, custard apples, mangoes, melons, cotton and many more. This variety of crops means that harvesting options are available year round. Cairns Central YHA in North Queensland is opening a job search centre to support backpackers looking for local work while also being the perfect base for exploring the Great Barrier Reef or the unique Daintree rainforest.
How do I get paid, Dad?
You will need an Australian bank account as most employers won't pay into a foreign account. Many banks now allow you to set this up before you leave your home country so it worth doing this before you set off. There are many choices but here are a couple of options:
Westpac
Setting up your account before you leave the UK also means you can leave your bank details with friends and family – we might want to give you a birthday or Christmas present!
If you intend to work, you must obtain a Tax File Number (TFN). If you start your working holiday before getting your TFN, you have 28 days to provide it to your employer. You can apply for this in person at the Australian Tax Office, or online at the Tax Office's website but you will need to already have arrived in Australia.
When you finish working in Australia you may be eligible for a tax refund, so you will need to complete a compulsory tax return. Ask your employer for a payment summary, showing your total income and the amount of tax withheld. Many specialists in tax return services can assist you with your tax return.
Basically, if you intend to work in a job in Australia that involves serving alcohol (including in an off licence) you will need an RSA (Responsible Service of Alcohol) certificate as this is a legal requirement for most States. For NSW, QLD, WA, SA and NT it can be done online but in VIC and Tasmania you need to do it in a classroom. The online certificate can be done before you arrive in Australia and costs between AU$60, that's about £30 (in most States) and $129 (NSW). More information can be found here
Step 3 – Travel Plans
How do I get to Australia?
With so many airlines now flying down to Australia there is lots of choice and it is worth shopping about. Flight aggregators such as www.skyscanner.net or www.opodo.co.uk are a good place to start and you can get a feel for the prices and airline options. Try looking directly at the airline websites as they often have offers too. Travel agents also can offer special rates so look out for these in your local press. Prices to vary but you are unlikely to have much change out of £500. Better flip some more burgers, kiddo.
Where should I stay?
There is lots of choice in Australia and YHA Australia is a solid option with over 90 hostels in key locations around Australia. Most hostels in Australia offer a variety of sleeping accommodation ranging from single and twin rooms to multi-shares which are ideal for meeting up with other travellers. Other facilities often include swimming pools or spas, laundry rooms, self-catering kitchens, lounge and BBQ areas or in house bars.
It is worth booking your first few nights when you arrive in Australia, particularly if it is in a busy city and also accommodation for any busy periods like New Year, Mardi Gras, festivals or sports events.
Purchasing a YHA membership card from YHA England and Wales is usually around £10 and gives you access to thousands of discounts including money off cafes, tours, transport and tourist attractions in Australia. Membership will also get you a minimum of 10% off any accommodation in the Australian network.
How am I going to get around Australia?
The first thing to remember is, Australia is a huge country – it's similar to the USA. This may mean that domestic flights offer a good option for some of your longer travels. Virgin Austalia and Jetstar are the equivalent of the European low cost airlines and the principles are the same – book early and you may get a great deal.
Unlike the UK where rail is more traditional for domestic travel, in Australia coach and bus travel is the norm. Greyhound is the national coach network and their coaches offer all mod cons like air-con, oversized seats, an on-board bathroom and some have free Wi-Fi. Their Kilometre Passes work well on a working holiday – you select how many kilometres of travel you want (4000 will cover the traditional east coast route) and the pass is then valid for 12 months and you can travel as often or infrequently as you want until all your pre-purchased kilometres have been used up.
There are also some iconic rail routes where you will see some of the incredible Australian landscapes. For example the world famous Ghan Train crosses the entire country from north to south via Alice Springs in style, while the Indian Pacific runs all the way across its width from Sydney to Perth.
What about driving?
Buying a car and driving yourself is an option, particularly if you have lots of money or enough knowledge to mend your old banger when things go wrong, don't forget the distances can be huge so your car will need to travel far. In Australia, it will all seem familiar as they drive on the left hand side of the road like the UK. The speed limit in cities and towns is 60km/h and 50km/h in some suburban areas. On country roads and highways, the maximum speed is usually 110km/h. There are a number of backpacker car sales companies that offer a buy back scheme once you have finished your trip, which does save you the aggro of selling your car but is rarely as cost effective.
What if I want to take my phone?
Get your phone unlocked and take it with you as you can purchase a sim card from the minute you arrive at the international airport and they are cheap as chips to buy. Telstra is the only network that offers consistently decent coverage across the continent and in rural areas though. WiFi quality varies across Australia, but is generally much slower than Europe, so you might want to consider getting a Telstra 4G dongle for your laptop too if you want to keep up with what your dear old dad is doing on Facebook.
… If you're travelling Down Under yourself and are looking for some cool places to stay, check out these great hotels in Sydney