Bizarre Ice Cave attraction, a tour inside Europe's second largest glacier, is set to launch in spring 2015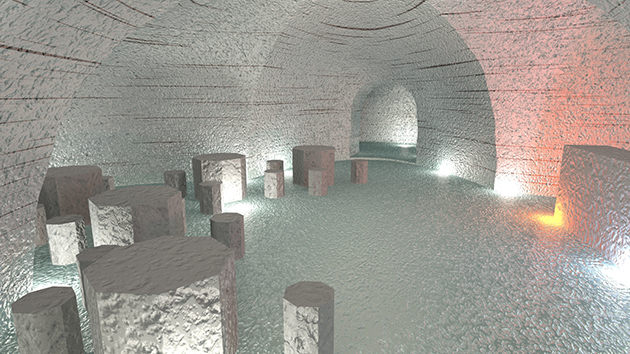 A bit late for a Christmas getaway, this one, but this icy escape might make a good present for your family.
The new Ice Cave is a unique experience. Singular, even. Odd. A bit weird.
Set in remote Icelandic surroundings, high on Europe's second largest ice cap, Langjökull, two hours from Reykjavik, one of Iceland's leading engineering firms is building the largest manmade ice structure in the world.
Stretching 200-300 metres into solid glacier ice at about 30 metres below the surface, they are creating a gigantic, sub-glacial cave set. After five years of planning and construction, the attraction will open to tourists in spring 2015.
Visitors will get the chance to venture inside, around and on a centuries old ice cap, exploring the giant 953km² glacier, before reaching the magnificent deep-blue ice at its heart.
With five grand ice chambers and lighting to guide you through this sub-glacial journey, it is perfect for those who have been everywhere and done everything and want to do something very different on their holidays. Plus, with an ice chapel for weddings as well as an events ice hall, it offers a unique venue to celebrate a special occasion. You won't have to worry about the champagne getting warm, either.

Talking of which, the experience also offers a firsthand insight into the effects of global warming. As guests pass through the cave they'll notice intricate layers of ice – each one representing a one year cycle. Here, the effects of climate change become evident; the thinner the layer, the warmer the year.

The UK's Iceland travel specialist, Discover the World, is launching a number of tours to take visitors into the heart of the glacier on this 'Ice Age' excursion. Available from June through to October 2015, tours range from 2.5 to 14 hours and are priced from £100 per person. Choose between one of Discover the World's many escorted holidays, self-drives or tailor made trips and combine the excursion with Iceland's many other iconic sights from the buzzing capital of Reykjavík to the world-famous Golden Circle.
For further information, visit www.discover-the-world.co.uk or call 01737 214 291