Why time with family is our 'happiness anchor.'
As summer draws to a close, many of us are taking some wonderful memories – maybe even some spent at the seaside – with us into autumn, and in fact, with us on our journey through life, there to comfort us when we need it most.
Although many of us may never have truly pondered the thought, it is this time spent with family that we often cherish the most, and new research from the Family Holiday Association highlights this fact.
As the charity that sends struggling British families away on holiday, the Family Holiday Association supports people from all walks of life, helping them to create memories that strengthen their bond, resilience and relationships with one another.
The new research by the charity is compelling – it shows half of Brits (49%) say their happiest memory is that of a holiday with their family and an overwhelming majority (55%) agree these holidays have given them happy memories that will stay with them for the rest of their lives.
Even more telling, is that the research shows a quarter of Brits (24%) say they particularly call on these happy memories of family holidays when times get tough. For the families the charity supports – many of whom are dealing with issues ranging from severe and sudden illness to bereavement and abuse – this figure more than quadruples.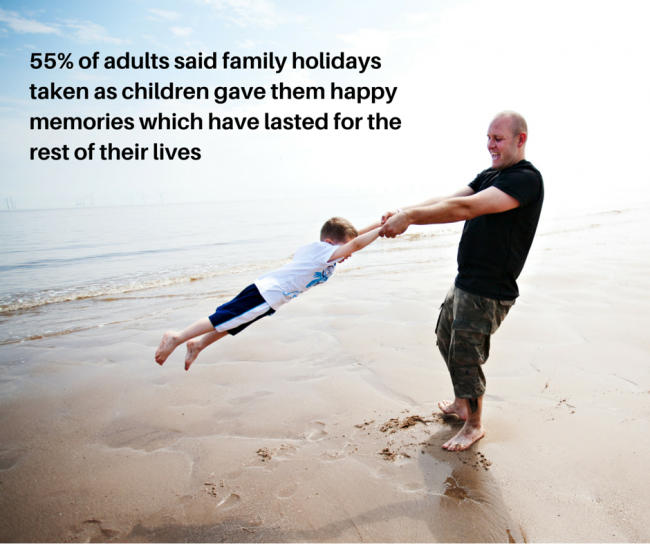 Finding time to share with family away from the home – be it a day out or several days away – can be very challenging for families. From the potential cost involved, through to the logistics when there are jobs and school term times to consider. How do you enjoy time together as a family? What did you enjoy most about your summer holidays? And if going on holiday isn't always possible for you, then how do you most like to spend time with loved ones?
In the year of its 40th anniversary, the Family Holiday Association has launched a brand new #seasidememories campaign and digital, interactive celebrity scrapbook with memories donated from celebrities across Britain. Some of our absolute favourites include Jade Jagger, Eamonn Holmes and Alesha Dixon – along with inspiring celebrity chefs, artists and writers who have generously shared their memories, photos, favourite recipes, artwork and stories.
Through the scrapbook, you can share your own special #seasidememories and draw inspiration and ideas about cost effective activities for summer fun. In the final days of the British summer, perhaps you can think of a special friend and their family who deserve a short break or some time together. How can you support them in spending time together?
With more than 3000 families being helped by the Family Holiday Association this year alone, the charity's #seasidememories campaign and scrapbook is a timely reminder that everyone deserves a break.