Hitting the slopes with the celebs this season will set you back on average £1,559.37 for a week's skiing – and that's before taking into account the return flights and glitzy hotels, according to recent research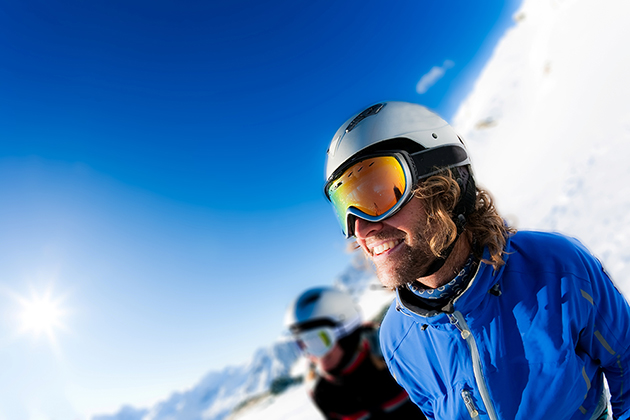 Travel money specialists, No1 Currency, compared the cost of a basket of ski essentials across ten of the world's most exclusive and glamorous ski resorts. The basket included: ski boots hire for six days, private ski lessons for five days, ski pass for six days, as well as the cost of a cup of coffee, bottle of beer, bottle of wine and a meal for two on the slopes.
The research found that a trip to Cortina in Italy will make the smallest dent in your wallet at £1007.37. That's around £552 cheaper than the average cost of a ski trip to one of the glamour resorts, and £1,321.63 less than the most expensive destination of Aspen. With short haul flights of just over two hours, Cortina allows you to rub shoulders with the likes of Sting and George Clooney, for a fairly reasonable price.
Those new to skiing should head to Courcheval, where five days of private skiing tuition will cost you £689.38 – less than half the price of the same lessons in Whistler (£1,745.40).
Surprisingly, if you're heading to Switzerland for snow-capped splendour, you will pay nearly £400 (£394.21) less for a break in Will and Kate's favourite resort of Klosters than at the equally lavish Zermatt or St Moritz. Heading to the French Alps, Courchevel, a haunt of the Beckhams, is nearly £500 (£492.21) cheaper than a break in Megeve.
Brits unafraid of splashing some serious cash on skiing some of the world's most exclusive resorts, should head over the Pond for some of the best powder skiing on offer. A week's break on the slopes of Aspen in the USA, or Whistler in Canada will set you back £2,329 and £1,984, respectively. Both resorts are home to the most expensive lift passes, while Aspen tops the charts for the priciest ski boot hire. However, once you're on these gold-plated slopes, a quick lunch for two will set you back less than £18 – some of the cheapest in our top ten.
The table below shows the cost of a basket of holiday essentials in some of the world's most exclusive ski resorts this winter:
| | | | | | | | | | |
| --- | --- | --- | --- | --- | --- | --- | --- | --- | --- |
| Location | Ski boot hire (6 days) | Ski tuition (5 days) | Area lift pass (6 days) | Coffee | Beer | Bottle of wine | Bottle of Cola | Quick lunch on the slopes for 2 | Total |
| Cortina (Italy) | £144.90 | £697.11 | £197.71 | £0.82 | £4.07 | £14.98 | £1.42 | £16.34 | £1,007.35 |
| Courchevel (France) | £137.33 | £689.38 | £277.00 | £2.37 | £3.95 | £15.78 | £1.58 | £23.64 | £1,151.03 |
| Klosters (Switzerland) | £161.56 | £833 | £239.00 | £2.26 | £4.56 | £18.12 | £0.96 | £21.10 | £1,280.56 |
| Zurs (Austria) | £233 | £901.37 | £207 | £2.37 | £2.76 | £15.78 | £2.77 | £19.70 | £1,384.75 |
| Lech (Austria) | £233 | £901.36 | £216 | £2.37 | £2.76 | £15.78 | £2.77 | £19.70 | £1,393.74 |
| Megeve (France) | £135.46 | £1,350 | £100.25 | £3.18 | £5.30 | £20.67 | £2.87 | £25.51 | £1,643.24 |
| St Moritz (Switzerland) | £201 | £1,184.98 | £230 | £2.76 | £3.17 | £17.98 | £2.17 | £27.90 | £1,669.96 |
| Zermatt (Switzerland) | £201.64 | £1,137.44 | £291.12 | £2.94 | £3.92 | £13.08 | £3.27 | £26.13 | £1,679.54 |
| Whistler (Canada) | £161 | £1,489.07 | £298 | £1.66 | £3.31 | £13.26 | £1.52 | £16.09 | £1,983.91 |
| Aspen (USA) | £236 | £1,745.40 | £304.05 | £1.86 | £2.50 | £19.84 | £2.17 | £17.43 | £2,329.25 |