Camping is a great way to explore the great outdoors, and brilliant fun for children too. But if you're a new parent or have never been camping before, the idea of going under canvas with children may seem a little daunting. However, planned properly it can be a fantastic experience, says mother, journalist and camping guru, Kate Lewis…
1. Start local
Camp in your garden or a local campsite for one night as a trial to see what works and what doesn't. If it all goes horribly wrong (it won't), you can retreat to your cosy bed. Next, try two or three nights, or go further afield.
2. Scale back your expectations
Things will be harder to do (as is everything in life after parenthood!) The tent will take longer to put up. You will not be able to sit still for long. One night may be enough. You know your children. Go with what you think they will like and what they can manage.
3. Do go when they are really little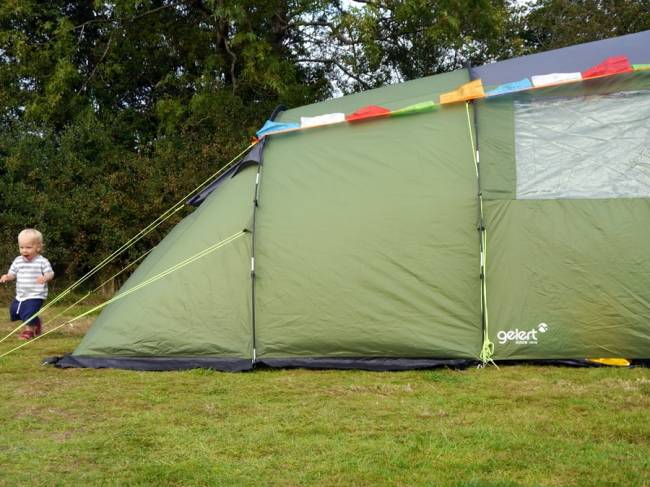 Babies are not mobile. They stay where they are put. If you are worried about co-sleeping, bring a moses basket or similar separate carrier with you. Things get trickier (but still fun) when they start to move around. Camping with children aged between eight months and two years is probably the hardest work, as they are mobile yet you can't reason with them like you can with a pre-schooler – but hey, they'll never be this age again, so embrace it.
4. Make it cosy
Bring duvets and pillows and lots of padding. There is honestly nothing better in this world than snuggling up as a family in a tent under a warm duvet, listening to the gentle breeze and hoot of an owl outside. Bliss.
5. Think about where you are pitching your tent
An open field is going to be more practical than a wooded area or hill with a younger toddler or a crawling baby. Check too for any poisonous plants, nettles or thistles. Ideally you want a space where you would feel happy leaving your children to ferret around in without worrying every two seconds. Bring a seat or bouncer for younger children to keep them in one place, particularly when a fire is lit or you need to feed them.
6. Bring layers, a first aid kit and lots of wipes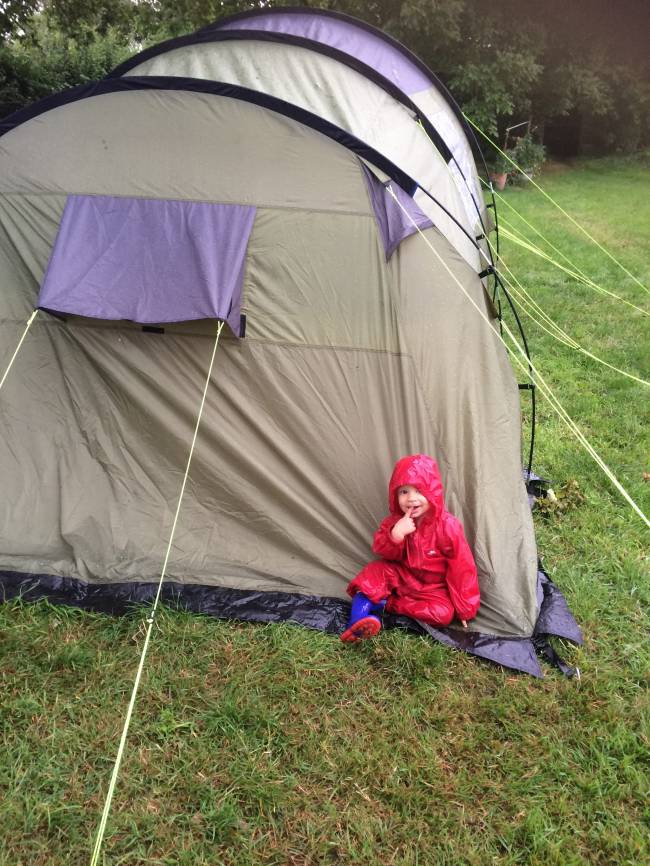 Scout's motto? Be prepared. Despite the heatwave, this is still the UK so the weather can be unpredictable, plus kids are going to attract ALL the mud anyway. Prepare for rain even if the weather forecast is set for sun. Babies can overheat quickly so better to use layers and remove/put on, than tog up in a too-hot sleeping bag. A first aid kit is an essential of course, and eco-friendly baby wipes are a must, too.
7. Pack fast-to-cook food and lots of snacks
Good options include quick-cook pasta ravioli, beans on toast, boiled eggs, pre-cooked stew or ratatouille that just needs heating up, plus breakfast cereal and croissants for breakfast. If your baby has formula milk and still needs to use sterilised bottles, you can get disposable ones, or just take a few sterilised bottles with you. You'll also need more snacks than usual as the fresh air does something to children to make them ravenous.
8. Don't forget some toys
Namely a ball and bug-hunting kit, plus some of their usual favourites. Children of all ages love throwing and catching balls. They also are all fascinated by bugs and butterflies. Taking a kit, or just printing out a sheet of paper identifying the main creepy crawlies will provide tons of fun. Plus, you get to wear the smug, 'wholesome parent' badge.
9. Let them help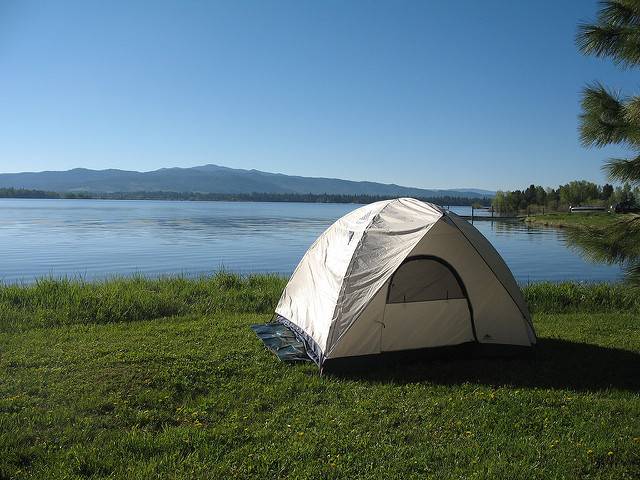 They will love it. Putting up the tent, taking it down. Going on a bear hunt. Going on a firewood hunt. Fetching water. It's all part of the adventure and gives them something to do.
10. Use a nightlight
Bring some batteries too in case the nightlight decides to die. Even if your children don't mind sleeping in the dark at home, they may find the tent is a bit scarier. A nightlight makes breast or bottle feeding a little easier too if you have a baby with you.
11. Don't worry too much about routines
Children are just going to be too excited to go to sleep at 7pm – sorry. Just embrace it and let them stay up. You never know, they may sleep later in the morning, too.
12. Go explore
Enjoy your environment. After all, that's why you camp. Make the most of the wide open field, shady woodland or shallow, ice-cold stream. Scramble over logs, go Pooh-sticking, jump in muddy puddles, run through swishy grass. Find a grasshopper, eat a gooey marshmallow, fly a kite, listen to the birds. Do all the things you normally do, just add a sprinkling of kids, a bit more mess, and a lot more fun. Enjoy!
Kate Lewis is a freelance travel, conservation and adventure writer. She also blogs at smallerexplorer.co.uk, a website for parents who like to travel and explore. Kate has two sons aged two and four, who have made life an even bigger adventure than before.