Need more wild?
Every summer as children we would camp. It was uproar. Packing the car would take all day. We would be squashed, four of us, on the back seat of a Volkswagen Polo. Sick bowl balanced on one of my sister's knees. Roof-rack bulging, trailer full. A-frame tents with real canvas. We would spend one glorious week in the wild. Our only worries, staying dry, collecting wood and making and eating food. My Mum was a fully signed up, committed Guide leader and even though we (the four kids) were tiny, we would be taken along to Guide Camp. Mum was the Cook and from dawn til dusk she would be busy at the fire. So, before I could walk properly I learnt to negotiate a field filled with cow pats, avoid falling into nettle filled ditches and to know the difference between Elder (a wood which produces more smoke than heat as it burns) and the wood I was meant to be collecting for the fire.
I took it for granted as a child, a staple part of every summer holiday. But now as a parent myself, I do wonder how I will recreate for my children the total freedom of days at camp. Speaking to Nathan Beard about his wild weekends made me remember everything I love about spending time in the great British outdoors.
The 'wild' bug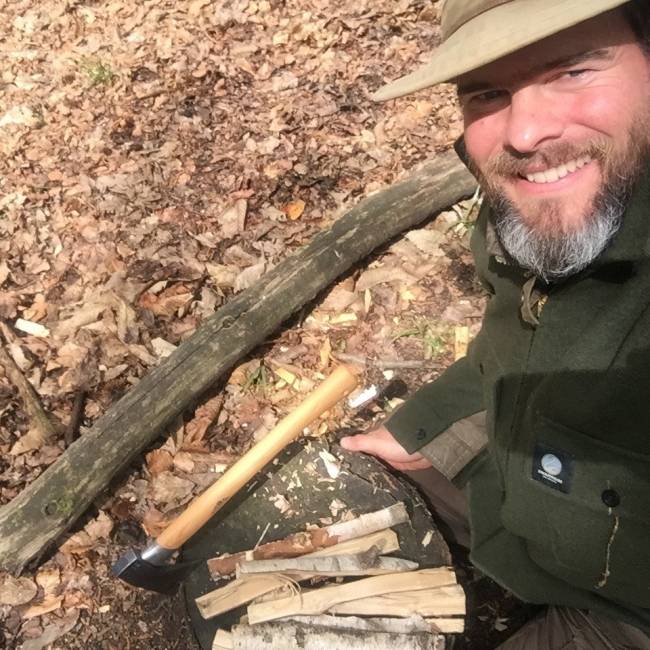 Nathan has been taking people in to the wild his whole life. He caught the 'wild' bug playing on his Grandparents Farm, in Sussex close to the estate where he takes groups now. Nathan Beard Ventures has been established since 2015. If you were planning to spend 30 hours in nature, bivouacking under the stars, Nathan is a sure bet. In his other life he works in disaster relief. Nathan is unphased by earthquakes, floods or complex political emergencies and used to working in decimated environments. Taking unseasoned campers out into the wild is for him, a refreshing alternative.
A night in the woods
Nathan spoke to Dad.info about why you should spend a night in the woods with him. "We're in a world that doesn't really get the point of masculinity, and seems largely suspicious of it" Nathan muses in answer to my question about why he runs events specifically for dads and their sons. "The deal for me running a fathers and sons only event, is providing a space with a healthy masculine dynamic, in which I can focus on how we 'honour' one another. This encourages us to honour and relate better to the women in our lives too. I choose to operate in a bushcraft environment because it is fascinating, helps restore perspective and is totally hands on! Usually people coming aren't already wilderness professionals, so it puts adults and children on a level. It means Dads don't feel compelled to wade in as the expert and tell the child what to do, instead they can both enjoy each other's company while learning together." Nathan doesn't only run fathers and sons events, he also has sessions for dads and daughters, family, corporate and private groups. He is happy to take anyone to the woods who wants to be there.
The hurly burly of family life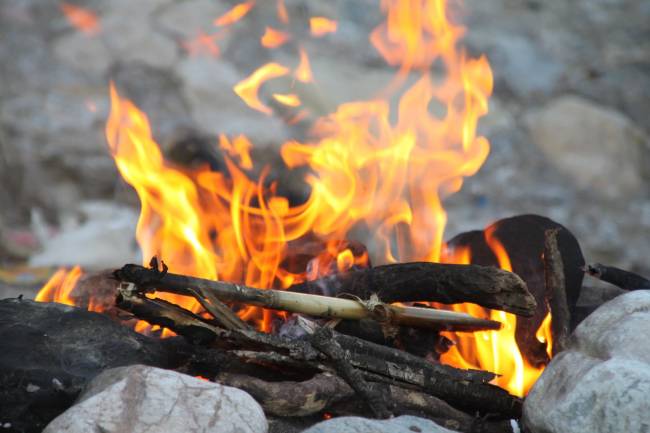 Nathan is a Dad, he has two sons and a daughter and his passion is to use the woods as a way of helping people to relate well to each other in the midst of the hurly burly of family life. Nathan believes spending time together in the woods reminds you of the things that you love about each other, because you're not surrounded by the challenges and distractions of your normal parenting environment. "Don't get me wrong. I'm talking to you over an iPhone and I'm sat in front of a Mac. So I'm not anti tech at all. But in a life that's largely full of digital interactions, to go out into the woods and carve a bit of greenwood with a knife, or saw through a log and put it into a pile and then split that pile down and put it on a fire. Those kinds of practical physical tasks are tremendously rewarding." Nathan takes people into the woods for weekends and knows that for some people the idea of spending a whole night in the woods right next to nature can cause anxiety. How can he help if the idea of bugs and being cold and wet scares you stiff? Nathan is quick to answer "It is not a competition. It's not a survival course. We're not going to be forcing people to do crazy stuff. There's no urine drinking or worm eating. It's just not that kind of deal. I love to help people discover new strengths, and find out not just how to survive, but how to thrive outdoors, essentially how to make a home in the woods and really enjoy being there for a couple of days."
Reviewer needed
Nathan has offered Dad.info one space (for a Dad and Son, aged 9 upwards) on his event on the Sat 7th and Sun 8th September 2019, so if you are interested in attending, can easily get to a site near Crawley, East Sussex, and would like to take photos and write about your experience for Dad.info. Be in touch via info@fegans.org.uk and briefly write why you and your son would benefit from a weekend in the woods with Nathan.