Perfect for an action-packed day beside the seaside, or a half-term family affair, Thanet in Kent has plenty to offer, from contemporary art to amusement parks; golden sands to seal colonies. Join the hipsters and head to the UK's new 'Shoreditch-on-Sea' to enjoy the beachy pleasures of Margate and beyond…
But now Turner's 'Isle of Thanet' – consisting of Margate, Ramsgate, Broadstairs and a clutch of smaller villages – is firmly on the rise, with the Turner Contemporary and the recently rejuvenated Dreamland amusement park leading the charge, supported by the more traditional ingredients of a good old-fashioned beach break – clean and safe stretches of sand including Margate Main Sands, Botany Bay and Walpole Bay, accommodation to suit all budgets, and ice-cream parlours aplenty.
Fancy a change from France or Spain? Here's why it's time to grab your bucket and spade and hit the British seaside…
Dreamland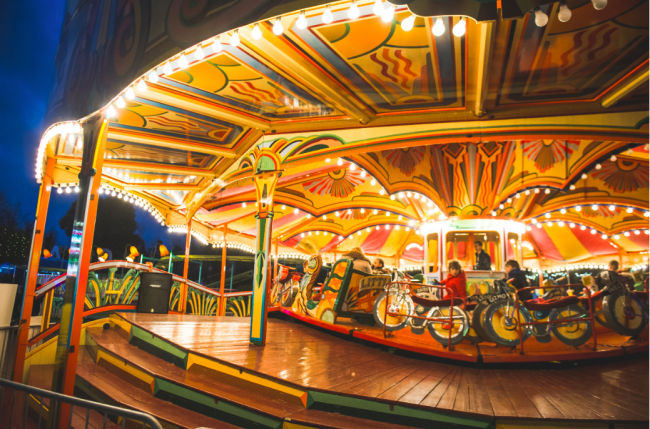 Margate's best-known attraction and the UK's oldest surviving amusement parks reopens on 26th May after a £25-million renovation, headed up by designer Wayne Hemingway.
With beautifully restored fairground rides such as the 1920s Scenic Railway roller coaster and the 1930s Chair-O-Plane, plus wonderful retro touches like a Roller Room, vintage arcade machines and a diner, visitors are instantly transported back to the Golden Age of the Great British Seaside.
Entry to the amusement park is free and guests can either choose to pay per ride, or have unlimited access to rides by buying a wristband, so your visit can be as pricey and hair-raising as you choose.
The Dreamland team all deserve a big ice cream with a flake on top, as their innovative annual programme of events offers a broad range of activities to appeal to everyone from toddlers to retirees, with no end of funky festivals, family fun days and über-kitsch nights.
This year they've lined up Kiss-Me-Quick Club Tropicana parties; themed afternoon teas in the resorted 1920s ballroom; the Margate Wonderland music festival featuring The Kills (28th May); plus a Screamland Halloween special and The Frosted Fairground at Christmas, proving that it doesn't have to be summer to hit the seaside.
Turner Contemporary Gallery

Thanet has long been a draw for artists, with Turner and Van Gogh spending time in Margate and Ramsgate and more recently, the darling of the Young British Artists set, Tracey Emin, putting Margate – where she grew up – firmly on the map. It's the epic quality of the light falling on the dark seas of the English Channel that appeals to the painters who rise to the challenge of trying to capture its illusiveness on canvas. So it's fitting that the Turner Contemporary Gallery stands proudly overlooking the same expanse of water that captured its namesake's imagination and inspired some of his most mesmerising work, such as Storm on Margate Sands.
This internationally acclaimed gallery is a showcase for some of the world's most talented modern artists, with changing exhibitions throughout the year, displayed within stunning and spacious rooms with panoramic windows overlooking the sea, and a cafe serving teas, coffees, light lunches and deserts, which can be taken outside on the terrace on sunnier days.
Don't forget to take a stroll along the Harbour Arm and around the Old Town after your visit to see the work of some of Thanet's slightly less-famous painters on display in independent art galleries and design studios, too.
Shell Grotto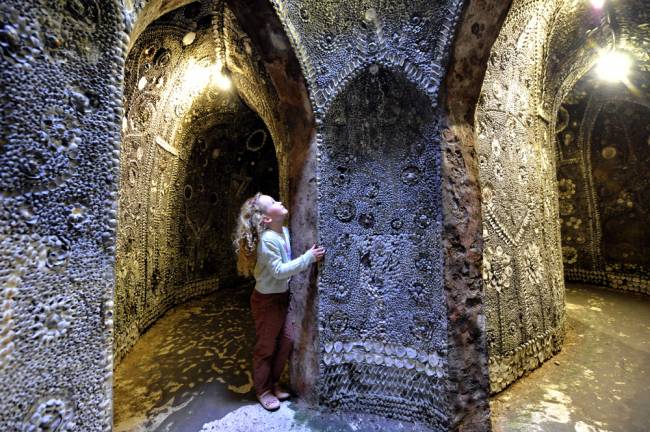 This surprisingly little-known but impressive maze lies underground in an unassuming street away from Margate's seafront. Entering through a great little shop with suitably nautical and marine-themed gifts, guests descend into a labyrinth of tunnels, all fantastically decorated with over four million seashells, terminating in an adorned room known as The Altar Chamber.
Discovered in 1835, the story behind the grotto remains a mystery, with theories ranging from it being an 18th-century nobleman's folly to a prehistoric astronomical calendar.
Pick up a plan when you enter which points out the different designs you'll see on your subterranean adventure.
Further afield
Quex Park & Powell-Cotton Museum, Birchington-on-Sea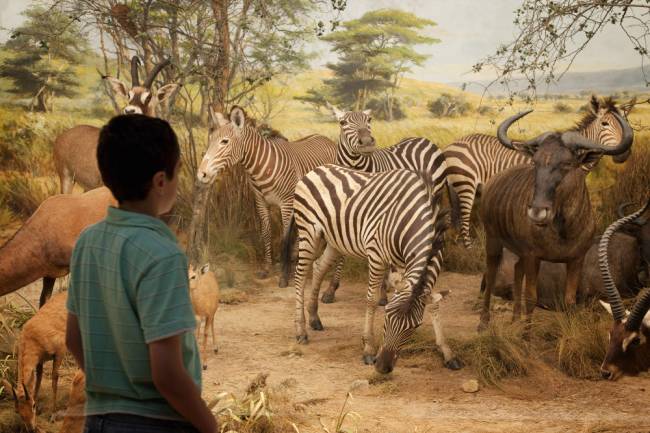 Even the warmest spring can throw up the odd curveball of a rainy day, which is the perfect opportunity to round up your brood and head indoors to explore the weird and wonderful Quex Park & Powell-Cotton Museum.
The museum was established in 1896 by hunter-turned conservationist, Percy Horace Gordon Powell-Cotton (1866-1940), to house natural history specimens and cultural objects collected on expeditions throughout Asia and Africa.
Now displayed in huge glass cases, the animals are mainly grouped by country, set in appropriate environments ranging from the Australian bush to the Amazon rainforest. These fascinating yet slightly macabre 'dioramas' boast a staggering variety of creatures including monkeys, great apes, mighty African elephants and even rhino – each one having been shipped back to the UK to take its place in one of Europe's most impressive natural history collections. Other galleries include tribal art, clothing and weapons from indigenous tribes, assembled by six generations of the Powell-Cotton family.
And after you've topped up on culture, you can take younger children to the large outdoor and indoor play areas, or duck in to the fantastic Mama Feelgoods Boutique Cafe to top up on lunch or tea and cakes, too.
RIB Request, Ramsgate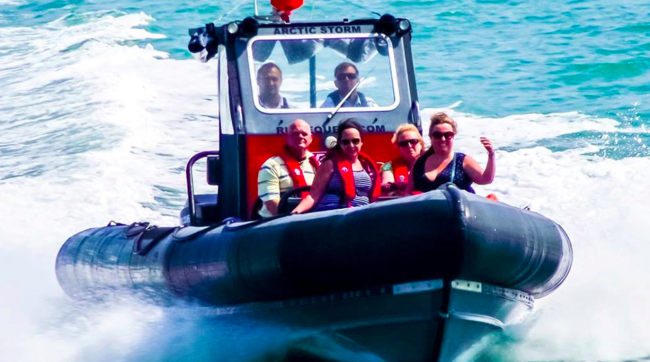 For those who prefer their wildlife alive and kicking, take an exhilarating trip out on the water with a RIB Request boat from Ramsgate, and you'll soon be watching seals and seabirds enjoying the wildly beautiful nature reserve at Pegwell Bay.
Starting from Ramsgate's famous Royal Harbour, a favourite of the young Queen Victoria, the tour travels along the coast until it reaches the shimmering flats and marshlands of the Sandwich and Pegwell Bay National Nature Reserve, a protected area that provides sanctuary for oyster catchers and curlews, large numbers of wading birds, and a colony of playful common, or harbour, seals.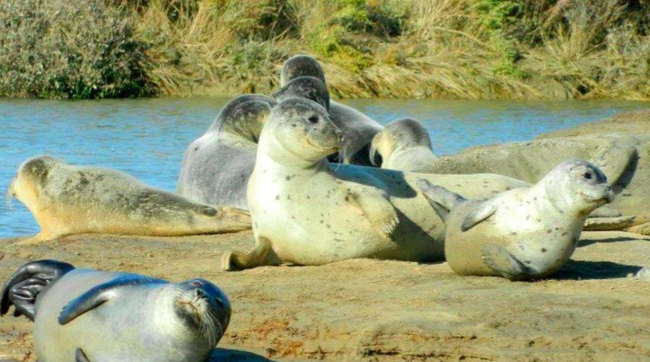 RIB tours offer the chance to learn about the unique marine environment of this stretch of Kent coastline, plus hear tales of some of the ships that have sunk in the sometimes treacherous seas of nearby Goodwin Sands.
Hold on tight as you speed back to shore with some high-speed twists and turns that older kids – and parents – will love.
ribrequest.com / 07931744788
Where to stay
Walpole Bay Hotel
Take afternoon tea on the veranda of the chintzy Walpole Bay Hotel and you'll instantly be transported back to Margate's Golden Age. This 1914 mansion overlooking the coast in Cliftonville retains the faded glamour of its 1920s heyday, and its quirky, comfortable vibe has made it a favourite of Ms Emin herself, whose art features in the 'Napkin Gallery' or 'Napery' that hangs in the elegant Edwardian dining room and corridors of the hotel.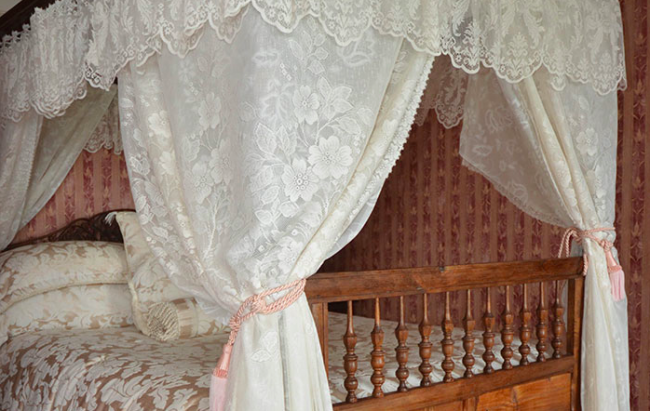 Currently being restored by owners the Bishop family, the Walpole Bay – which boasts a 1920's Ballroom with an original sprung maple dance floor and a 1908 pianola in the dining room – doubles as a museum, and both the reception and downstairs rooms display a fantastic collection of 1920s and '30s memorabilia and antiques, while the 1927 Otis Trellis gated lifts will trundle you up to your room in true Agatha Christie-esque style.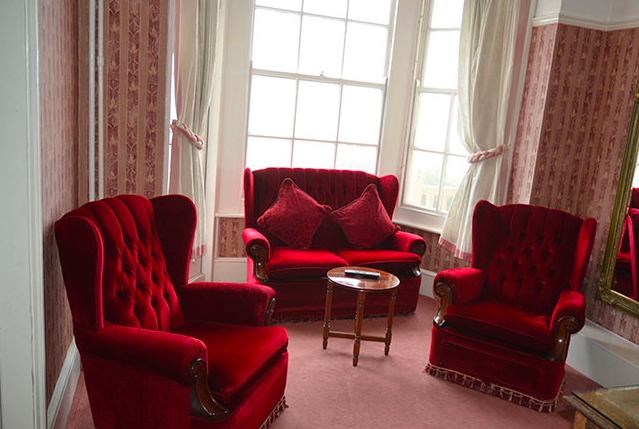 Bedrooms are boudoirs boasting rich furnishings, velvet and drapes, some with four-poster beds and terraces, all with strangely incongruous modern TVs. It's a little like staying at your rich great aunt's house (if only you had one), where visitors get to use the best china and enjoy a cheeky tipple from the cut-glass tumblers. Embrace the unmistakably British eccentricity of it all and enjoy.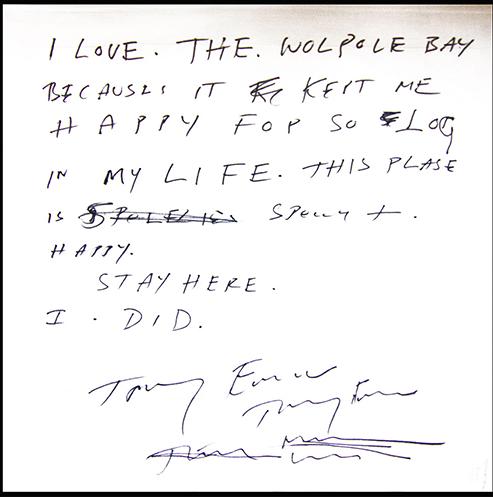 Sands Hotel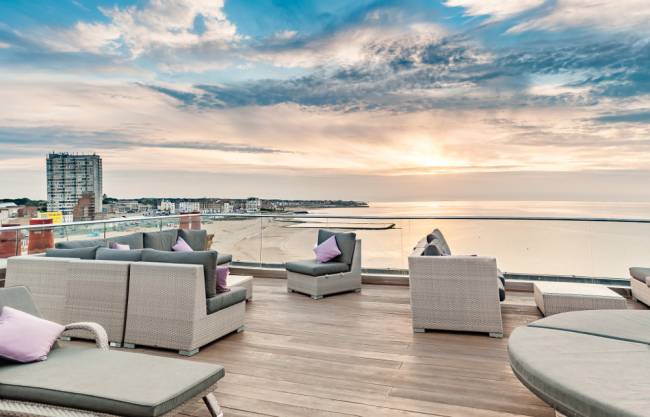 Those looking for a bit more bling from their stay in Margate, should consider the Sands hotel. Slap dab in the heart of all the action, one side of the hotel commands views along Margate Sands, which made it into The Guardian's list of the world's top 25 beaches. The other entrance opens into Margate's Old Town, the hipster quarter where all of the best and quirkiest shopping, drinking and eating can be found.
Unlike the many shabby chic offerings around town, the Sands is all high-gloss, sleek interiors and bubbles with gal-pals. A Towie-lover's nirvana, the reasonably-sized hotel rooms a light and modern, and even the light switches are adorned with diamante surrounds.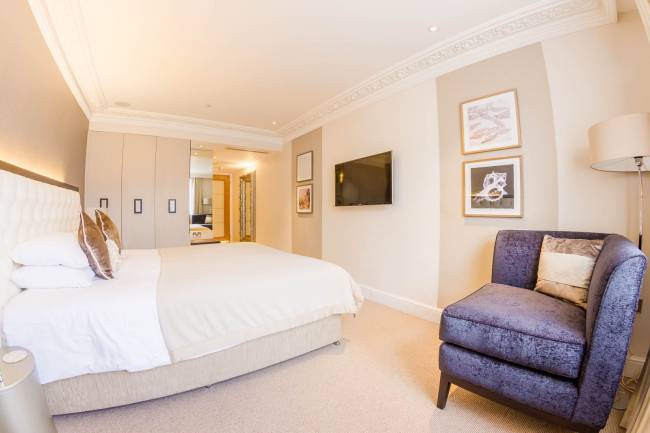 But the Sands' trump card is its restaurant. The Bay serves delicious, inventive cuisine showcasing local produce, and the its huge windows offer panoramic views out to sea. Settle in with a nice glass of red and who knows? Maybe you'll be inspired to pick up a paintbrush.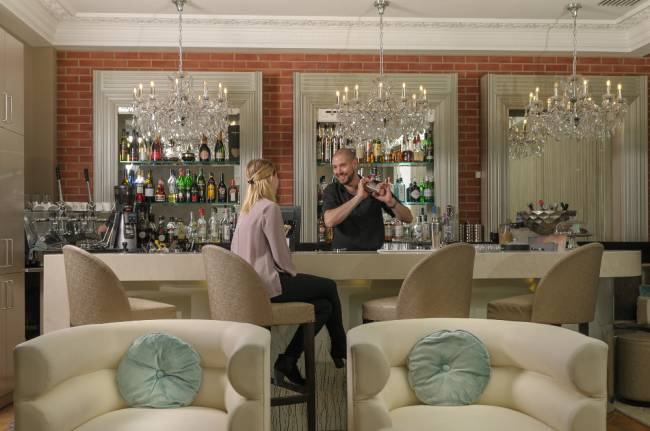 Margate is easily accessible by car, coach and train. The country's only high-speed train service, HS1, brings travellers from London St Pancras to Margate in just 90 minutes. To find out more about holidays in Thanet, go to visitthanet.co.uk