Father of two, Raj Randhawa, discovers the surprising pleasures of Basingstoke on a festive family weekend break…
We decided to take the kids away for the weekend and were looking for somewhere not too far where we could do some Christmas shopping and get into the festive spirit. Hampshire's old market town of Basingstoke – just 50 miles from London – has plenty to keep everyone entertained.
Go back in time at the Milestones Museum
This ambitious museum brings Hampshire's past into the present with a network of Victorian and 1930s' streets with shops, factories and houses. With around 21,000 objects from the smallest pen nibs through to huge steamrollers, the Milestones Museum has something for everyone.
Walking the streets we passed real-life wax figures at work, frozen in time. We walked into a Victorian sweet shop where the children bought some old-school strawberries and creams with their old penny coin. The Baverstock Arms pub next door is a cosy little treasure of an Edwardian boozer where the kids learned how to play dominoes, while I enjoyed a pint of Wayfarers ale.
The turn-of-the-century arcade was a massive hit with the kids. There was a huge range of arcade novelties including Madame Zasha, the gypsy fortuneteller, along with lots of quaint Victorian machines with names like 'Ghost Stories', 'The Burglar' and 'Drunkard's Dream'.
One of our favourite areas was the Exhibition Court – a five-room showcase, from the 30s through to the 70s. It's fascinating to travel the decades through historical living rooms and kitchens. From the basic functions of a 30s' kitchen to our favourite room, the futuristic and kitch 70s' living room, complete with orange sofas and a cream bubble TV. It's quite a journey.
The Milestones Museum has everything from steam engines, sawmills, buses and trams through to cycling, photography, home entertainment and the Classic Collections, where you get to see the history of objects and products like the earliest vacuum cleaners and washing machines. Since we got back home, my son keeps saying visiting the museum was the highlight of his trip.
Do some Christmas shopping at Festival Place
After the museum, we made our way into the town centre and wandered around the huge Festival Place shopping centre, which is perfect for a spot of Christmas shopping. The centre has all of the big-brand retailers, as well as some small interesting shops and stalls including The Amazing Chocolate Workshop, where everything from the donuts to coffeemakers on show are made of chocolate – unsurprisingly, it was a hit with the kids!
Stop for a tasty lunch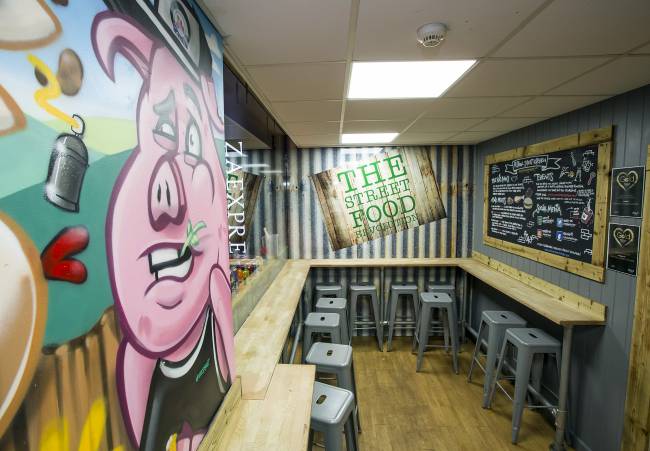 There's a good food area at Festival Place, with restaurants like Pizza Express, Las Iguanas and Nando's but we decided on lunch at the Festival Street Kitchen, which prepares healthy, tasty food onsite. The kids and I went for three portions from a huge pan of paella, which had been cooked fresh that morning, while my wife went for a veggie burrito, which she said was the best she had ever tasted.
There's a lot more to Festival Street kitchen than the great service and food. Everything is cooked fresh twice a day and they use zero – I repeat, zero – oil in any of their food. They keep things natural by washing pans with fresh lime (a powerful, natural, anti- bacterial) and then seal pans with olive oil, to avoid any chemicals. They have lots of options for vegans and veggies and they add a new recipe every month – next month it'll be a Cambodian curry. They also have a booze license coming soon and giant heaters to keep customers warm in their outdoor seating area. We finished our meal with a fab, gluten-free chocolate brownie each, which my kids scoffed down immediately.
Head to the Christmas markets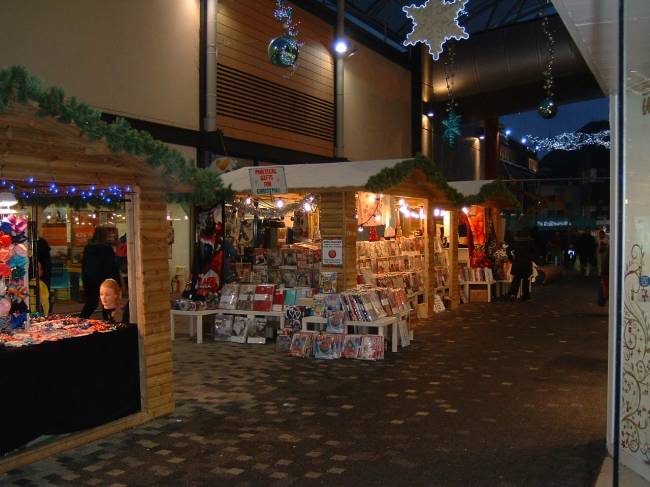 To walk off our late lunch, we wandered around the Christmas market in The Malls shopping centre. It's a great place to pick up something different for those fussy friends and relatives at Christmas. We saw some lovely knotted animal hats, signed and framed records and CDs, and lots of other Christmassy goods.
Snooze at The Apollo Hotel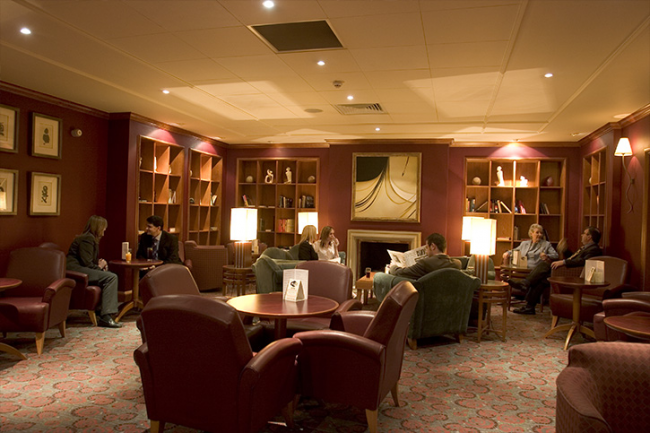 After an action-packed day, we checked-in at The Apollo Hotel, which is a short drive from the centre. It's a great little hotel with friendly staff and lots of facilities. We stayed in a Studio Room, which is huge and easily slept four of us. After my wife took them to explore the hotel, the kids came back and excitedly told me all about the great swimming pool and spa.
Try dinner at the Mayflower
After a little R & R, we headed back into Basingstoke for dinner and a show. We dined at the Mayflower Chinese restaurant, which is really central. Aside from the delicious food, you can tell it's a good restaurant by the attention to detail in the decor. And judging by the number of people who were coming in for their Saturday-night take-away, it's obviously a local favourite.
The meal was great, my daughter absolutely loved her Crispy Chicken in Salt and Chilli and we were amazed by the size of the portion. When my vegetarian wife (who also has an aversion to a number of vegetables!), asked them to make a dish off the menu (broccoli in garlic and soya sauce), they were very accommodating and she really enjoyed it. It was a lovely meal and set us up for our final experience of the day.
Swing into Christmas with the Rat Pack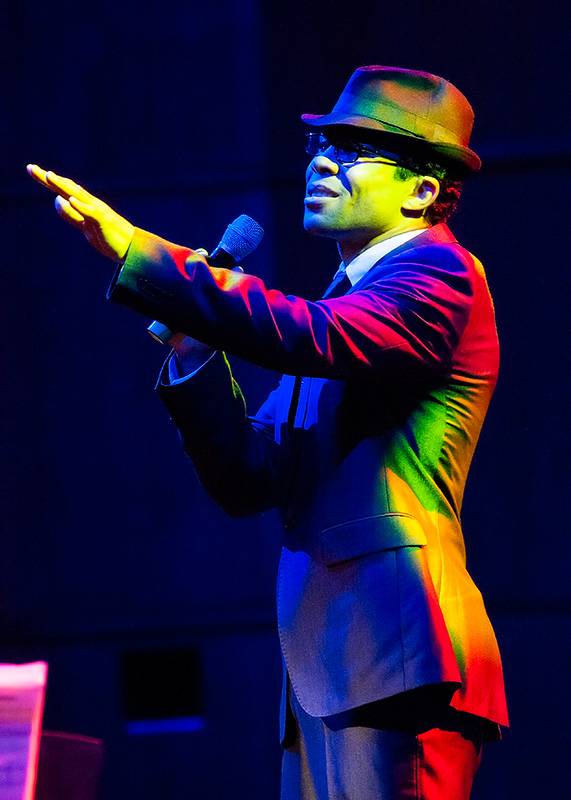 After our meal, we made our way to The Anvil theatre to watch Christmas with the Rat Pack, a show based around the infamous Las Vegas Sands Hotel shows that Frank Sinatra, Sammy Davis-Junior and Dean Martin performed in the 50s & 60s.
As we took our seats and the lights dimmed, the Big Band assembled and started to play before Ol' Blue Eyes, Frank Sinatra, waltzed on. When the actor who had the tough job of playing Frank sang in his rich, baritone voice, the audience were captivated. At one point during the performance, he held a note for an inordinate amount of time and when he sang classics like New York, New York and Come Fly With Me, the crowd went nuts.
The performer playing Sammy Davis Jr. was a bundle of energy and worked hard throughout to channel the spirit of the entertainer – he had Sammy's walk and unique gestures down to a tee. When he sang, he reached the entertainer's highs, lows and everything in between, including some freestyle 'dibadoo-dabadooing'.
The actor playing Dean Martin was also great: suave, confident and happy, even when squiffy (as Martin often was). At one point, Dean stumbles down the steps, making sure he doesn't spill a drop of his Jack Daniels, of course. It's great entertainment.
The show gives each performer plenty of solos, as well as time for them to fool around together onstage. Their perfectly pitched and nuanced performance mimicking the Rat Pack packs a real punch and is really fun and entertaining. Of course they sang some classic Christmas songs and when Sinatra started White Christmas, I could feel the hearts melt around me. And not to forget the beautiful and talented female singers, dressed to kill in stunning costumes throughout, with voices to match.
I walked out feeling I'd been transported back in time. It was a really entertaining show and the Anvil is a lovely, spacious theatre that always puts on quality shows, so it's well worth a visit if you're in town.
Check out the Christmas Parade
For our final day in Basingstoke, the kids enjoyed a morning swim in the pool at the Apollo Hotel, before we had a lovely English breakfast and headed back into the town centre. After a final wander around the Christmas markets, we watched the fabulous Christmas parade, which was a real spectacle. Some of the amazing Christmassy stilt-walkers even headed into Festival Place shopping centre for a wander around to greet shoppers, which was a fun touch.
Play secret agents at Exciting Escapes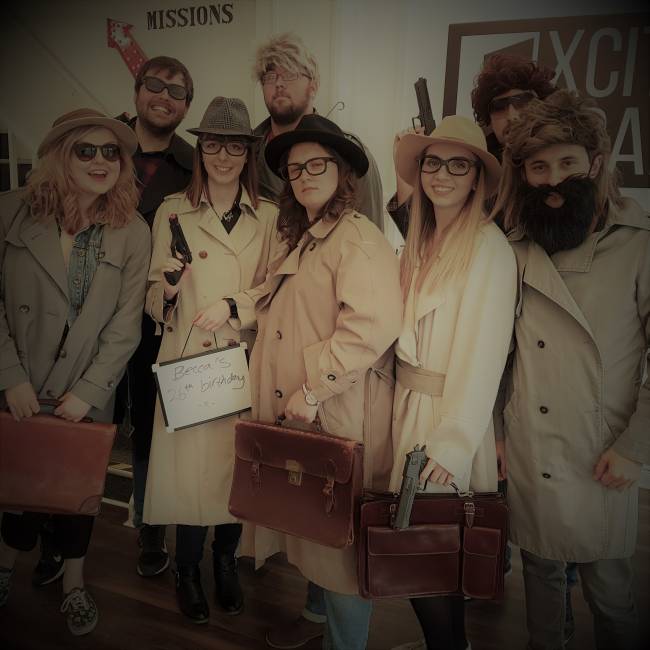 After the parade, we made our way to our final experience at Exciting Escapes, a family-friendly escape-room experience. The kids didn't know what to expect and were really excited once we were briefed on our 'secret mission'. British Intelligence needed our help to find a murder weapon hidden inside an apartment. Once inside, we had an hour to find clues, unlock various doors and padlocks to help us uncover the truth.
Inside the 1950s apartment, we started our quest in a hallway with locked doors and managed to find the clues to unlock the door to one of the rooms, where a whole host of puzzles and clues awaited us. Every now and then we got a phone call to help us along. After opening the second door, we managed to find a few more clues, and with seconds to spare, we found the hidden weapon.
It was a great, fully immersive experience that got the kids really excited. Before we left, we all got to dress up as secret agents and had our photo taken. I'd thoroughly recommend Exciting Escapes for a novel and unique experience with friends or family.
Our jam-packed Basingstoke weekend had come to an end, but we all had a memorable and fun family experience. It may not be the obvious choice for a Christmas break, but if you're looking for a bargain, festive family weekend away, I'd recommend it. I'm pretty sure we'll be heading back there again next year. Happy Christmas.
To find out more about what's on, check out christmasinbasingstoke.co.uk