Ben Falk takes his three-year-old daughter and her cousins to the legendary family holiday destination in Suffolk to try some outdoor pursuits…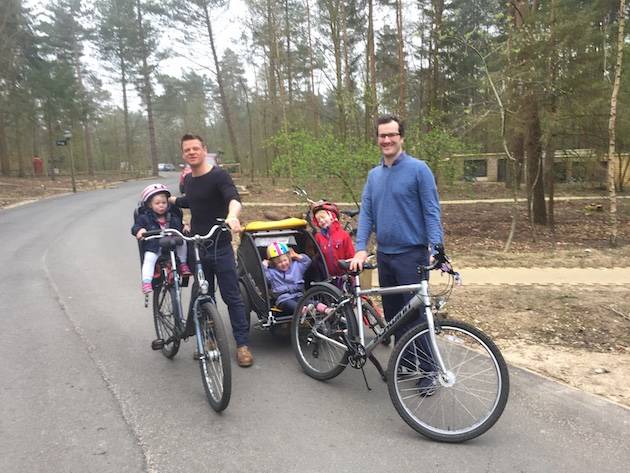 Chicken pox can be a bummer – but even more so when your child gets it on the day you're going to Center Parcs, where you're planning to do lots of swimming in a communal pool.
But that's exactly what happened when I took my three-year-old daughter recently, along with my brother and sister-in-law and their two similarly-aged kids.
Luckily, if you've got a contagious child, Center Parcs is actually a great place to go. Not only are you able to get out of the house and into the countryside, but there is more than enough to fill your time without dipping your toes in the Subtropical Swimming Paradise (though yes, me and my fellow 40-year-old guest snuck off to act like teenagers and bomb down the awesome Cyclone waterslide by ourselves for an hour). And you can easily stay away from other children if that's what you're trying to do.
Growing up, I was always under the mistaken impression that Center Parcs was like the biodome, entirely under a big glass roof. But in a weird way, that's kind of what it still feels like and in a good way. You feel safe, the car ban during the weekend means that you can cycle around with impunity, especially if, like us, you have a little one still trying to get their bicycle bearings. No matter how far out you are from the main village – and we were on the outer ring of lodges – there are plenty of short cuts into "town".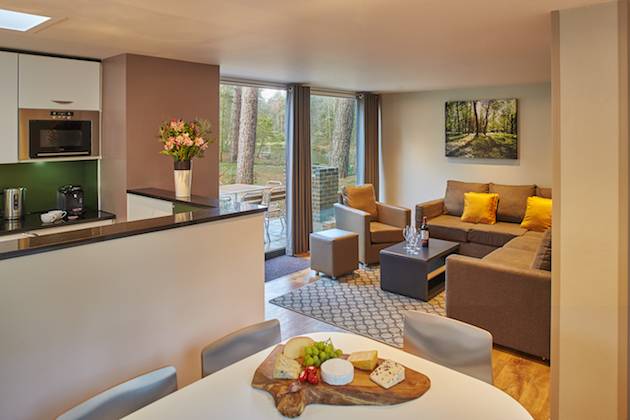 Our lodge was comfortable and well-stocked. The kids enjoyed feeding the deer, squirrels and ducks who sidled up to our backdoor every morning. If you wanted to, you could spend a lot more time just pootling out of the back of your accommodation, playing games and running around.
We were particularly interested in getting them outside. Den Building and Decoration was the perfect solution – a great host called Noel and a building process which felt authentic while being suitable for toddlers. Getting to colour in their log pieces to delineate rooms and creating the den's name was a nice touch, as well them getting the chance to explain what they were doing to the other groups taking part.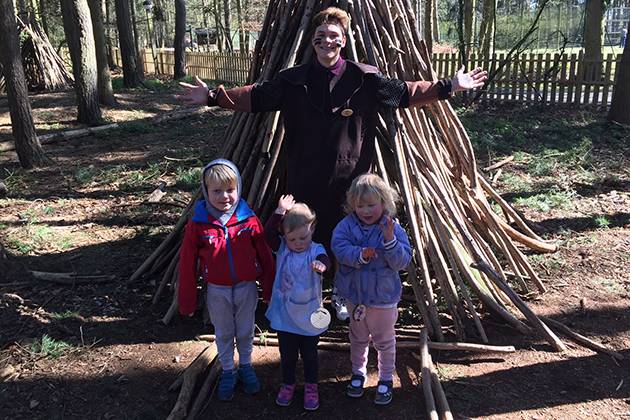 Regardless of how many people are at the resort – and it felt fullish this time, while the time we went before it was in July and thus even more busy – it doesn't tend to feel overcrowded, which is important. The woods do feel like the woods, the "wild" does maintain that sense of escape, especially for little ones.
Above all, it's the ease of Center Parcs which really makes it retain its value as a top holiday spot. There's a soft play in Huck's restaurant, where we were fed ribs and Brooklyn Lager by the excellent Big Dave (seriously, that's what it said on his name tag). If one activity isn't available, then another one can take its place.
The kids loved going on a pedalo, even if my lack of concentration took us straight into the decorative fountain, while I enjoyed the hitherto-unvisited spa.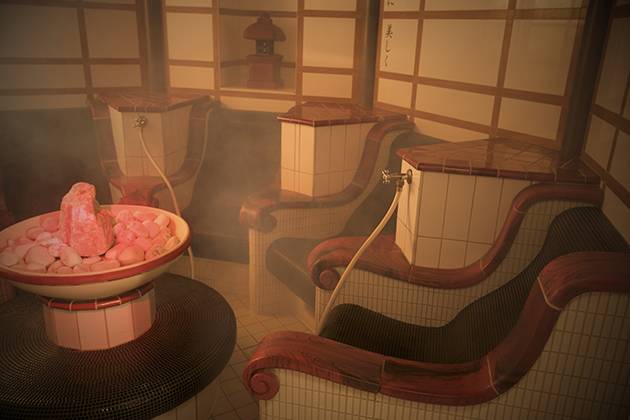 My massage and facial treatment was great and I'm now a firm fan of the Japanese salt steam room. Perhaps my only criticism is that the spa itself felt a bit overcrowded as my three-hour morning session progressed. As a person by oneself trying to relax, the Mother's Day parties and hen dos felt a bit over-powering and the outside pool was filled to capacity with people talking about office politics. I think I'd limit further the amount of people allowed in at any one time. If one is to enjoy the facilities to the full, tranquillity is a must.
Nevertheless, the Center Parcs system works, years and years of practice means there's a kind of pleasing clockwork to the process.
You may not get to live under a dome, but you'll certainly have a good time.
To find out more about Center Parcs Eleveden Forest, and other forest breaks, go to centerparcs.co.uk