The London Eye, Oxo Tower, The Shard. Now you can add another of London's best views to your bucket list: Cheval Three Quays…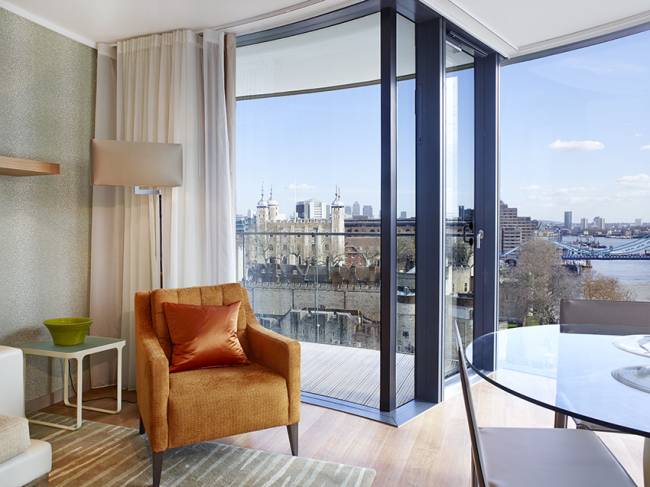 Drawing back the curtains in this contemporary apart-hotel, which sits on the northern bank of the River Thames in the City of London, I'm greeted with two of the capital's oldest, most recognisable sights, The Tower of London and Tower Bridge.
My balcony's the perfect spot for pondering the Tower's great and gruesome history, while scanning its walls and turrets for those unique associations that have made it legend: the Crown Jewels sparkling in the Jewel House since the 14th century; the Yeoman Warders or Beefeaters – ceremonial guardians that protect the Royal Palace and lead its tours; Anne Boleyn and Lady Jane Grey's incarcerations and beheadings behind its walls; the inky-black ravens that will bring down the Tower and the British monarchy if ever they should leave; and Traitor's Gate offering a watery welcome to prisoners who never, ever will.
As London has spiked and sprawled around it, and soaring, sparkling glass high-rises have changed the city's skyline beyond belief, the Tower has remained stoic and solid, safe within its moat, fending off the ceaseless march of modernity and progress.
Stretching across the river, equally as stunning and just as symbolic, is the Tower's sidekick bridge. The most impressive crossing point on The Thames, Tower Bridge still rises for tall ships to pass through, while visitors can explore the gallery above the gap where Flight Lieutenant Alan Pollock flew an RAF Hawker Hunter plane through the bridge as a protest against the Government in 1968. It's safe to say these iconic landmarks have seen some action.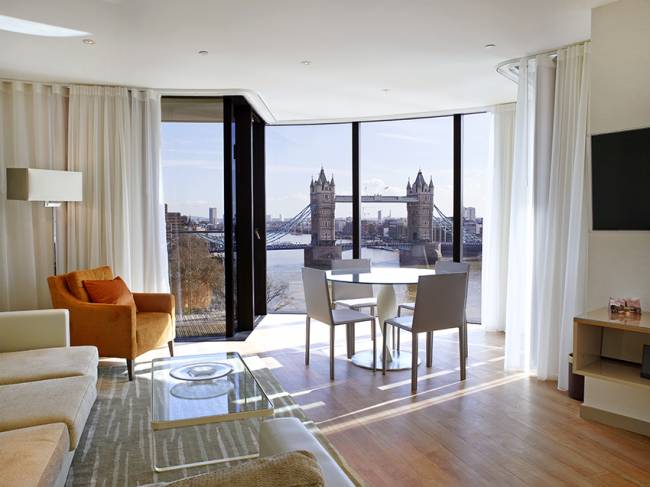 Errant aeroplanes aside, we Londoners can become a little blasé about the sights we pass by every day, but many would 'fess up to still feeling a sense of kid-like wonder every time they see the Tower. During my stay at Cheval Three Quays, I'm frequently drawn back out to the balcony to sit and stare, as I drink my coffee overlooking The Thames: when do you ever get the chance to do that? Pretty special.
But there's much to enjoy inside these one, two and three-bedroomed serviced apartments and penthouses, too. While I'm here, I pretend this is my new (five-star ) London home – a good-sized suite with a mini-kitchen, open-plan lounge, bedroom and bathroom.
It's such a shame my new 'flat' would cost a few squillion quid to buy, because I LOVE IT and I'd really like to stay for a very long time (how did London stop being a place where Londoners could afford to live, Mr Johnson?).
For now, I console myself with the fact that Cheval Three Quays offers pretty good deals on longer stays, so at least I can still pretend I live in the City, even if it's just for a week…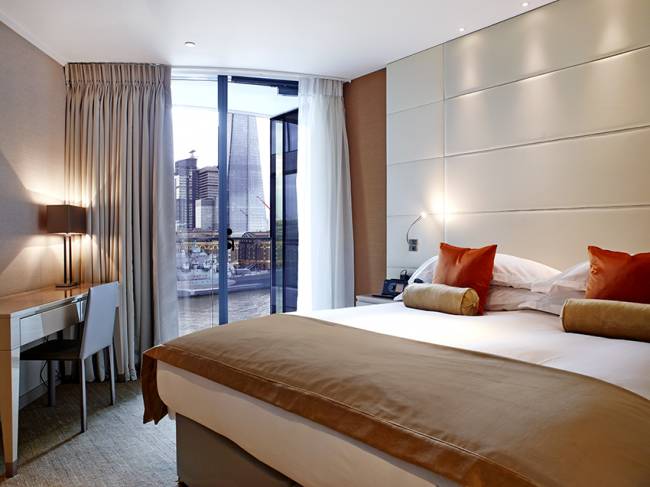 I've got a huge, crisp bed in a calm and restful room, with a view that's amazing to wake up to every day; a cool yet comfy sofa where I can snooze or read; a desk to write next to endlessly distracting floor-to-ceiling windows; a coffee machine and local take-out guide, plus an oven and fridge in case a miracle happens and I decide to cook up a feast of my own (plus a washing machine to sort out the inevitable ensuing mess).
Downstairs there's a 24-hour concierge to dish out maps and suggest restaurants when the cooking never happens, and friendly staff to direct me to the well-equipped gym (I'll confess now: this doesn't happen either, despite my best intentions. Leave that Thames-view balcony? I don't think so).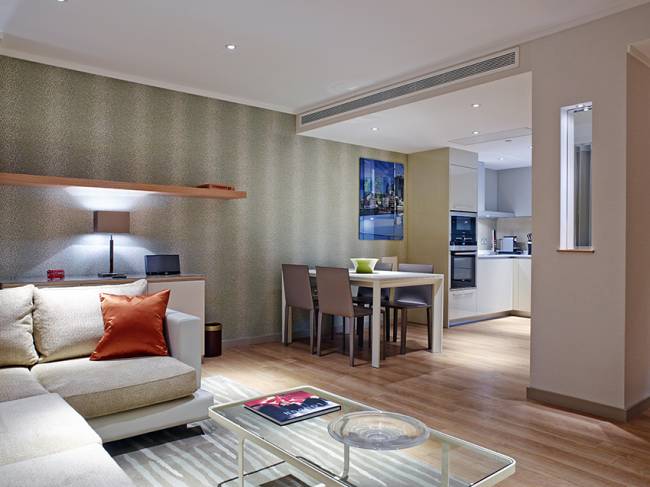 It's the perfect escape for a few days or more to sleep, recharge and relax. But if it's London you've come to see, then wrench yourself from the apartment and just a short stroll along the river will bring you to St Katherine's Dock with its yachts, shops and restaurants, while across Tower Bridge there are more eateries to enjoy at buzzy Butler's Wharf.
If you're here with your kids, there's plenty to keep them entertained just over the Thames, with the HMS Belfast, London Bridge Experience and the View from The Shard all a short wander away, and the exciting attractions of the Southbank nearby.
And if The London Dungeons, SeaLife Aquarium, London Eye and Shrek's Adventure! aren't enough to keep them entertained, you can always take your own little princes and princesses to the Tower…
Head to Cheval Three Quays to find out more about their Easter Egg-citement, Family Fun, Shopology and Historic London holiday packages.