It's not just children who need special attention on a hotel stay – our four-legged friends appreciate a little TLC, too. DAD.info's James Harrison took his wife Ange and their pooch Harry to check out the dog-friendly delights of Stapleford Park in the East Midlands…
We're always looking for places to holiday with our rescue dog, Harry. It's rare that hotels accept dogs, so we usually opt for cottage-style self-catering accommodation. But this time we wanted to really spoil ourselves and do something different, something luxurious.
We were looking for somewhere special to stay in February to celebrate Harry's birthday and double up as a romantic getaway to mark Valentine's Day. We came across the 'Doggy Divine Package' which was being offered at Stapleford Park Country House Hotel and Sporting Estate, based four miles from the 'Pork Pie Capital of the World', Melton Mowbray. It's also close to the historical market towns of Grantham and Oakham, as well as neighbouring the county of Rutland, the smallest county in England, with the famous Rutland Water Reservoir.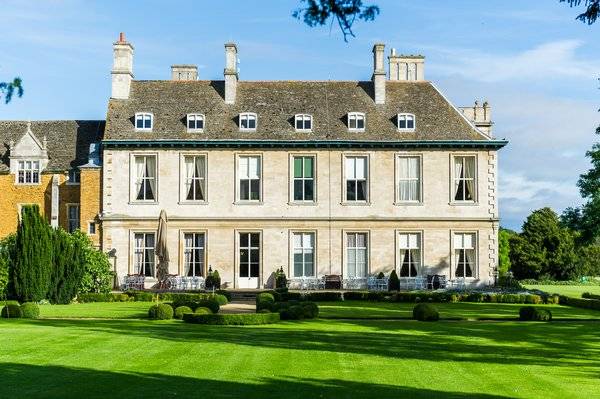 As well as plenty of treats for Harry, there were lots of things to see and do on the Estate for us, too, including a Championship 18-hole Golf Course; tennis courts; a fabulous glass-roofed swimming pool with jacuzzi, sauna and steam rooms; a luxury spa offering a broad range of treatments and a full-size gym, housed in the converted Victorian stable block.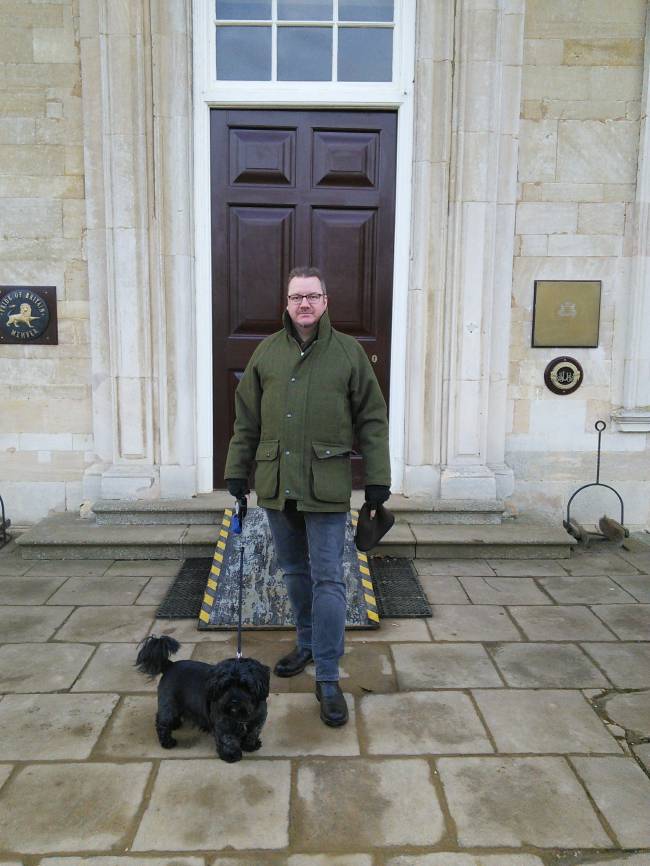 There's also a full-sized snooker table available in a private side room and outdoor games including boules, croquet and a giant chess set, plus the chance to try a range of traditional country pursuits including clay pigeon shooting, archery and falconry. There's a creche facility available for children so that parents can have some 'me' time and for those with well-behaved doggies…… well, the staff are more than happy to dog sit – you just need to bring your dog to reception and they will ensure they are cared for with plenty of fuss and cuddles.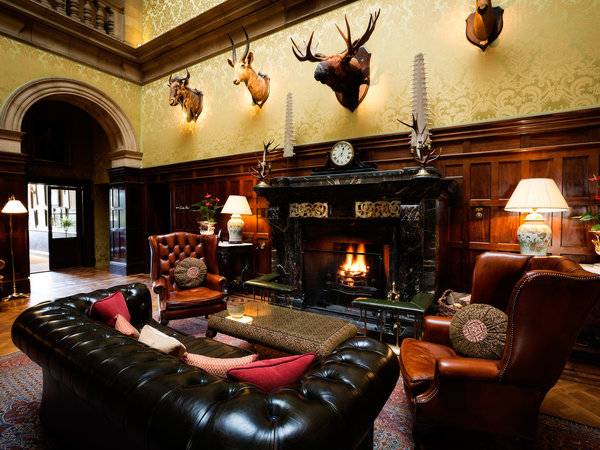 Our two-night stay began on a Saturday afternoon. Stapleford guests arrive in style: this grand hotel is surrounded by immaculate grounds and we were warmly greeted by genuinely happy and attentive staff. In contrast to its imposing exterior, a roaring fire crackling in the entrance-hall fireplace made the house feel cosy and intimate inside, and we felt immediately relaxed, as we checked in and were taken to our room, The Baker Suite.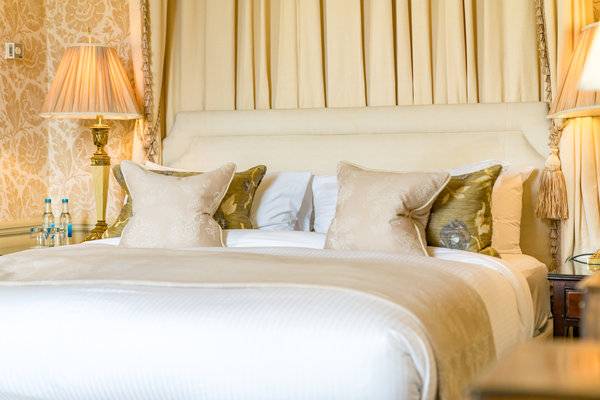 Stapleford offers several room styles – Suites, State, Grand, Manor and House Rooms – as well as there being two self-contained country cottages that are perfect for families of groups of up to eight guests, so it's perfect for a family gathering. The rooms and cottages have all been individually designed. The first thing we noticed as we entered our suite was the four-poster dog bed. What luxury for our beloved pooch. There was also a selection of toys, dog biscuits and a water bowl ready and waiting for him.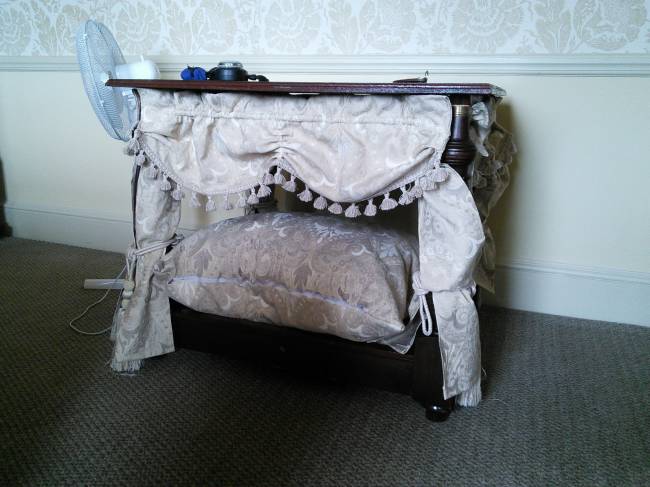 There was luxury for us too. Our suite had three large rooms, each with a huge window overlooking the stunning grounds. There was a lounge area with a sofa and chairs, coffee table, dining table with chairs, tea and coffee making facilities, mini fridge with complimentary soft drinks and water, a huge TV, fireplace, and perched up on the mantel piece was a small decanter filled with sloe gin and two glasses engraved with the Stapleford Country House Logo. The gin was complimentary and refilled daily – a lovely touch.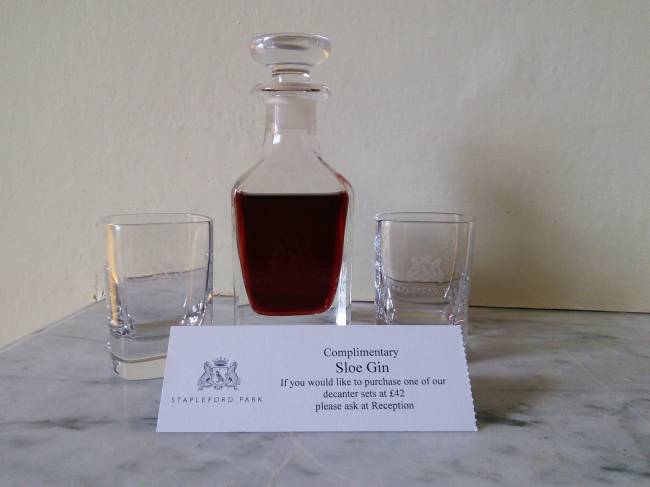 While not quite as grand as Harry's, our bedroom had an amazing feature bed, fit for royalty, and it was honestly the most comfortable we've ever slept in. There was another big TV, a dressing table with mirror and side tables, and an en-suite bathroom with 'his and hers' sinks and a power shower over the bath. Noble Isle provided the toiletries, while fluffy towelling robes and slippers made our pamper palace complete.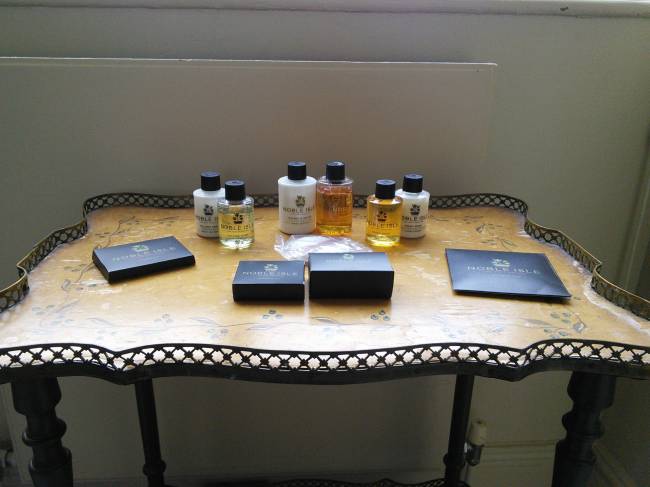 After a quick unpacking session, we explored the house and grounds. A grade 1-listed mansion, Stapleford is steeped in history from its inception during the Norman period, through the Tudor and Victorian ages, right up to the 21st Century and the architectural features really are a feast for the eyes.
The house has hosted many entertainment gatherings over the centuries by way of hunting parties, stunning dance balls, grand feasts, weddings and it's even hosted royalty. So it's no surprise that Stapleford's traditional afternoon tea ritual, served in the quintessential English Drawing Room, is spot on. However, there is a modern twist… they serve a Doggy Afternoon Tea, too (of course!).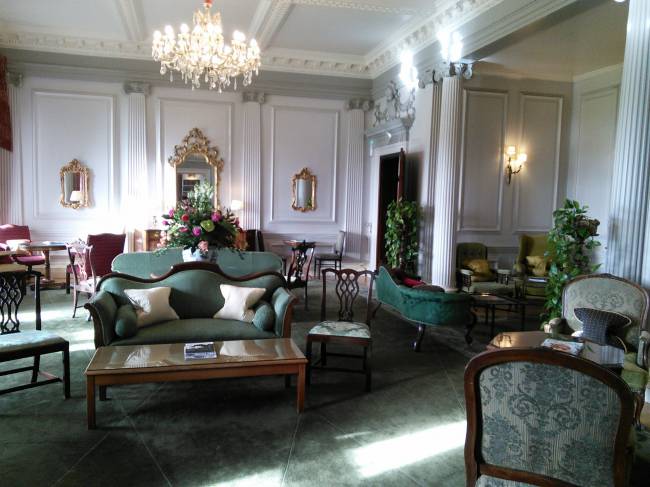 There's evidence of past and present inhabitants all over the house, with impressive fine furniture, ornaments, beautiful wood panelling and silk wallpaper, chandeliers as well as stunning pictures and portraits. The stand-out ones for us were the portraits of the Sherard Earl of Harbrough Family (who instigated the rebuilding of the Hall and restoration of the Old Wing) on the main stair case. In the lounge area is another fine fireplace, relaxed seating and a grand piano – a pianist plays some lovely relaxing tunes throughout the day and during the evening, and there are a range of private dining rooms available.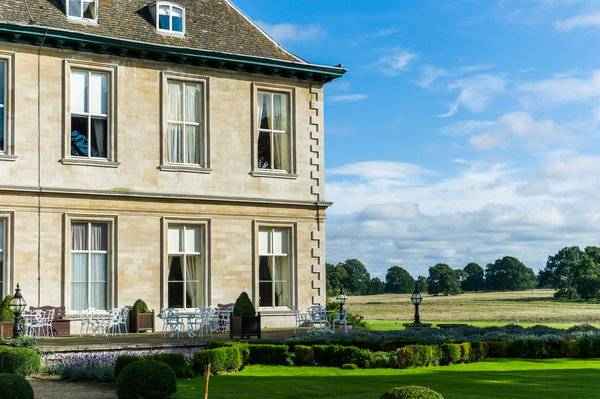 We and Harry thoroughly enjoyed strolling the grounds, which were re-styled from a deer park by the famous Lancelot 'Capability' Brown around 1770. We didn't quite make it round the full 500-acres, but this leaves us more to explore another time. We especially loved the walled garden with its arches and divided beds. From there we walked onto the Pavilion – a thatched cottage-style venue that offers an alternative place to dine or have a light lunch in a relaxed, informal atmosphere, with great views over the 18-hole golf course.
After a walk, we were ready to relax. The Spa has seven treatment rooms offering facials, massages, waxing, manicures and pedicures, with full- and half-day spa packages options. My wife decided to book up for an express facial while I hit the gym. With full-length glass windows overlooking the stunning Stable Courtyard, it offers a full range of cardio equipment along with resistance machines and free weights.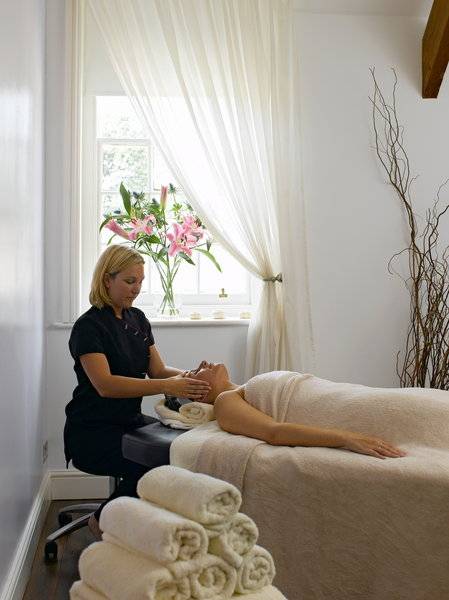 The fitness studios offer regular sessions of Pilates, Yoga, Fitball, HIT sessions, aqua aerobics, body conditioning, circuit training and Qi Gong classes, which is an easy-to-learn system of rhythmic movements incorporating deep breathing techniques, a bit like Tai Chi.
On return to the house, it was time to get ready for dinner. We decided to leave our dog in his crate with a juicy bone while we went for our meal, although the Reception staff would have been more than happy to dog sit.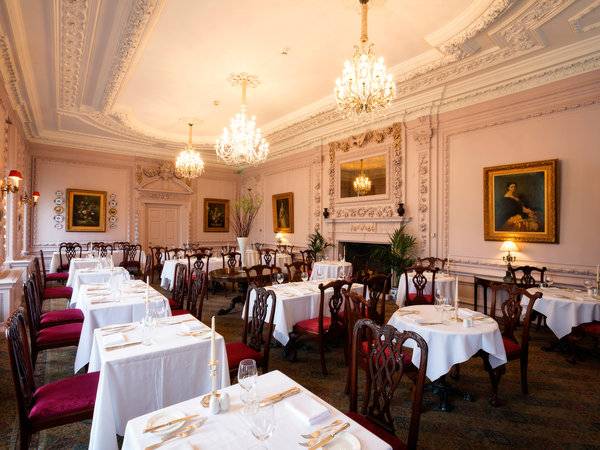 We'd worked up an appetite and were looking forward to dining at the 2 AA Rosette restaurant known as the Grinling Gibbons Dining Room, named after the Dutch master woodworker Grinling Gibbons. Renowned for his intricate carvings in some of Britain's most famous buildings including Hampton Court Palace, Blenheim Palace and St. Paul's Cathedral, Gibbons also completed the beautiful woodwork above the mantelpiece in the dining room, just where we were seated for dinner.
With an extensive menu and wine list, it took us sometime to choose. Our waiter was very informed about all the dishes and we were offered the services of the sommelier to help us choose wine. Next came a canape of smoked salmon followed by an amuse bouche of ham-hock terrine, which were both excellent.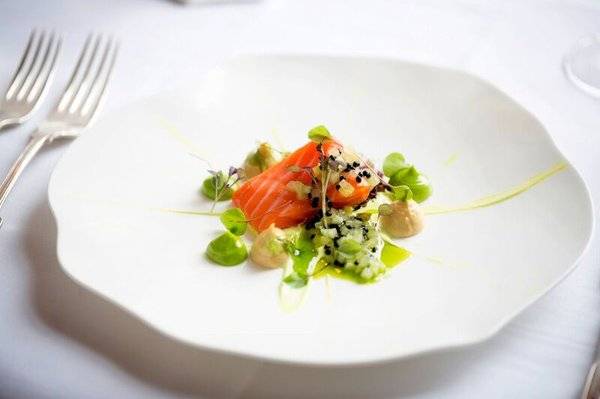 The Chef and team use fresh, seasonal produce from local farmers and speciality food producers and even forage for edible ingredients from around the estate such as mushrooms, wild garlic and elderflowers.
After much deliberation we chose duck egg, wild mushrooms, shallot rings and tarragon dressing, and pan-fried, hand-dived scallops, celeriac, apple and hazelnuts to start, followed by a four-bird roast (duck, chicken, partridge, pheasant) with parma ham, parsnips, pistachio, pommes anna and red wine jus plus Dingley Dell piglet belly with charred apple, king prawn, sage potatoes and pomegranate. For dessert, we opted for dark chocolate tart with coffee sponge and cardamon sorbet, along with white chocolate mousse with panna cotta and truffle ice cream.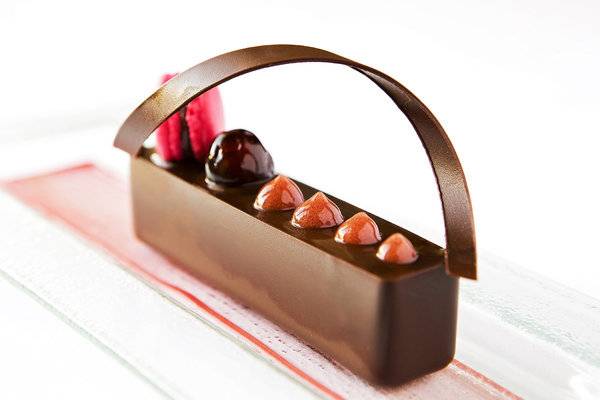 And then….. well, we were stuffed! The food all showed real artistry and was totally delicious, scoring top marks from us as we climbed the stairs to bed.
After a great night's sleep, we decided to order room service for breakfast, so we could stay with Harry. A marvellous, high-quality full English with all the trimmings set us up for the day. After a lovely, long walk with Harry, we challenged each other to a game of chess in the bar and then it was time for afternoon tea in the beautiful Drawing Room.
No limp cucumber sandwiches here. instead, we had cocoa and chilli marinated sirlon beef, onion marmalade / beetroot cured salmon, horseradish and sour cream, free-range egg mayonnaise with amaranth cress and poached chicken with red-pepper pesto and wild rocket. We also squeezed in fruit and plain scones served with rose petal jam and clotted cream (heart-shaped for Valentine's Day) and a delicious home-made cake selection of raspberry eaton mess cheesecake, red velvet cake, milk chocolate salted caramel tart and pink champagne and strawberry macarons. A great selection of award-winning Newby teas or café du monde coffees are available, or you can opt for prosecco or Champagne if you prefer.
Harry came too, of course, and couldn't believe his luck when a stand full of doggy goodies arrived just for him. He wolfed his way through Lily's Duck and Chicken Biscuits with Fruity Friends, Parsnip and Puptato Air Dried Treats, Partly Iced Miniature hound peanut cookies, Carob Heart shaped chocolates and Coconut biscuit creams – all baked locally by the Hungry Hounds Bakery – and washed it all down with non-alcoholic Pethouse Rose Pawsecco made by 'Woof & Brew' of St Ives, Cambridgeshire – yep, you did read this right!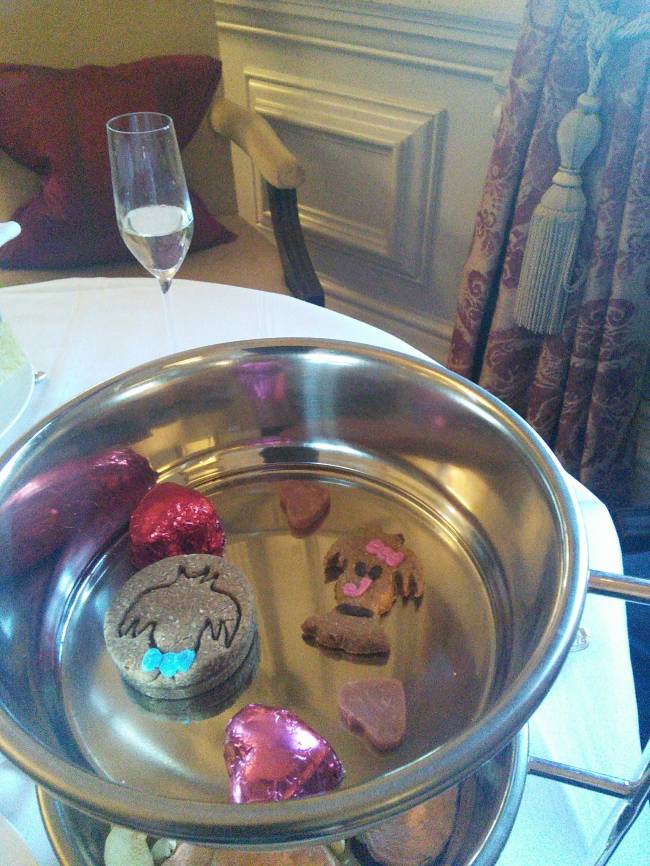 This afternoon tea was truly special and inspired, especially as we were able to spend it with our dog. After eating all those wonderful goodies, we went for a lovely leisurely swim, sauna and steam and Harry had a dog nap – the perfect way to end the day!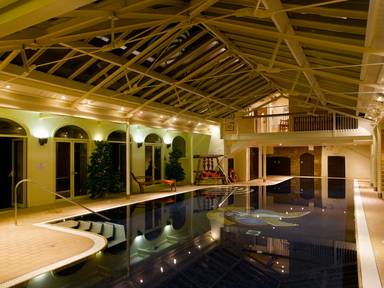 After another restful night, we enjoyed a relaxed breakfast in the main dining room. The continental breakfast tempts you as you walk through the Lounge with a good selection of cereals, fresh, dried and puree fruits, nuts, yogurts, salmon, pastries, breads and juices, but we couldn't resist ordering another full English and, once again, it was delicious. We even took a sausage back for Harry (which didn't last long).
If you really want to treat yourself and your partner to a wonderful, luxurious break, Stapleford Park should be top of your list: your dog will thank you for it, too.
Stapleford Park is a member of Small Luxury Hotels of the World. The Doggy Divine Package includes an overnight stay for two on a B&B basis, afternoon tea for two, a bespoke handcrafted doggy bed, a new doggy menu, doggy afternoon tea, a selection of doggy toys, doggy walking trails within the hotel's extensive grounds and dinner dog sitting. The package is available from £475 per room, based on two people and a dog sharing. To find out more and book a visit, go to staplefordpark.com or call 01572 787 000.