Shields on the wall, tunic and sword laid out on the bed… welcome to Warwick Castle's new Knight's Village. Simon Harris takes his family on a weekend break to his favourite castle (yes, he has a favourite castle)…
It's Saturday morning and I'm wrestling my daughter Mary down from her bunk bed in one of Warwick Castle's lodges within their new Knight's Village.
It's not easy. She's loving her bedroom so much, I'm having to convince her there's even more fun to be had beyond the woodland grove outside, and we really should go exploring…
"Come on! The castle's just a trebuchet's boulder blast away!" I tell her enthusiastically, hardly able to contain my excitement (and impatience). I've always been a sucker for a castle. Of course, Mary (who's four) doesn't know what a trebuchet is… yet. But she's just about to be catapulted into another world…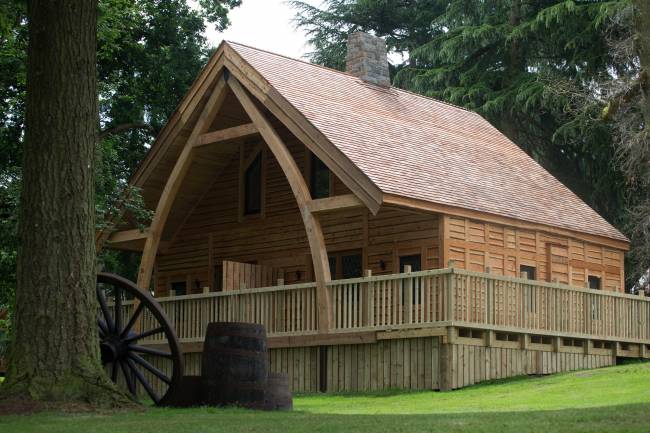 Built by William the Conqueror in 1068, Warwick Castle has hosted many of England's kings and queens over the centuries, and now you and your family can join them with a stay at the Knight's Village, home to a collection of beautifully themed lodges and glamping sites, set on the banks of the River Avon within the castle estate.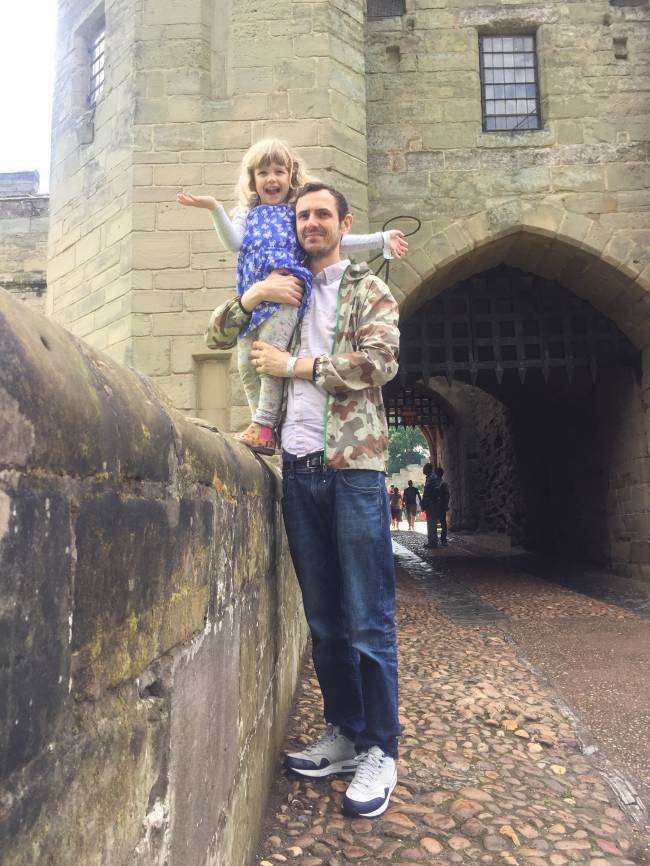 Sleeping up to five people, with cots on hand for younger children, the luxe Mediaeval Woodland Lodges where we spent our weekend each come with a TV, linen, tea and coffee making facilities, a wet room and terrace, plus free wifi in case you have to duck out and do some work while you're away (but with a whole castle on your doorstep to play in, why would you?).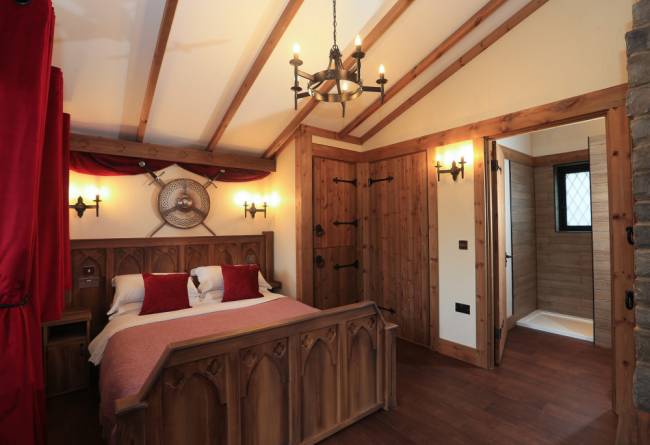 We finally coax Mary out of the lodge, and our first discovery is the birds of prey show, The Flight of The Eagles. Starring golden and bald eagles along with owls, buzzards, Andean vultures and more, it's an impressive display. The majestic birds swoop and dive around the audience, convincing us they'll get caught in our hair as they're so close, but their skilful manoeuvring ensures they miss every time.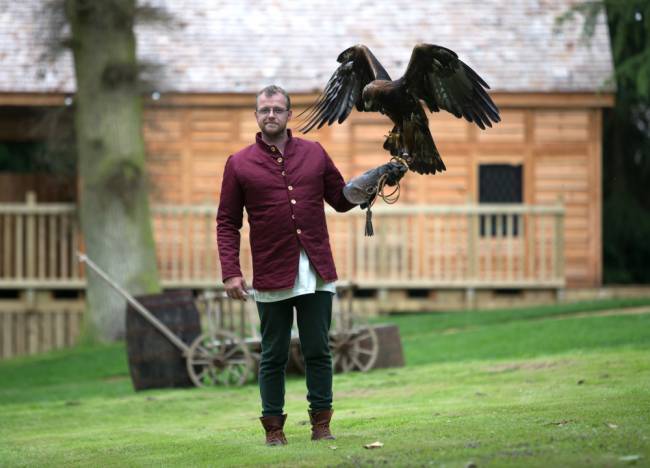 A sit down on the grass soon beckons, so we settle on the river bank to watch the live Horrible Histories: Wicked Warwick stage show. The actors plough through centuries of castle history with their true-to-form humour and manage to keep all ages entertained, including us mums and dads.
Next stop is the new Horrible Histories Maze. And predictably, it's a-maze-ing (sorry, it has to be done)! Mary loves weaving her way through the adventure-packed labyrinth – hitting dead ends, getting lost, collecting stamps for her 'time passport' and exploring the six different time periods: Frightful First World War, Vicious Vikings, Slimy Stuarts, Measly Middle Ages, Stormin' Normans and Terrifying Tudors – and trying to cheat but still getting lost!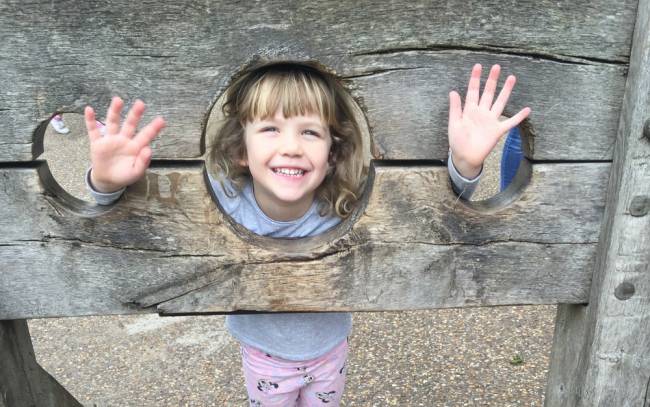 We easily lose an hour and a half conquering the challenge of collecting all our passport stamps and emerging victorious from the other end. It's brilliant fun. I want to call it brilliant, simple fun but it actually isn't that simple. And I defy any child to say history is boring after navigating through this.
After a well-deserved Ye Olde Ice Cream (with a flake), it's time to get our Robin Hood on and tackle an archery lesson. With her quiver of arrows and a steady hand, our Maid Marion makes us proud at the free Have-A-Go Archery. I wonder if she'll rob the rich for her old dad when she grows up…
For kids who'd rather fool about there's also a Jester's School, while would-be heroes can hone their skills at Knight's School – free every evening throughout the summer holidays for families staying at the Knight's Village.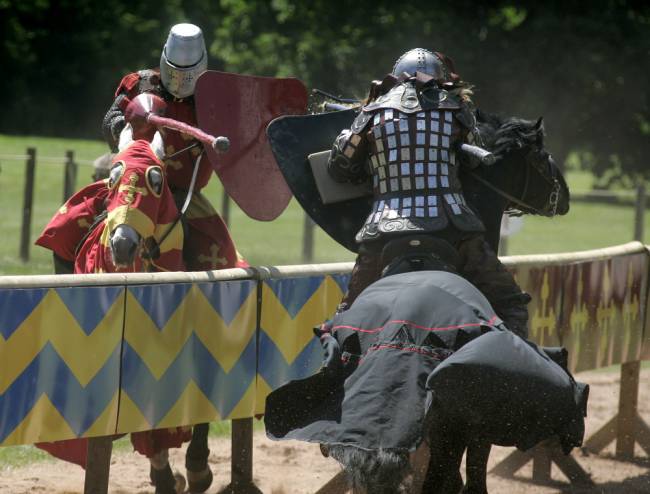 Over the moat and under the impressive portcullis, we wonder about the centuries of feet that have trodden this path to enter the castle itself. Wow. Inside the Princess Tower is a sweet storytelling experience about a, well, yes, you can guess what. By now, Mary is beginning to think this is definitely her favourite castle, too.
We watch the world's largest working trebuchet fire a flaming ball 150 feet into the air, climb the battlements and scale the spiral staircase of The Defensive Tower. We're kings of the castle and the views across our 64 acres of land are England's finest.
From mediaeval times to Downton Abbey times, Warwick Castle covers it all – and Mary loves exploring it all: the Great Hall with knights in shining armour, the ladies' boudoir and servants quarters, the grand 64 acres of grounds, designed by Capability Brown and, of course, the castle's amazing waxwork displays (especially the one that she's convinced features a model of her Uncle Chrissy).
All this medieval exploring and fun makes a person feast-ready, so we head to the Knight's Village Banquet Hall for a meal of hearty British food that's fit for a king. Mary loves the princesses and knights who banter with the diners, making sure the children are all having a magical time. But they don't have to try too hard… as we head for bed in our snug, mediaeval lodge, we all agree that Warwick Castle has more than enough magic to keep everyone happy, all weekend long…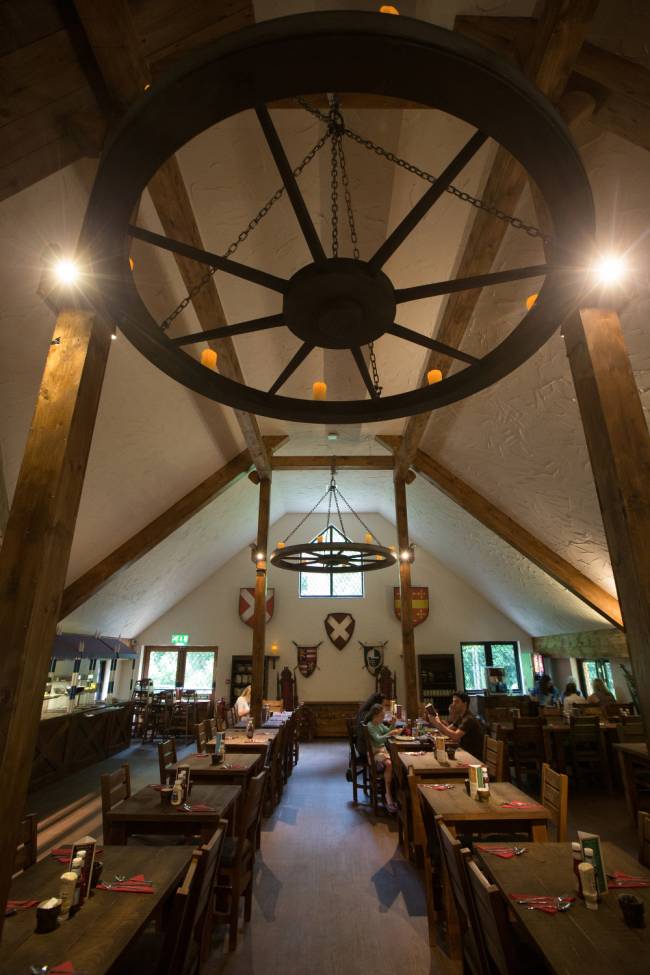 How to book it
Warwick Castle's Knight's Village comprises 28 Mediaeval-themed Woodland Lodges, four Knight's Lodges, and Mediaeval Glamping in a woodland glade on the banks of the River Avon, offering exclusive stays within the grounds of one of Britain's oldest castles.
The year-round Mediaeval-themed Woodland Lodges can accommodate up to five guests in two bedrooms and come equipped with stylish wet rooms, TV, tea and coffee making facilities and Wi-Fi. The Knight's Lodges can accommodate up to seven guests.
Little Princesses will love the new Princess Felice's Tent (available 1 July until 5 September) offering a fully set-up, ready-to-sleep glamping experience for up to five guests, featuring a fairytale-style four-poster bed.
All overnight stays in the Knight's Village include continental or full English breakfast, exclusive Mediaeval evening entertainment throughout the summer holidays including Have-a-go Archery and Knight's School, two-days priority access to Warwick Castle, its shows and attractions and car parking. Prices start from £40 per person per night based on five sharing a two-bedroom Woodland Lodge.
An all-you-can-eat dinner feast, with live entertainment is available to Knight's Village guests in the new Banquet Hall each evening for £18.95 per adult, £9.95 per child.
A Knight's Village Bird of Prey Meet & Greet is £7.50 per person.
For best value entrance, book entry tickets online seven days in advance at warwick-castle.com, or to book the Knight's Village, visit warwick-castle.com/sleepovers
How to get there
Warwick Castle is easily accessible from Junction 15 of the M40, just 40 minutes from Birmingham and 1 hour 40 minutes from London. Warwick Castle is easy to reach by train from London Marylebone in only 86 minutes.
Chiltern Railways operates services to destinations in Buckinghamshire, Oxfordshire, Warwickshire and the West Midlands. Services are now running from Oxford Parkway to London Marylebone and will launch from Oxford in December 2016. Book train tickets in advance via the website, chilternrailways.co.uk
Simon Harris is a father and director of Swyhpe, a creative motion agency based in London.