The best of the west: we pick great hotels with your kids, pets or partner in tow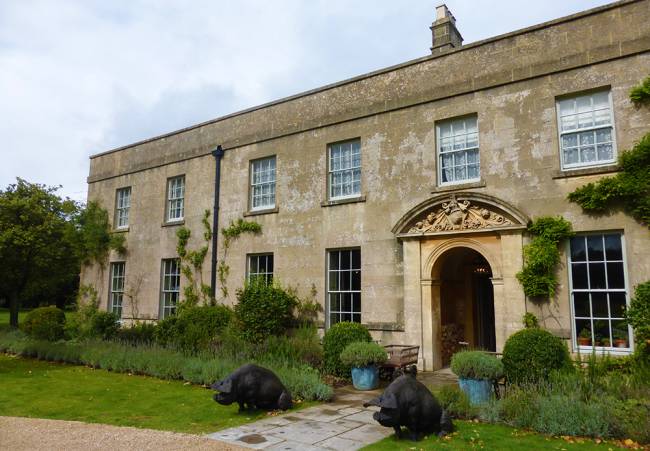 Best for romance: The Pig Near Bath, Somerset
If I were to tell you I'd spent the whole weekend in an Apple Store in the West Country, you might assume I'd spent two days in a shop in Bristol, surrounded by top-knotted, middle class, twenty-something pogonophiles, who – in a state of political and spiritual apathy – idolise an electrical company as an ersatz form of religion, complete with a T-shirt depicting a half-eaten piece of fruit, and cosmetic spectacles as its vestments.
This particular sanctum, however, is not a shrine to tiny tablet computers (Or is that a very large mobile phone?), but rather a former shed and, yes – place to store apples – set amid the kitchen garden of a 29-bedroom country house hotel, nestled amid the rolling Mendip Hills.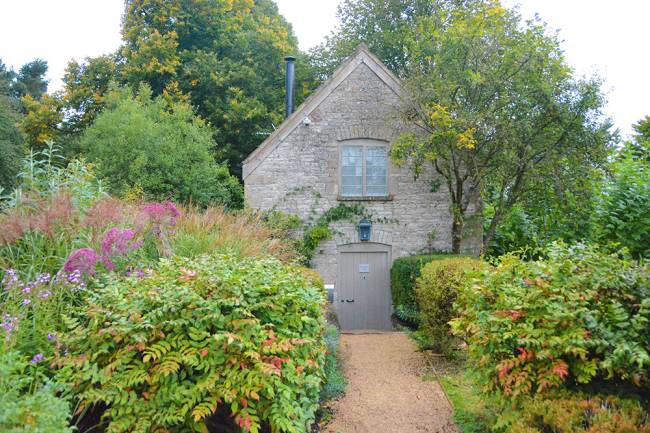 Not that you'd be able to tell its humble origins these days. This stone, two-story rustic and romantic retreat now boasts a comfy double bed, wood-burning stove, en-suite facilities, and mini-bar downstairs, while the whole upper floor is dedicated to your ablutions, in the form of a free-standing, roll top bath; monsoon shower; and even a chaise lounge so you can keep your partner company while she soaks in the tub. There really are no other distractions, ensuring your weekend and mind are as one-tracked as some of the local roads.
Nearby in the grounds, you can earn some courtship kudos by sending her for a massage in either of the two treatments sheds (Oh, go on, you might as well treat yourself too while you're here). Unlike the Apple Store, these are much more redolent of traditional, wooden potting sheds, and themed accordingly with a tongue firmly in cheek (a massage technique that is frowned upon), though they still offer all the usual luxuries, like the heated massage tables, within.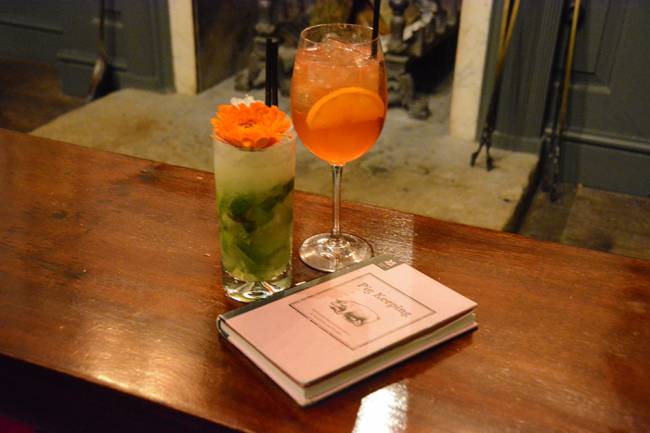 Despite the West Country location, plus the nomenclature of both my room and greater country pile accommodation conjuring up pub ambience, you'll find far more in the bar of The Pig than a pint of scrumpy. An inventive cocktail list is presented to guests in the boho bar or surrounding saloons (which includes a billiard room complete with full-size snooker table, but do try to focus on your date), and they're particularly proud of their unusual vodka infusions stuffed with herbs grown in their own garden.
The Pig's restaurant, committed to local, field-to-fork ingredients, brags a '25-mile menu,' meaning anything that can't be grown on site is still sourced from producers within the immediate vicinity with a carte du jour that directly reflects the micro-seasons.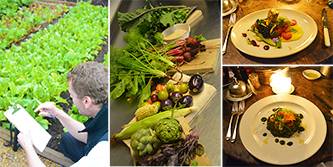 I'm a vegetarian (and a picky bugger), so the chef kindly takes me outside to meet The Pig's gardener, and between us we plan and pull up (well, I didn't personally get my hands dirty) a bespoke menu especially for me, grown entirely in their kitchen garden. This sums up what this place is all about: first class service without even a whiff of snootiness.
You non-vegetarians wanting to whip up one of The Pig's recipes can learn how to make their ham hock & black pudding hash here
Nightly room rates for the Apple Store are £219 mid week (Monday-Thursday) and £239 at weekends (Friday, Saturday & Sundays). Rooms in the main building start at £149 per night.
For more information, visit: www.thepighotel.com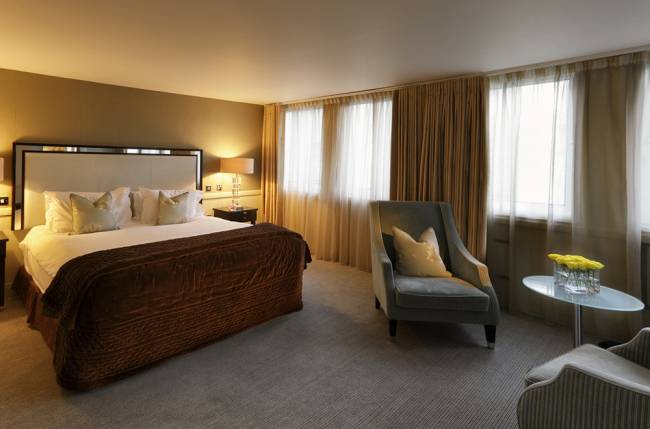 Great for kids: The Bristol Hotel – Bristol
Why is it that, as a child, you'll happily stare at a screen all day with little regard for your surrounding landscapes, no matter how beautiful, but by the time you're an adult you spend most of your time trying to tear yourself away from one?
Rolling hills and sandy coves may make us happy when we get a few days off work, but you'll need to have more on your doorstep to keep your little ones, with their diminutive attention spans, entertained.
Never fear, The Bristol Hotel, located unsurprisingly in – yes, you guessed it – Bristol, is right in the heart of the city, overlooking the harbour, its floating attractions, and Bristol Aquarium. Featuring over 300 fish found around the UK's coastline and more than 250 more marine animals from around the world, the kids will particularly love walking through the underwater tunnel and coming face to face with leopard sharks.
Also nearby is one of the UK's biggest and most exciting interactive science centres, At-Bristol. While I feel they might be missing a trick in the Twitter age by not branding themselves @Bristol, they are in every other sense a museum for the new millennium, giving your kids the chance to join Wallace and Gromit to become an animator for the day, create their own TV shows, activate the Vein Ray to see beneath their skin, and even get swept of their feet by a tornado.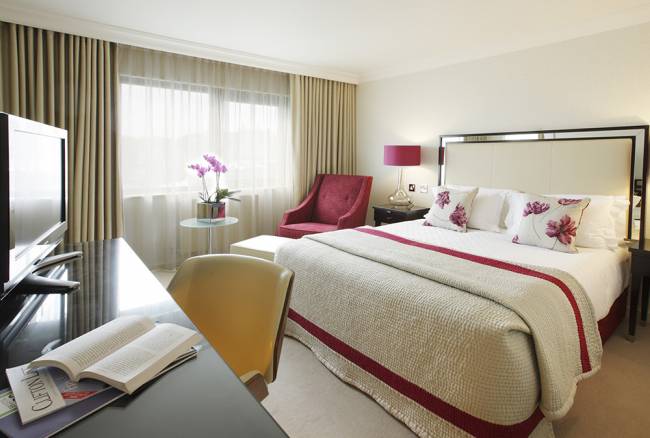 The hotel itself includes convenient, city centre parking in the adjoining NCP; spacious, well-appointed rooms; and a decent slap-up breakfast in their swanky riverside restaurant, all for a very reasonable price, thank you very much.
On the way to and from the hotel, your little 'uns, will delight in passing over or under the famous Clifton Suspension Bridge, which was based on designs by legendary British engineer Isambard Kingdom Brunel… though, no doubt, your kids will have created a superior structure themselves on Minecraft(!)
Room rates start at a very specific £78.32 per night.
For more information, visit: www.doylecollection.com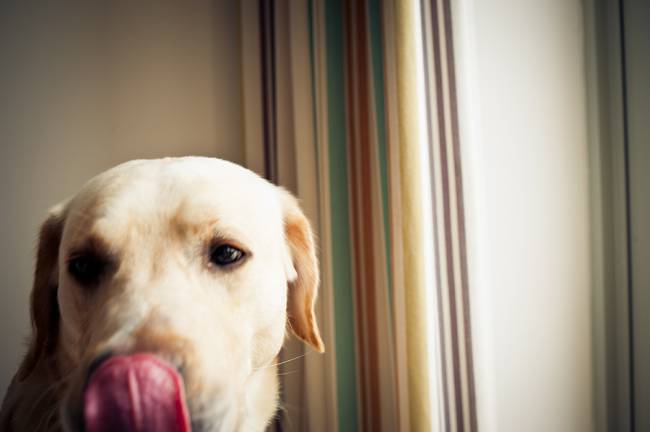 Best for pets: Soar Mill Cove – near Salcombe, Devon
I doubt anyone ever looked at Audrey Hepburn and said, "I bet she can put away a lot of cake," but that's exactly the claim of the Makepeace family.
Hepburn's Holly Golightly famously refused to name her pet cat in Breakfast at Tiffany's and maybe, as a visitor to Soar Mill Cove, it's because she was more of a dog person.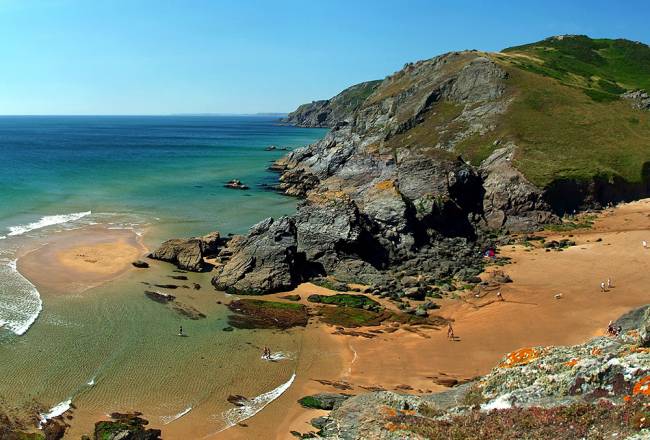 Dogs are everywhere here. Ramblers and residents bring their pooches into the lobby to be greeted from behind the reception desk by star employees, Farley and Daisy, two gorgeous golden Labradors. It's a great location for a stroll with your canine companions too, with undulating National Trust grassland and the South West Coast Path just a soggy tennis ball's throw from the front door.
After a day out on the cliffs and down on the beach in the picturesque cove, rivaling the bucolic vistas of far-flung New Zealand, you and your clan can retire to the pool and spa, and then on to the huge, bright and airy family suites – some overlooking the sea – to unwind before dinner.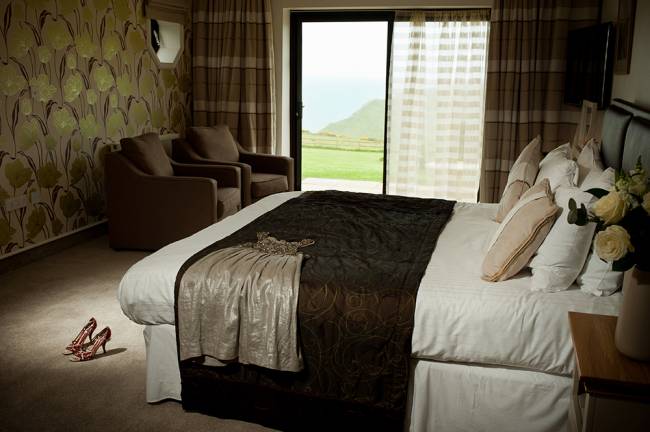 Soar Mill Cove and its two-Rosette-winning restaurant is a family run operation, and the original Mrs Makepeace – a trained pastry chef – had the honour of cooking for Audrey Hepburn. Ms Hepburn was, apparently, extremely taken by Mrs Makepeace's pavlova, ordering second helpings and even asking Mrs M for the recipe. It goes without saying that it's a compulsory first-night dessert choice then, although even I couldn't have managed seconds, Audrey.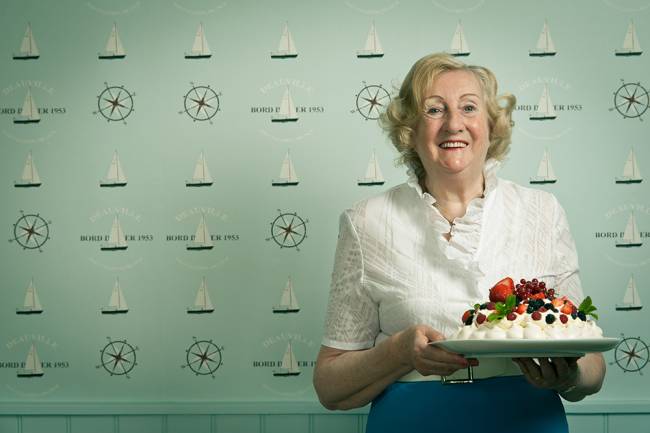 Prices start at £149 per night for a garden-facing room in low season. Doggy rates are £10 per night, per dog, including a gift from Farley and Daisy. Cute.
All direct bookings include a clotted cream tea on arrival or on the day of your preference.
For more information, visit: soarmillcove.co.uk